Tuesday, August 11, 2009
A Sentimental Journey
Same place, different time...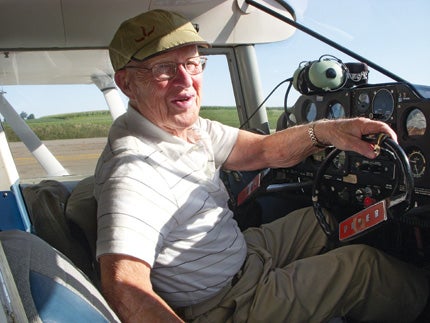 I took a short flight recently, one not normally worth mentioning around the hangar. But 'twas important to me—an attempt to relive the good old days of flying, that is, the '60s and '70s. The flight was from Medina Municipal Airport, 30 miles south of Cleveland, Ohio, to Concord Airpark, near Painesville, Ohio. That's about 65 miles, statute, not nautical (I'm an old-timer); a tad farther the way I did it to avoid the Class B airspace around Cleveland Hopkins. The plane I was flying, a Piper Colt, was once part of the Concord training fleet, and I flew it out of Medina in them good old days. Neither the plane nor I had been back since.
The trip is hardly a navigation challenge. Just follow the roads, if you're of a mind to do it that way, which I was. I-71 is right off the departure end of runway 27 at Medina. Two miles north, I-271 angles off to the northeast. Keep that to the left till it ends in I-90; follow that east to the second interchange. There, turn south (on Route 44) to the blue barn. Turning left on Girdled Road puts you onto downwind for 20.
But the journey wasn't the important part; the destination was. It's now just a sleepy little country airport—a couple planes at tiedown, a few in individual hangars and maybe eight in a large Quonset. In the '60s, though, it was a bustling place. On weekends, there were often three or four planes, usually Colts, chasing each other around the pattern, shooting touch-and-goes. Adolph Luhta and his wife, Connie, owned the field. Adolph was a larger-than-life character. Once a B-25 crew chief flying in the South Pacific, he ran the airport with an iron hand. His wrath came down on anyone foolish enough to enter the pattern improperly or do anything else that jeopardized safety.
Adolph typically had a few Piper Colts for rent ($7 per hour wet), a Tri-Pacer, some Cherokee 140s, a couple 180s, an Arrow, a Bonanza, an Apache and an Aztec. Around 50 private planes called Concord home, including a couple Stearmans, a variety of homebuilts and such odd birds as a Republic Seabee, a PT-23 military trainer, a rare B-23 bomber, a Piaggio Royal Gull and a twin-engine Italian amphibian.
Adolph has gone west, but Connie still owns and runs Concord Airpark, maintaining the airport in first-class condition. And she's an interesting personality in her own right: a 45-year member of the 99s and a former Powder Puff Derby racer. She's a CFI and flies a Cherokee 180 and a Colt. Moreover, she's president of the International Women's Air & Space Museum at Burke Lakefront Airport.
Page 1 of 2