Tuesday, March 26, 2013
A Summer Of Opportunity
Making the move into competition aerobatics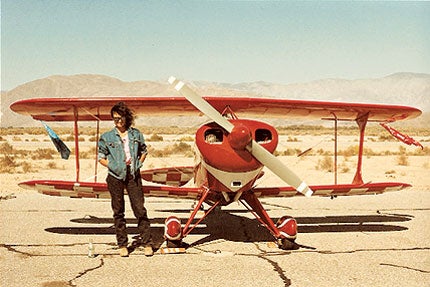 Patty with Pitts S-1S N8078 in Borrego Springs, Calif.
After going to an air show in Canada and a competition in Wisconsin in 1983, I knew that flying aerobatics was what I was meant to do. I lived in Anchorage, Alaska, working as a CFII, but all I could think about was "akro." So, after taking aerobatic lessons, I bought an 8KCAB Super Decathlon and tied it down at Merrill Field.
I joined the International Aerobatic Club (IAC) and devoured every issue they published for their members. Our tiny but active aerobatic community encouraged me to fly a few nearby air shows in Gulkana, Fairbanks and Skwentna, but I really wanted to stretch and try my hand at competition, and the only way to do that was to leave Alaska and fly.
I learned to fly with a DG and a wet compass. Setting a fix on the most visible mountain peak was the best way to get home. There were VORs and NDBs, but navigation was primarily IFR—I followed rivers, railroads and, occasionally, a road.
We used pilotage—mountain ranges and passes, lakes and rivers, and sometimes, islands filled with walruses. I was taught that the tiniest details of a sectional chart—a bend in a river, the contour of the foothills, the curve of a lake— would guarantee you'd find your way, at least to the next village and gravel airstrip, and a safe harbor if you needed to land.
Most flying in Alaska is done at sea level or in temperatures cold enough that even in the mountains, airplane performance is still good. But during the summer of 1984, however, I found that flying in the Lower 48 was different.
Flying from Anchorage to my first aerobatic contest in Fond du Lac, Wis., I followed the Alcan Highway through Canada. At my first stop in the U.S. to clear customs at Cut Bank, Mont., I remember smelling avgas for the first time because the weather was so warm. At almost 4,000 feet MSL, I had to lean for altitude on the ground, something I wasn't used to doing.
I finally got the little Super D started, and flew over Havre, Minot, stopping at Devil's Lake, N.D., before continuing eastward. Along the way, I discovered section lines, towers and more paved runways than I had ever seen.
I like to tell people that after running into rain and low ceilings, it took me longer to fly the 250 nm from Minnesota to Wisconsin than it did the 2,500 nm from Anchorage to Minnesota. I landed in Fond du Lac just in time to register for the Intermediate category and for my first competition flight in the "aerobatic box"—a 1,000-meter cube of airspace that I had only imagined so many times over the woods and tundra of Alaska. It was so small! I had no idea how I'd keep my entire sequence in that tiny airspace.
From the air, the white boundary markers made the box look about as big as a postage stamp. I was nervous and wondered why the heck I put myself in that situation, not to mention the competition sequences contained some maneuvers I had never flown. But, since I had no real expectations of dazzling anyone with my brilliance, I sloshed my way through and was pretty proud of the fact that I didn't come in last.
Page 1 of 3