Tuesday, April 7, 2009
More Than Monitoring
Glass cockpits ease workload, but pilots shouldn't forget to maintain their flying proficiency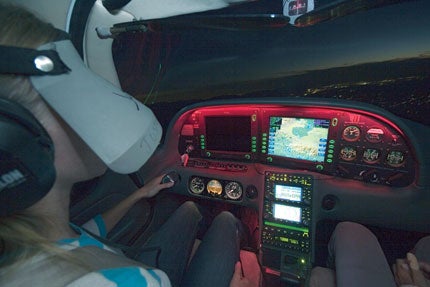 NAVIGATING THE GLASS COCKPIT. Some aircraft accidents may be preventable if students are properly versed in what to do in the event of an equipment malfunction.
While I was at an FBO at the Westchester County Airport north of New York City a couple of days ago, a guy I hadn't seen in a long time walked in. We immediately started catching up on a host of things, not the least of which were the predictable topics of what we're flying and how much (or little) we're getting in the air these days. It turned out that this fellow has been flying a couple of times a week, mostly on business, in a new high-performance single he bought to replace a light twin. The airplane had been in the shop for a warranty repair to the autopilot, which no longer wanted to hold a heading. The technicians said they fixed the connector causing the problem, so a test flight was in order. Would I like to come along? Yes, of course.
On the walk out to the airplane, I started quizzing him about his transition to the new airplane's glass cockpit. The transition, he reported, required a lot of work. He took the training offered to new owners by the manufacturer, used a flight school's simulator for the airplane, studied almost everything he could get his hands on about the equipment and flew with instructors. After logging about 250 hours in the new airplane, he asserted that he felt very comfortable with the PFD, MFD, electronic checklists, weather graphics, terrain graphics, electronic flight charts, radios, GPS and every other useful item. I expressed concern that there are some pilots who may be relying too much on electronics at the expense of piloting and navigational skills. He agreed, swearing that he not only constantly monitors the systems when they're doing the flying, but also makes a point to know at all times where the airplane is and where it's supposed to be going, just like in the old days. He even uses paper charts for reference.
I made a note of his discipline in arranging for flight following during our brief test flight, programming what was to be a 30-minute trip with two other airports as waypoints and running every line of every checklist the electronics threw at him. He took the time to ensure that everything had initialized properly before calling for taxi clearance. When finally airborne and handed off from the tower to a departure controller, we were asked to remain at or below 3,000 feet because of traffic inbound to the major New York airports. The pilot told the controller that this was a test flight after an autopilot repair and agreed to the altitude request. Anyway, we were VFR, outside of Class B and D airspace.
Page 1 of 3
Labels:
Accident Statistics
,
Columns
,
FAA Regulations
,
Features
,
Flight Hazards
,
In-Flight Emergencies
,
NTSB Reports
,
People and Places
,
Safety
,
Weather Flying
,
Weather Skills
,
Winter Weather
,
Pilot Talk