Tuesday, August 24, 2010
11 Best New Products
Innovation continues to drive GA's heart and soul

Technam iPad
Tecnam iPad Sport Pilot Course
www.tecnam.net
Tecnam, the Italian aircraft manufacturer, has a new flight training package that runs on an iPad. The Sport Pilot and Private Pilot courses are the first out and will be augmented by commercial and multi programs as part of the TFC (Tecnam Flight Center) network.
Developed in collaboration with MS Aviation and Hilton Software, the proprietary software makes it easy for students and instructors to readily tell which training methods are working best.
Tecnam's flight schools will also be able to better monitor an instructor's effectiveness. The iPad drops into the center panel slot of Tecnam trainers, such as the P-92 Eaglet, for georeferencing sectionals, airport info and much more. Course materials will be constantly refined and immediately uploaded, wirelessly, to students. The program is available as an online download from the Apple app store, and is intended as a study, test guide and training aid for students.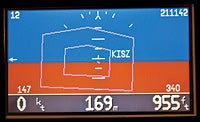 Virtual HUD Wingman
Virtual HUD Wingman
www.virtualhud.com
The Wingman is the first portable attitude display, and it also shows position and velocity by connecting to a handheld GPS with a standard RS-232 Serial Interface cable. Pilots can plan flight details with the GPS then have altitude, position and velocity automatically read out on the Wingman. The display serves up standard EFIS symbology in a tidy little package that includes a battery. Using built-in sensors, Wingman projects flight path information using highway-in-the-sky path markers. For such a small package, it's pretty impressive.
Information from the device can be ported over to the Virtual HUD display that has to be seen to be believed...shades of
Top Gun
! The company also notes that since most GPS vendors provide optional GPS NMEA Interface cables, it will modify the cable to support the Wingman and the GPS with a single power adapter.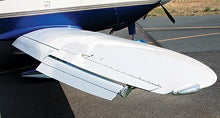 Lam Aileron
Lam Aileron
www.lamaviation.com
The Lam Aviation Aileron could be a real game changer. The redesign of the basic flight control surface that's been around from the dawn of aviation, Lam's innovation promises greater fuel efficiency, range and useful load by optimizing both high-speed cruise and low-speed performance, usually an un-welcome either-or compromise designers must make.
The design works by combining the functions of both flaps and ailerons. Two panels, one on top of the other, can deploy as a single aileron unit. The upper aileron panel only goes up from the neutral, streamlined position. The lower, auxiliary "flap" panel can go both up and down from neutral. The panels operate independently or together, which means they affect the air flowing over the wing as an aileron for roll control, or as an aileron and auxiliary flap to provide downward, whole-wingspan deflection, greatly enhancing low-speed operations such as for landing. In addition, the aileron/flap separation can be mixed for effective use as speed brakes or drag rudders. The Lam Aileron was conceived by aerospace senior research scientist Larry Lam, who worked for Lockheed, McDonnell-Douglas, Hughes, and Rockwell during his illustrious career before passing away in March 2010. Larry and his son, Michael, co-founded Lam Aviation, and have partnered with designer Greg Cole of Windward Performance to refine the Lam Aileron, which is currently in flight-test evaluation on a Cessna Corvalis airframe.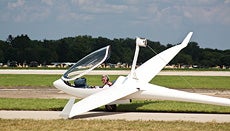 Antares 20E
Antares 20E
www.lange-aviation.com
Winner of the Lindbergh LEAP award at Oshkosh 2010, the Antares 20E is the world's first production electric aircraft. The motorglider optimizes the still-minimal capabilities of electric power plants by giving the soaring pilot self-launching capability, then maximizing the potential for staying aloft by allowing the power train to retract into the fuselage for streamlined flight.
There are other benefits: no gas or oil, no engine noise, no combustion engine complications at all, in fact. Watching the motorglider perform at Oshkosh with whisper-quiet sound signatures was a revelatory experience. And the performance of the 31:7 aspect ratio, 65.6-foot wing is no slouch, with a 56:1 glide ratio and a sink rate of just 96 feet per minute! Power up to 3,000 feet, and even with no lift at all you'll get 30 minutes of flight.
The power plant is a 42 kW (57 hp equivalent), brushless DC motor that cranks up to 1,500 rpm and gives 728 fpm climb at full gross weight of 1,323 lbs. The "fuel" is by Li-Ion batteries, which provide 13 minutes at maximum power and max climb speed and will retain an impressive 80% of full power even after 3,000 charging cycles. Modest as the power performance is, you can mark the Antares as an important vanguard of a new age of electric-powered aircraft.
Page 4 of 4