Thursday, October 7, 2010
Adventure Pilot iFly 700
Handheld, sectional-chart, moving-map GPS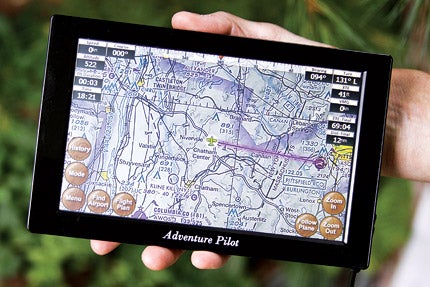 The portable iFly 700 navigation unit features a seven-inch touch screen with a moving-map GPS that overlays flight data on FAA sectional charts.
Imagine this: You've just launched on a trip to Las Vegas and have a magic sectional chart taped to your panel. You touch the Vegas airport symbol on the sectional—and a circle of red dots paints around your finger! A menu pops up with key choices. You select "Fly Direct To Here" with a tap of your finger. A high-contrast magenta course line pops up from your airplane icon to the destination. You've just created a simple flight plan!
En route, you touch airport symbols to read comprehensive
A/FD
airport information. A storm threatens. No problemo: You drag the course line to set new waypoints and virtually "bend" your course. Real-time readouts display speed, altitude, course information and more. And the chart is always current and displays all the sectionals, including Alaska and Hawaii!
Behind The Wizard's Curtain
Of course we're not just land-of-Oz dreaming here: Today, there's just such a device that you can buy for $499. Behold the iFly 700, a handheld, seven-inch touch-screen, moving-map GPS that displays en route flight data on top of official FAA full-color, high-resolution charts. Private pilots should find the iFly a natural fit for the cockpit due to its simplicity, broad functionality, ease of use and low price. IFR pilots aren't left out: Low-Enroute Charts and Approach/Departure Plates are available. The display is larger than any comparably priced handheld GPS. It weighs under 13 ounces, is bright in daylight, and powers up with a cigarette-lighter power tap, optional external battery or AC plug.
Adventure Pilot's principals Walter Boyd and Bill Strahan are veteran software programmers for the corporate travel industry and longtime pilots. Their clients include Fortune 500 companies such as Intel and JCPenny, as well as Expedia and American Express. A ways back, they partnered up to form Adventure Pilot. "Rather than create something to change the world," recounts Boyd, "we wanted to provide immediate benefit to a whole lot of pilots. We wanted a GPS that could evolve in features and capabilities over time, without having to buy a whole new GPS."
Adventure Pilot is off to a great start with brisk sales and a flood of happy customer testimonials. Boyd and Strahan constantly revise the product's functionality, and every several months, feature updates are available on the website
www.iFlyGPS.com
.
The charts include all pertinent legend information and are downloadable any time at a single data-subscription rate of $69 per year ($89 includes IFR Low-Enroute Charts).
Page 1 of 2