Thursday, June 19, 2008
Apex Edge Series KSN 770
Bendix/King strikes back with its Integrated Communication Navigation Display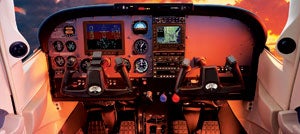 Bendix/King has been advertising the KSN 770's digital NAV/COM as a major feature, and I asked if this meant that it could support VDL Mode 2, as called for by the FAA's NextGen national airspace plan. Badie responded in the negative: "Currently it's a digitally enhanced VHF communication radio, intended to provide the best voice quality using the same technology as our Primus Apex series of digital radios."
The KSN 770 will support a wide range of external weather sources, including a radar transceiver module, Stormscope and XM Satellite Weather via Bendix/King's KDR 610 datalink module. Badie also reported that Honeywell is "looking at a more robust set of interfaces" that could handle a wider range of third-party weather sources. For traffic avoidance, the unit is compatible with many options, including TCAS 1 and 2 and Mode S/TIS.
Looking ahead, I asked if the KSN 770 could be upgraded to work with Automatic Dependent Surveillance-Broadcast (ADS-B), which the FAA plans to phase in over the next decade, ultimately as a replacement for ATC surveillance radar. (For more on this, read
Making ADS-B Work
.) Badie said the KSN 770 will have hardware hooks to support either 1,090 MHz analog mode, digital universal access transceiver (UAT) mode or possibly both, though a software upgrade will be required to enable ADS-B operation.
The KSN 770 is intended as a retrofit item in existing radio stacks. Regarding whether any wiring could be reused, Badie said, "That depends on what's in the panel—if you're installing a center stack or MFD for the first time, you'll have to wire it from scratch, but if you're upgrading an existing stack, you can probably reuse much of the existing wiring." The company is working with dealers to get an idea of how much shop time will be required for installation, but Badie agreed that it would probably be comparable to the time required for other advanced multifunction devices. I asked what kinds of indicators the KSN 770 could be used with, and Badie said, "The 770 has a wide range of analog and digital CDI and HSI outputs, which are pretty standard. If they use standard signals they should be supported."
Honeywell is marketing the KSN 770 as part of its Bendix/King Apex Edge Series, offering the potential to create a complete glass panel. I wondered if an owner could install the KSN 770 in the radio stack first, then add the KFD 840 PFD later. Badie believed this would be possible and added that the combination of the two units provides a matched panel set. No specific features, however, are required from one to work with the other, so buyers could combine the KSN 770 with a different PFD, or the KFD 840 with a different MFD and radio stack.
The list price of the KSN 770 is $13,995. Honeywell expects to begin taking orders this fall. It will be TSO'd for IFR operation and certificated through an STC with approved model list. For more information, browse
www.bendixking.com
or call (877) 712-2386.
Page 2 of 2