Wednesday, September 1, 2004
Garmin GPSmap 296
Terrain comes to portable GPS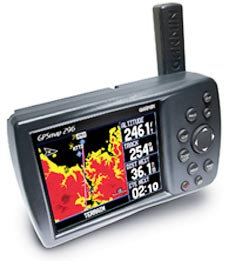 I count myself lucky that I'm allowed to fly with virtually all the new portable GPSs, and I'm just as amazed as you are when avionics manufacturers continue to find new worlds to conquer. Just when it seems there's nothing new left to be done, someone does it. Garmin, manufacturers of aviation GPS technology, recently pulled its latest portable rabbit out of the hat at the Aircraft Electronics Association (AEA) Convention in Las Vegas. It's designated the GPSmap 296, mounted on the 196 chassis, and predictably, it incorporates all the talents of the GPSIII, 196 and the 295 plus a plethora of new tricks. The unit is readily adaptable to aviation, automotive and marine modes with a minimum of effort.
A few days after the AEA show, my wife and I flew a Bonanza 2,000 miles from Southern California to Lakeland, Fla., in conjunction with the annual Sun 'n Fun Air Show. We used the new 296 during the flight. I deliberately avoided reading the manual to test the system's simplicity (and to satisfy my natural aversion to taking direction), and I was once again amazed at how intuitive Garmin has made most functions.
Priced at $1,695, the new 296 offers essentially the 196's 3.8-inch diagonal screen, but with 256 colors and 420 x 320 pixels, exactly twice the resolution of the 196.
Certainly, the most outstanding feature of the 296 is its terrain alerting function. Altitude is life, and there's no record of anyone being hurt colliding with the sky, but the ground is less forgiving. Bruce Landsburg of the AOPA Air Safety Foundation reports that a significant portion of aviation accidents occur as a result of controlled flight into terrain (or CFIT), aviation speak for a pilot flying a perfectly good airplane into the ground, presumably because he didn't know it was there.
The 296 gives you the option of knowing what terrain is ahead of you. In fact, you can even run the cursor to any point on the screen and see the elevation of that point. The system is WAAS-enabled, offering accurate vertical and horizontal positions. Garmin's new GPS provides pilots with a comparatively low-cost hedge, a kind of poor-man's terrain awareness system. (In contrast, a typical, approved, panel-mounted TAWS system sells for more than $20,000.)
Garmin's 296 is, after all, a portable unit, not approved as a primary nav source for VFR or IFR, so there's no sophisticated female British-accented voice to intone an insistent "Terrain, Terrain" when the computer decides you're too low. Still, the visual warning display could hardly be more graphic.
Page 1 of 3