Tuesday, October 20, 2009
Flying The Friendly Skies: No Better Time!
This may be the perfect time to achieve your aviation dream
Healing Through Aviation
Changing young lives through aviation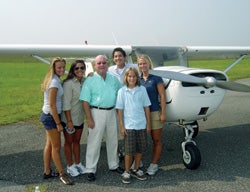 Retired U.S. Marine Corps Colonel Jack Howell learned about grief every time he knocked on the door of a military family. As a casualty assistance officer, Howell was deeply affected by watching grief-stricken families cope with sudden loss. He went on to teach at inner-city schools where students experienced similar tragedies due to violence, crime and drugs.

"Teenagers affected by these events often suffer PTSD, frequently exhibiting withdrawal, distrust and negative behavior," says Howell. "When it's all over, the family is left to its grief, and soon forgotten. I wanted to change that." Howell, a pilot, felt that aviation could provide missing peace and focus, and possibly diminish some of the grief.

With nothing more than an idea and a high school teacher's salary, Howell created one of the country's most unique aviation programs. Through Teens-In-Flight, a nonprofit 501(c)(3) company, the teenaged children of parents disabled or killed in action during the Global War on Terror can receive free flight training. Howell has expanded the program to include children from low-income families who lack the means to fly.

"Never in a million years do these teens think they'll ever fly," he explains. "By focusing their minds on aviation and everything that surrounds it, they experience tranquility—maybe for the first time in their lives."

Howell struggled to buy a Cessna 150—out of his own pocket—because "my kids needed an airplane." He and his all-volunteer staff operate on a shoestring budget and depend on donations to keep running. "We're not a flight school," he emphasizes, "but we provide funding for training through flight schools and instructors that work with us."

As a pilot, Howell has the enthusiasm of a man who knows the sky, and he accepts no limits. He was nominated by NASA to be a mission specialist in its "Teacher in Space" program. He was the A. Scott Crossfield National Teacher of the Year, and was inducted into the "Crown Circle" by the National Congress of Aerospace Education. Howell's focus, though, is always his kids.

Because Howell wants his teens to feel a sense of ownership, he asks them to participate in fundraising. To get into the program, students have to maintain at least a 2.5 GPA, pass a drug screening, be recommended by a principal and write a 1,000-word essay about why they want to fly.

The results are extraordinary. Howell beams proudly as he talks about each student. "Victoria is at West Point, I just got an e-mail from her," he smiles. "I have kids at the U.S. Air Force Academy, Embry-Riddle, Florida State University—all over." These students want to be astronauts, engineers, mechanics and airline pilots. Many of the teens are receiving scholarships to flight schools, glider programs and EAA summer camps.

"Do you know the good, warm, happy feeling you get when you're at home and comfortable somewhere?" wrote teenager Jessica Monkhouse about her first flight in an airplane through Teens-In-Flight. "That's how I felt in the sky. I felt like I belonged." Visit www.teens-in-flight.com.