Tuesday, April 22, 2014
Kansas State: Affordable Excellence
A world-class UAV program, Beechcraft fleet and small class size make K-State a standout
Headlines across the media have recently focused on the shortage of regional airline pilots. One of the reasons cited for this shortage is the exorbitant cost of getting an aviation education paired with earning the required ratings to step into a professional cockpit. While that's true of many of the well-known aviation academies, Kansas State University in Salina, Kan. ("K-State"),offers several aviation degree programs that undercut these others by a wide margin. In fact, K-State offers one of the most affordable and respected aviation programs in the country.
If that weren't enough, K-State was one of the first two academic institutions in the country to offer an unmanned aerial vehicle (UAV) program and is one of the few to offer a Bachelor of Science degree in unmanned aircraft systems. K-State Salina's proximity to accessible restricted airspace creates an ideal setting for students to learn to fly unmanned aircraft. It's also one of only a few universities with authorization to fly UAVs in the National Airspace System. The university has been on the forefront of UAVs and has established operational guidelines, policies and training procedures to operate unmanned aerial systems in the skies above Kansas.
Heather Wagoner, Marketing and Communications Director for K-State Salina, tells us that the school's UAV program has created a keen interest in its graduates. "Lots of companies are coming to us to do UAV research," she says. "And it is a constantly growing piece of our aviation program." Wagoner added that while most universities conduct operator and sensor training via simulation, K-State takes the hands-on approach.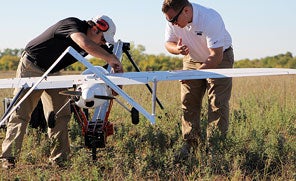 Kansas State was one of the first academic institutions in the U.S. to offer an unmanned aerial vehicle program. Students can pursue a Bachelor of Science degree in unmanned aircraft systems.
Students begin with Unmanned Aircraft Systems (UAS) simulation and manned flight training. By the third semester, students are in the field gaining practical experience flying both vertical takeoff and landing (VTOL) UAS and primary UAV trainers. Students assume various team roles as UAS crew members, and in launch and recovery operations. By their junior and senior years, students have acquired numerous hours of actual UAS flight time and begin operating larger-scale/longer-duration UAVs such as the Aerosonde and Penguin. During their senior year, students apply their experience to live UAS flights in the protected airspace of the Smoky Hill aerial weapons range and Fort Riley.
If manned aviation is your interest, K-State Salina also offers a rich variety of aviation majors and career tracks. Avionics, Airport Management, Maintenance and a Professional Pilot track are just a few of the many aviation programs at K-State. The university boasts three instrument runways adjacent to campus (one is 12,300 feet), a state-of-the-art Canadair Regional Jet simulator, an operational dispatch center, an aviation maintenance training hangar, and modern classrooms and labs. K-State student pilots have the unique opportunity to fly right seat in the school's turboprop King Air C-90 as part of a jet-prop transition course and the university's transportation program.
Page 1 of 2