Tuesday, October 19, 2010
The Box Is Yours
Competition aerobatics can make you a more precise and confident pilot
Get In The Air
Once you've watched a competition, it's highly recommended you go out and get some dual training at a reputable school in the type of plane you plan to fly, particularly in the areas of spin training. If you can't find a specialized school nearby, you may want to consider traveling to air show performer Sean D. Tucker's Tutima Academy of Aviation Safety (
www.tutimaacademy.com
) in King City, Calif. Tutima's initial aerobatic course takes six days to complete, after which you should have the skills necessary to compete at the Sportsman level.
Once you've completed your training, it's time to sign up for a contest. If it's your first time competing, you'll be assigned an experienced competitor as a "buddy" to help you get oriented with the process. When starting out, it's important to focus on having fun and enjoying the experience. Take lots of pictures, drink lots of water and have fun!
The rest of my first-ever competition flight at Borrego Springs was a complete blur of loops, rolls and spins, as I subconsciously worked through the known sequence from memory. After completing my routine, I exited the aerobatic box at 1,500 feet at the maximum design speed of my little biplane, sweat pouring into my eyes, adrenaline still flowing, having just flown my first aerobatic contest flight. I made a victorious fist pump in the cockpit, privately celebrating an event I had been waiting over a decade to experience firsthand.
Over the next two days, I would fly two more times, volunteer as an Assistant Judge, make new friends and ultimately finish in 11th place out of 18 competitors in the Sportsman category. I was quite happy with the results for my first contest, and the experience itself was, without a doubt, unforgettable. With a deep-down desire to keep flying contests (and win), I've subsequently flown a total of five competitions and managed to take home a couple of first-place trophies. Though still early in my aerobatic career, I've enjoyed every step of the journey thus far, and I'm excited about continuing the adventure. Hope to see you at a contest sometime soon!
Cyrus Sigari ( This e-mail address is being protected from spambots. You need JavaScript enabled to view it ) is president of JetAVIVA and serves as P&P Light Jet Editor.
The Aerobatic Box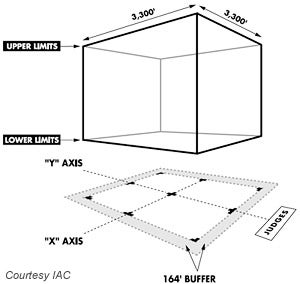 The aerobatic box is an imaginary box in the sky that competitors are required to stay within the bounds of once they begin their routine. Boxes will typically have nine distinct markers on the ground to assist pilots in staying oriented during a competition flight. The upper limit varies from 3,500 feet AGL to 3,280 feet AGL, and the lower limit from 1,500 feet AGL to 328 feet AGL, both depending on the category in which the competitor is flying. In the Primary category of competition, the lateral limits of the box aren't required to be adhered to, only the vertical. Sportsman, Intermediate, Advanced and Unlimited pilots are required to stay in the box and are penalized for each excursion outside of the box boundaries. Two boundary judges will typically be stationed at opposite corners of the box, advising the chief judge over radio each time there's an excursion. Maintaining a well-placed routine in the center of the box in clear view of the judges can be quite challenging, particularly if there's a cross-box wind component. Box management is a skill that takes a lot of practice to perfect and comes with time and experience.

Page 3 of 3