Tuesday, April 1, 2008
The Ugly Side Of Spring
Winter hasn't released its icy grip yet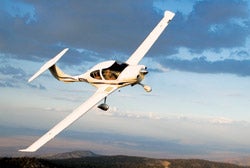 Springtime thunder has a strong signature in the forecast tools used by meteorologists. As a result, it's relatively easy to predict these major events. A day or two in advance of your planned departure, the Storm Prediction Center (SPC) provides two useful thunderstorm outlook products. While the SPC isn't aviation-centric, it issues one-, two- and three-day convective outlooks as well as an experimental enhanced resolution outlook. The one- and two-day outlooks graphically depict a forecast for general thunderstorm activity as well as the potential for severe storms over a 24-hour period (www.spc.noaa.gov/products/outlook). Each outlook has a textual discussion that provides details that are often technical, but may further quantify the timing and location of the convective event.

On the morning of your flight, check out the experimental enhanced resolution thunderstorm outlook (www.spc.noaa.gov/products/exper/enhtstm). This graphic provides a narrower forecast time window than the regular outlooks. It doesn't, however, address the severity of the thunderstorms.

From a weather perspective, early spring is by far the most challenging time of the year to fly. Altitude selection takes a back seat to route selection around convection especially when flying into parts of the southern tier. Fortunately, most of the weather systems do move through quickly, so keep your schedule flexible. You've probably heard the old saying, "In like a lion and out like a lamb." From an aviation weather perspective, you can certainly count on the lion, but don't be complacent; that lamb can show a bit of a mean streak now and then.
Page 3 of 3