Tuesday, November 8, 2011
Bahamas 101: Recipe For Paradise
Flying to the Bahamas is the stuff of dreams and is within the reach of nearly any pilot and aircraft
Leaving The U.S. For The Bahamas
The big news here is the adaptation of the
eAPIS (Electronic Advance Passenger Information System). This is a simple, web-based interface that takes only minutes to complete and is mandatory.
The essentials of flying to The Bahamas are simple: You'll need some basic equipment (see our "checklist" sidebar), and you'll follow a specific procedure, outbound and on the return.
Pilots must land initially at one of the Bahamian airports of entry to clear customs. But once you've done that, you can island-hop with no additional paperwork or hassle. Of course, each person aboard must carry a passport (drivers' licenses aren't sufficient), and you need to have a copy of the C7A form onboard.
Around The World With Air Journey
www.airjourney.com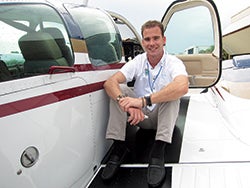 Traipsing around The Bahamas in Air Journey's E55 Beechcraft Baron gave us time to learn more about this "flying adventure specialist." Air Journey specializes in showing pilots the exhilaration of flying their own plane to destinations around the world. The company gets together small groups of pilots and airplanes, and leads the way, taking care of every detail of the trip, including all the logistical wrangling and administrative headaches.

Each Journey is led by an experienced pilot/journey director, and Air Journey acts as your personal valet, overseeing travel documents, transfers, hotels, excursions and itineraries. All trips are usually flown in VFR weather and only during daylight hours. Each travel group is composed of at least seven aircraft, but no more than 15.

Air Journey makes no bones about the level of service and accommodations on these trips. Each destination is chosen for its unique qualities, being selected only if it has first-class lodging, restaurants and service. These are luxury vacations with every detail attended to.

Guillaume Fabry, Baron pilot during our Bahamas adventure and Air Journey technology specialist, says the company has also launched their "Concierge Air Journeys," which allow pilots to choose where they want to go, how long they want to stay and what they want to do. "This is for adventurous pilots," Fabry tells us. "We create a tailor-made, private itinerary that combines their needs with Air Journey's best recommendations on hotels, things to do and favorite places to go."
Reentering The U.S
Bahamas Customs requires that pilots depart the country from one of the AOEs there. Once you receive a Squawk Code and then cross the ADIZ line back into the U.S., you're required to land at the closest AOE in order to clear U.S. customs unless you have an over-flight permit, which can easily be obtained by filing a 442 and 442a form with your local U.S. Customs Officer. Pilots must file an eAPIS return manifest if it wasn't submitted on the outbound trip. Similar procedures to the outbound trip follow the eAPIS filing.
A unique thing about the return trip is that you must call the customs facility at your AOE in the U.S. at least one hour prior to arrival and give them your tail number, departure point and estimated arrival time. Be sure to request the ID of the customs officer you speak to (a two-letter code). This proves you made the request if it gets lost somehow, and will save you a hefty fine.
One thing to note is that all procedures to return to the U.S. must be followed. The U.S. government is unforgiving of mistakes or omissions, so be sure to have all paperwork accurate, organized and complete. Your aircraft may be inspected on occasion.
Page 5 of 8