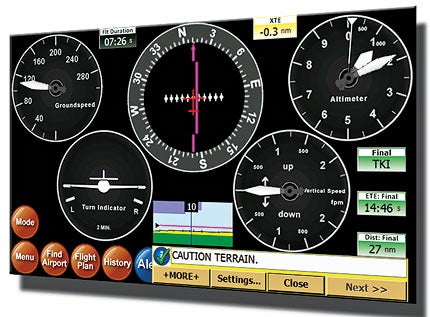 The Instruments Panel simulates real instruments and gathers info from GPS or an attached third party AHRS.
In October 2012, I updated you here on the latest enhancements for the revolutionary, portable, affordable ($750), iFly 720 moving-map GPS. Once again, GA pilots Walter Boyd and Shane Woodson, those brainy tech wizards who head up Adventure Pilot, have raised the bar on functionality, feature set and flat out cockpit "indispensability."
Their latest v. 7.5 software update folds in major new features to join an already jam-packed list. First, let's reprise some basic highlights:
The handy device that started everything was the iFly 700 moving-map GPS. It debuted at $500 three years ago as the first production GPS with a fully functional sectional map for a background display.
The bright, clear seven-inch screen displayed navigational en route data over official Federal Aviation Administration (FAA) sectionals and incorporated a touchscreen for easy navigating. With just a tip of a finger, you could touch a course line and "rubber-band" drag it to a new waypoint to avoid weather, airspace, restricted areas and more. You could also tap any airport, restricted area, obstruction, landmark and more, for instant, on-screen detailed information. All of it was super cool, and pilots loved it.
The 700 came loaded with IFR capability, too, with IFR Low En Route Charts, Approach Plates, Airport Diagrams and more.
Sales grew steadily for the non-FAA certified unit that powers from a plug-in socket or optional battery. The competitively priced software/dataset subscription update package didn't hurt iFly's popularity either: only $69/year. The Full IFR is $109, and that includes all future software, firmware enhancements and updates. One example is iFly Streets, a robust, full-function street navigator complete with turn-to-turn voice guidance that does a bang-up job for road navigation.
Then came iFly GPS 720 with the new Version 7 software, (updatable retroactively for the 700 model as well). The 720 hardware was faster, more powerful and came with impressive new capabilities, including:
• Terrain/Obstructions Display, completely user-configurable, with color terrain and obstruction marking, as well as ADS-B collision avoidance
• Active Alert System with advanced collision avoidance
• Now a brighter display with full sunlight readability
• Vertical Flight Planning profile graphic rendition of flight path, terrain en route, airspace, obstacles, aircraft performance and winds aloft.
• iFly Connect, which I described then as "the most hassle-free software updater I've ever used." That's still true.
• Direct-To Function on the flight plan page. Instant updating of your flight plan and saved previous waypoints.
• Flight Timer, which stops recording en route time when forward speed drops below 15 knots.
• Internet access through built-in WiFi
---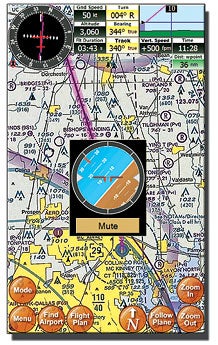 Portrait mode is now supported. Note the artificial horizon center screen, which is part of the new pop-up alert system. If preset parameters are exceeded, such as 30 degrees of pitch up in heavy turbulence, iFly will display over any screen to aid in maintaining safe flight.
The Future Redux
Boyd and Woodson committed from the beginning to an aggressive program of ever-expanding capabilities for the iFly device, and they've stayed true to that vision. Here's the latest cool stuff in Version 7.5, focusing on Shane Woodson's four favorite features:
1. Portrait Mode Support
With a quick menu selection, the unit boots in portrait mode instead of its native landscape display. iFly Streets remains a landscape-only program.
"Portrait Mode allows the iFly GPS to be vertically-mounted," says Woodson, "which brings many advantages, including improved reference of Approach Plates and more flexibility for mounting into existing panels with either an Air Gizmo dock (battery-powered), or as a semi-permanent install.
2. World Aeronautical Charts (WAC) for Alaska, Canada, Mexico and the Caribbean bring broader coverage.
3. Expanded ADS-B and Third-Party Device AHRS Compatibility
Anticipating the imminent completion of ADS-B implementation, iFly now offers support for:
• Clarity ADS-B Receivers with and without SV (AHRS)
• NavWorx ADS-B Receivers via Wired Connection
• LEVIL AHRS and iLEVIL ADS-B/AHRS Devices (iLEVIL is currently in Beta)
• External serial GPS input
Also new is depiction of on-ground ADS-B aircraft, a Spatial Disorientation Alert System (pilot-configurable when connected to an AHRS Device) which has some compelling features, including audible and visual alerts when pilot-selected parameters are exceeded.
Imagine you find yourself in violent turbulence or incipient instrument conditions. You've previously input 30 or 45 degrees as bank and pitch-up maximums in your iFly. If either of those conditions are exceeded, iFly sounds the alarm and also pops up an artificial horizon (AHRS) display front and center to help you recover from the unsafe flight mode.
Once you've corrected to a safe attitude for at least five seconds, the alerts disappear without further action required by you. That's mighty handy.
---
4.
Instrument Panel
There's a new electronic flight instrument-style (EFIS) page, too, with familiar instruments including a horizontal situation indicator (HSI), Turn Coordinator, verical speed indicator (VSI), altimeter and ground speed readout.
And in Plates Mode, you'll find more dedicated instruments and the (optional) AHRS-driven Artificial Horizon. All displays are highly customizable.
"We also give pilots the option of buying the iFly 720," adds Woodson, "without iFly Streets, since that's a feature some pilots may not need, for a reduced price of $699.
So, now we can offer a moving map GPS with VFR/IFR [visual flight rules/instrument flight rules] information, portrait mode and sunlight-readable display for the same price point as a baseline Garmin Aera 500 (a screen). And the Aera doesn't offer all the included IFR and VFR information we do. Plus, if someone changes their mind down the road, they can easily add the iFly Streets soft-ware package."
Walter Boyd notes that the terrain and obstruction alerts that came with the previous software update caused "a substantial increase in attention. People like those alerts. They now think of us in the same category as fully-featured, portable GPS products that cost much more.
"Our customers praise the 720 over the iPad and iPad mini on such issues as sunlight readability, turbulent-friendly software buttons and ease of use.
A lot of customers fly in extreme weather, where summer heat and cell tower signal issues can affect iPad functionality. When the iPad might overheat, the iFly 720 keeps going due to its higher temperature operating range. Many pilots tell us or post on our active forums that they now use their iPads for preflight planning and backup, and the iFly GPS for their favorite in-flight navigating."
To fully appreciate the iFly 700 or 720 and its latest 7.5 software build, visit www.iflygps.com. This is a dynamic device that's constantly evolving and will give any navigation device on the market today a serious run for your money.