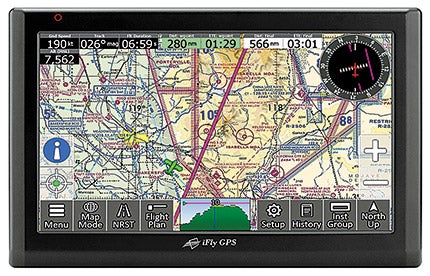 The screen that brought Adventure Pilot to the low-cost supplemental avionics dance: a super-bright VFR Sectional Chart with a moving-map GPS flight plan superimposed on top of it. And, yes, the iFly740 is a fully touch-screen device.
We're afloat in constantly updated technological innovation everywhere we turn. Today's newest super "iGadget" tops tomorrow's "so last week" pile. And customer service, when you can reach a human being, often earns a single descriptor: fail.
It's refreshing then to find a company, and its flagship product, that continually raises the bar of technical innovation while cleaving to an old-fashioned ethic: the customer as valued partner.
Shane Woodson and Walter Boyd, leaders of Adventure Pilot, are two longtime flyboys with serious software engineering chops. Five years ago, they perceived a market vacuum, and they filled it. They felt all those high-priced, small-screen moving-map GPS units were due for a serious competitive comeuppance, so they created one—the iFly 700, which sold for a pittance: $500.
I found their booth five years ago at Sun 'n Fun and marveled at the iFly 700: a supplemental (non-FAA certified) moving-map GPS that not only displayed your flight course on top of a VFR sectional or IFR/enroute chart, but did it as a touch-screen device, then a still-emerging technology.
Customers flocked, and they're flocking more than ever, with each new iteration of the iFly GPS experience.
The iFly 700 model required a modest $69/year software update subscription ($109 for VFR/IFR combined). It was big on display with its seven-inch diagonal screen, smart as a whip with tons of useful pilot-friendly features, and perhaps most valuable, Woodson and Boyd were unusually responsive to their soon-to-be-exploding customer base.
Flash-forward, and we find Adventure Pilot going stronger than ever with a third-generation GPS phenom: the iFly 740 and its just-released version 9.2 software. They've also developed the iFly GPS app for iOS and Android devices, but there remains at least one compelling reason new and returning customers will want to take a hard look at the iFly 740 unit: the new, super-bright screen.
For all us nitpickers, the 1300-Nit screen is bright enough for the most sun-drenched cockpit. That's a boon for GA, light-sport aircraft and the open-cockpit environments of experimental aircraft, ultralights, trikes, gyros and powered parachutes.
Let's zoom in on just a few of the many tasty new treats:
Extreme sunlight-readable bright screen. Woodson calls it "the brightest portable GPS screen on the market." It's twice as bright as the previous iFly 720 and up to four times brighter than an iPad screen.
A big CPU jump. By moving from a 1.4 gHz cpu to a 2.12 gHz dual-core processor, boot time to a Sectional chart and full GPS lock is reduced by over 60 percent, now only 20 to 25 seconds.
Onboard RAM doubled. The entire user interface experience is faster and smoother.
Improved WiFi. New-generation GPS receiver with improved reception for better WAAS lock and acquisition of three to four more satellites.
Minimal change to the "footprint." Only an increase of .07 inch to thickness and 2 oz. of weight (14 oz. total).
New built-in lithium polymer (Li-Po) emergency battery in case of aircraft electrical failure.
All iFly models, including the $399, five-inch screen iFly 520, tap into aircraft power systems or can run on compact battery packs for many hours. Like other iFly models, the 740 works with both 12V and 24V electrical systems. It handles hot, sunny cockpits with a broad, 170-degree temperature tolerance range. Many iFly GPS customers report their newer iPads with retina screens and some Android tablets often shut down from sun overheating.
As veteran pilots and software developers, Woodson and Boyd don't shirk from tweaking code, either. They're constantly refining, upgrading and innovating with new features. The just-released software version 9.2 is another goodie bag chock-full of useful tools. Some highlights:
NRST Airport page: Overhauled and much more robust than previous versions, the Nearest Airport page displays full information of airport type and name, a directional clock-like pointer, distance to the airport and a Direct To button, along with basic details such as runways, frequencies, ADS-B and more.
A new Emergency Assist Mode puts you into an All Airports display. When you touch Emergency, the software calculates your ability to reach any airport in the vicinity, based on aircraft glide ratio, altitude, speed, direction and more. Conservative estimates for each airport display in green, yellow or red, where green is easy to reach, while red is strongly discouraged.
Seamless HD chart display: Earlier versions of the iFly GPS software displayed one chart at a time. Now, successive charts along your route blend seamlessly as iFly picks them for you automatically. In VFR mode, you move between WAC, Sectional and TAC charts based on location and zoom level. You can also manually select any chart you prefer.
New Mode Menu: An upper area selects the base map to be displayed (Map Mode), while the lower shows you optional layers you can add to the base map. IFR pilots now have IFR Low and High En Route charts. There's also an option to overlay Nexrad and Metars data on any of the base maps. In short: Have it your way.
Quick View Popup: With earlier versions, you tapped the map, and a Possible Actions Menu popped up. Now it's called the Quick View Popup menu, and it's reorganized for ease of use in selecting pages such as Airports (APT), Weather (WX), Airspaces (ASPC), Navigation Options (NAV) and Traffic (TRFC).
Yet another neat feature: When you choose APT, an info sheet on the airport pops up. Tap it to easily add the airport to your flight plan or get more details about the airport such as extended runways.
Plates and Diagrams: Georeferenced plates now display right on any base map. You can set the opacity of the plate and toggle its colors for white or black background. Plates are easily pulled in by touching an Airport, touching the View Plates dialog, then selecting.
There's also a Plates button that shows when you're looking at a Plate or Diagram, and a Pin option to tag plates important for your flight plan.
Multiple Device Sync: "We give pilots with dedicated iFly 740 units the ability to use the iFly GPS App for iPad or Android Apps seamlessly," said Woodson. The functions, buttons and features are identical on all platforms. When you select "share with Local Devices," it pushes complete flight plans to any or all other devices on which you've installed the app. "Better yet, if you're flying with a navigator, maybe your wife or a friend, and you rubber-band a route on your iFly 740 or modify your flight plan, the change will show up automatically on the other local WiFi-connected iFly GPS software devices, too."
Adventure Pilot stands by its ethic of affordable functionality. iFly GPS subscribers receive one VFR or IFR software subscription and can use it on many devices with the Multi­Platform Upgrade.
"We give pilots that built-in redundancy factor, so there's no learning curve or need to stay proficient on multiple apps. It saves them money to put more fuel in the tank for those $100 breakfasts and hamburgers," Woodson continued.
Customer accolades are plentiful. Woodson draws the most pleasure from those who praise the ease of use of the iFly GPS system.
"When customers buy an iFly GPS, they are part of our iFly GPS family," he said. "It's not just bells and whistles or bling features, but how easy you make it for the pilot. We continually hear from fellow pilots that our software is more intuitive.
"Our IFR and VFR pilots tell us we really do make their workload in the cockpit easier. Our goal is to get them the information they need quickly and get their eyes back outside the airplane." The company has well more than 300 beta testers who are heavily involved in providing ongoing feedback.
On the near horizon, perhaps to debut at Sun 'n Fun 2016, the programmers are hard at work on software version 10, which may add synthetic vision to the iFly GPS universe.
One more feature deserves mention: iFly Streets. This $50 option turns your iFly 740 (and previous models) into a sophisticated ground GPS that plugs into your car's DC power socket. Woodson said more than 30% of their customers opt for the added functionality and superior brightness in sunlight.
Which brings up a final mention: experimental kit builders and LSA, ultralight, trike and even powered parachute pilots have discovered the 740 not only for its bright screen, but for its affordable functionality. "I talked recently with a guy flying a powered parachute," Woodson said. "He mounted a 740 with an ADS-B transceiver on it!"
The company offers ADS-B In/Out by bundling with aftermarket units such as the NavWorx ADS 600 and SkyGuardTWX Vision­Pro Plus. "Pilots get the full iFly 740 experience with ADS-B In/Out, full weather, traffic, everything."
Current price for the iFly 740 and mounting accessories is $899. Contact: www.adventurepilot.com.