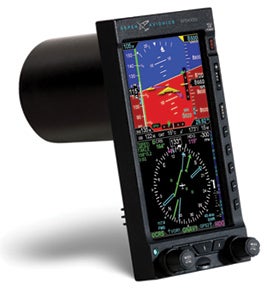 Owners and pilots of airplanes with traditional "steam-gauge" instrument panels will shortly be able to upgrade to a modern glass panel without the need for an expensive custom instrument panel. The Evolution EFD1000 primary flight display (PFD) from Aspen Avionics will be initially available in two versions. The EFD1000 Pilot, with a $5,995 MSRP, is aimed at VFR pilots. It functionally replaces the attitude indicator, airspeed indicator, altimeter, rate-of-climb indicator and directional gyro, but doesn't provide autopilot support or interfaces for navigation instruments. GPS legs and waypoints can be displayed on the directional gyro. The $9,995 MSRP EFD1000 Pro includes all the features of the entry-level model, but adds a horizontal situation indicator (HSI) and radio-magnetic indicator (RMI) functions, along with an autopilot and flight-director interface that supports GPS steering when used with a compatible GPS navigator.
Both Pilot and Pro models of the EFD1000 are housed in identical hardware: A 2.6-pound, vertically oriented, 6-inch LCD housed in a 3.5×7-inch bezel, which is backed by a 4.2-inch cylindrical "can" that fits in a standard 3-inch instrument panel hole. Aspen expects that most users will choose to install an EFD1000 in the positions normally occupied by the attitude indicator and directional gyro. The instrument includes a built-in air data computer, emergency backup GPS and built-in backup battery; it requires connection to a 2.7×4.4×1-inch remote sensor module that weighs 0.2 pounds. Total electrical power required is 2.4 amps at 14 volts or 4.8 amps at 28 volts. When used with an autopilot, the Pro model also requires a 5.8×4.3×1.6-inch analog converter unit that weighs 0.8 pounds and requires an additional 0.5 to 1 amp of electrical power.
A unique feature of the Evolution EFD1000 series is that each model is software-upgradable. You can initially purchase and install an EFD1000 Pilot and later upgrade it to an EFD1000 Pro. The upgrade will have to be performed by an avionics shop, according to Aspen Vice President of Marketing Doug Cayne, and may involve additional hardware if, for example, the owner wants to add autopilot functionality or connect a GPS navigator or other nav data source to the unit.
I haven't had the opportunity to fly with the EFD1000 yet, but I was able to speak with Cayne, who holds an ATP certificate, in between test flights. "It's nice!" he exclaimed. "The first thing that impresses me is the size of the attitude display: Although it fits in a 3-inch instrument hole, it feels a lot bigger. And pitch changes show up much more clearly on our display. On our Cessna 421, I had a 4-inch ADI, and I've got much more room on our display, even though it fits in a 3-inch instrument hole. The things that take the most getting used to are the airspeed and altitude tapes—but in most installations, you'll have to keep the airspeed and attitude indicators and altimeter as backup instruments. On an instrument approach, I find it really useful that everything is on one instrument: Attitude, airspeed, altitude, localizer and glideslope deviation are all on the same instrument, and if you're connected to an IFR GPS like a Garmin GNS 430/530, you can overlay the approach on our HSI. You see the hold or procedure turn right there on the display. It gives you phenomenal situational awareness. The built-in Altitude Alerters, with separate approach minimums alerting, are also a big help. I flew a King Air for several years that had RMIs; I really like having the bearing pointers—you can have one pointing to your airport and another toward a VOR for a missed approach. Again, if you have a Garmin 400/500 series (or similar system) and an autopilot with a heading bug, you can get GPS steering that will effectively fly the airplane hands-off."
According to Cayne, Aspen currently has experimental EFD1000 installations flying in a Piper Lance and an older Cirrus SR22, and will shortly have it installed in a Cessna 421, Piper Arrow and Beechcraft Bonanza. Shop time required for installation will vary, according to Cayne: "The major complication is the autopilot. If you have a rate-based autopilot, you just need to keep your turn coordinator. If you have an attitude-based autopilot, then you may have to move the attitude indicator, which can also be used as a backup instrument." Cayne also noted that many owners may choose to have additional avionics installed at the same time as the PFD.
Aspen is pursuing FAA certification of the Evolution EFD1000 PFD series through TSO, and an approved model list STC covering "all Class I and II airplanes, basically everything under 6,000 pounds" should be certified by spring 2008, according to Cayne. Once this is complete, Aspen intends to extend the approved model list to Class III airplanes up to 12,500 pounds gross weight.
Aspen has big plans to expand the Evolution product line: A still higher-end EFD1000 ATP version will add moving map, terrain, traffic avoidance and weather functions; it should be available by mid-2009. And the company plans two companion multi-function display (MFD) products. The $4,995 EFD500 MFD will offer GPS flight-plan views, base map, sectional-style map and optional terrain, traffic and weather overlays, depending on available avionic inputs. The $7,995 EFD1000 MFD will offer the same features and add a duplicate ADAHRS system, providing complete backup flight instruments to the EFD1000 PFD. Both MFD models should be available by the end of this year.
For additional information, browse www.aspenavionics.com/evolution or call (505) 856-5034.