We're skimming low over the Atlantic Ocean, some 80 miles southeast of Fort Lauderdale. Below us is a giant marble—brilliant glass with swirls of every shade of blue and green you can imagine, and flattened so it stretches as far as the eye can see. We're suspended above it with little sensation of movement. Without any land for reference, I notice the curious feeling that I have no idea whether we're at 5,000 feet or 50 feet. Sky merges with ocean, and only the altimeter confirms our location in space. The crystal clarity of the Caribbean water reveals sea life below its surface, while coral sand forms ripples in intricate patterns. It's paradise we seek, and I quickly realize we've found it.
The Bahamas is a group of about 700 islands that stretch into the northwestern Atlantic Ocean. Nassau is the population center, the seat of government, a huge cruise-ship port and a busy airport of entry. Nassau lies on New Providence Island, near the Disney-meets-Vegas Atlantis resort. While Nassau has many charms, you don't really know The Bahamas if you only know Nassau. The true heart of this chain lies in the many smaller islands that comprise The Bahamas, and only general-aviation pilots hold the secret to unlocking their unique treasures.
Any article about flying The Bahamas should start with two simple truths: The task is absolutely within the capabilities of even the most basic pilot and single-engine airplane, and flying these islands will reward a pilot with some of the most memorable experiences and unbelievable scenery. It's almost as if the GA airplane were created singularly for this purpose.
---
Introducing eAPIS
eAPIS is the Electronic Advance Passenger Information System implemented by the U.S. Department of Homeland Security and Customs and Border Protection (CBP) to strengthen aviation security and has been mandatory for private aircraft since May 2009.

The system is a web-based interface that allows electronic registration of passenger and pilot information in the form of departure and arrival manifests for international flights in private aircraft. They're used in risk assessment. Pilots must file the eAPIS no less than 60 minutes before departure.

First-time pilots must first enroll in the eAPIS system to receive a "sender ID" and "aviation key." The required enrollment information relates to birth dates, places, current address, citizenship, etc. The system also will require pilot's license information, as well as information relating to the Customs decal that pilots must affix to their airplane before leaving the U.S. (it costs $27.50 and is available at https://dtops.cbp.dhs.gov/). eAPIS registration is free, and everything is done online.

For each international flight, the pilot fills in a departure and arrival manifest for each occupant of the aircraft. For each occupant, they'll need basic ID information as well as passport number, date and place of birth and current citizenship. An email acknowledgement will be sent to the pilot once the Notice of Departure (or arrival) is processed.

The entire process is quite simple and painless. Once the initial registration is complete, filing for each subsequent flight is quick. Note that the eAPIS can be filed days or weeks in advance of your trip. Both the departure and return manifests can be filed at the same time, as well.

There's a useful tutorial that covers the entire process at http://apps.cbp.gov/eAPIS-pa. It's worth the five minutes to do the tutorial. Once enrolled, eAPIS filings can be done at any computer with Internet access at https://eapis.cbp.dhs.gov.
---
Basics
The islands of The Bahamas are arranged in 10 groups that comprise 10 extraordinary VFR-flying destinations that would take the rest of your flying life to explore fully.
There are 20 airports of entry (AOE) in the Bahamas and 55 general aviation airports overall, scattered among the islands, most of which are FAA approved.
Aside from Nassau, the other 54 airports are nontowered, with a CTAF frequency of 122.8 to announce intentions and position. An exception is Exuma International (MYEF), which uses 118.0 as their CTAF. All traffic patterns are to the left, with pattern altitude standardized at 1,000 feet AGL. VFR night flight is prohibited in The Bahamas. There's avgas available at nine airports, arranged so you're never more than 20 minutes from a fuel stop.
Most pilots don't realize that the closest island, Bimini, is only 50 nm from Miami. And if you think such proximity dilutes the island experience, you're wrong. Bimini is where Ernest Hemingway lived from 1935 to 1937 while he wrote To Have and Have Not, and where he did lots of fishing and drinking. Jimmy Buffet spends time in Bimini, and the pristine, turquoise beaches of the Bimini Sands Resort are the stuff of postcards.
The Bahamian government—recognizing how important private pilots are to the Islands' tourism-based economy—has made it easier to visit The Bahamas than any other country. For example, The Bahamas has created a special exemption that allows pilots to fly there without a 406 MHz ELT—something all other countries require. They publish a Bill of Rights for Pilots spelling out some of those concessions, and it is, in every sense, impressive.
The first step in any Bahamian adventure is learning the ropes of getting into and out of the islands. If it sounds confusing at first read, it's really not, and Bahamas Ministry of Tourism and Aviation (BMOTA) has created a program whereby you can talk directly to one of several "Flying Ambassadors" (see sidebar) to guide you through the process. The Ministry also publishes an excellent (and free) Private Pilot Guide at www.bahamas.com/bahamas/private-flying.
---
Ambassador And FBO Gateway Program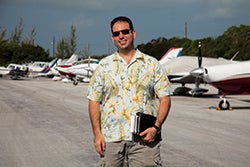 Neil Glazer is part of the Flying Ambassador program that assists pilots unfamiliar with flying to The Bahamas.
In a moment of sheer genius, the Bahamas Ministry of Aviation created the Flying Ambassador program to assist pilots flying The Bahamas for the first time.
Flying Ambassadors are seasoned private pilots with extensive experience flying the islands of The Bahamas. This current group of eight U.S.-based pilots knows all the ins and outs of customs, weather, airports, procedures and forms. Each acts as a sort of personal valet—free of charge—teaching pilots how the system works.
Pilots contact the Ambassadors with their questions or concerns and get insider tips on flying the islands. They'll speak with people like Mike Zidziunas (known as "Mike Z" to everyone), who has been flying these islands for decades, and is the current light-sport specialist (he flies a Breezer LSA all over The Bahamas); or Neil Glazer, who runs PilotMall.com and flies his Mooney to The Bahamas on a regular basis. "The basic concept is to have somebody pilots can call to make it easier for them to fly The Bahamas," says Glazer. "Flying the islands is a state of mind more than anything else. We help pilots know they can do it."
The FBO Gateway program is similar. It's a group of eight select Florida-based FBOs that serve as launching points to The Bahamas. They've been trained by the Ministry of Tourism and can provide expertise, advice, forms and other resources to help U.S. pilots fly to The Bahamas. Most Gateway FBOs even rent gear like Coast Guard-approved life jackets and rafts for pilots who may not own it. They have experienced staff who know The Bahamas, and can steer pilots to the best resorts, restaurants and island experiences.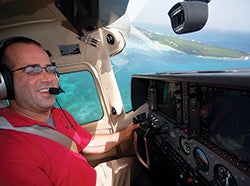 Dan Pooler enjoys the scenery from Sheltair's Cessna 206.
These are FBOs like Banyan in Fort Lauderdale, that have enormous facilities that can accommodate anything. We put them to the test with some mechanical problems that grounded us for several hours. They got us fixed and back in the air the same day, and provided some of the best customer service I've experienced at any FBO.
There's Sheltair (www.sheltairaviation.com), whose General Manager, Dan Pooler, gave us a hop in the company's pristine Cessna 206 for a photo flight, or Showalter Flying Service in Orlando, whose director of business, Brad Elliott, spent several hours with us explaining the Gateway program. These FBOs do more than fuel your airplane. They genuinely want you to have a great experience in The Bahamas.
You can find a list of Flying Ambassadors at www.bahamas.com/bahamas/bahamas-flying-ambassadors, and a list of Gateway FBOs at www.bahamas.com/bahamas/fbos.
---
Leaving The U.S. For The Bahamas
The big news here is the adaptation of the
eAPIS (Electronic Advance Passenger Information System). This is a simple, web-based interface that takes only minutes to complete and is mandatory.
The essentials of flying to The Bahamas are simple: You'll need some basic equipment (see our "checklist" sidebar), and you'll follow a specific procedure, outbound and on the return.
Pilots must land initially at one of the Bahamian airports of entry to clear customs. But once you've done that, you can island-hop with no additional paperwork or hassle. Of course, each person aboard must carry a passport (drivers' licenses aren't sufficient), and you need to have a copy of the C7A form onboard.
Around The World With Air Journey
www.airjourney.com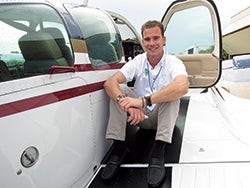 Traipsing around The Bahamas in Air Journey's E55 Beechcraft Baron gave us time to learn more about this "flying adventure specialist." Air Journey specializes in showing pilots the exhilaration of flying their own plane to destinations around the world. The company gets together small groups of pilots and airplanes, and leads the way, taking care of every detail of the trip, including all the logistical wrangling and administrative headaches.

Each Journey is led by an experienced pilot/journey director, and Air Journey acts as your personal valet, overseeing travel documents, transfers, hotels, excursions and itineraries. All trips are usually flown in VFR weather and only during daylight hours. Each travel group is composed of at least seven aircraft, but no more than 15.

Air Journey makes no bones about the level of service and accommodations on these trips. Each destination is chosen for its unique qualities, being selected only if it has first-class lodging, restaurants and service. These are luxury vacations with every detail attended to.

Guillaume Fabry, Baron pilot during our Bahamas adventure and Air Journey technology specialist, says the company has also launched their "Concierge Air Journeys," which allow pilots to choose where they want to go, how long they want to stay and what they want to do. "This is for adventurous pilots," Fabry tells us. "We create a tailor-made, private itinerary that combines their needs with Air Journey's best recommendations on hotels, things to do and favorite places to go."
Reentering The U.S
Bahamas Customs requires that pilots depart the country from one of the AOEs there. Once you receive a Squawk Code and then cross the ADIZ line back into the U.S., you're required to land at the closest AOE in order to clear U.S. customs unless you have an over-flight permit, which can easily be obtained by filing a 442 and 442a form with your local U.S. Customs Officer. Pilots must file an eAPIS return manifest if it wasn't submitted on the outbound trip. Similar procedures to the outbound trip follow the eAPIS filing.
A unique thing about the return trip is that you must call the customs facility at your AOE in the U.S. at least one hour prior to arrival and give them your tail number, departure point and estimated arrival time. Be sure to request the ID of the customs officer you speak to (a two-letter code). This proves you made the request if it gets lost somehow, and will save you a hefty fine.
One thing to note is that all procedures to return to the U.S. must be followed. The U.S. government is unforgiving of mistakes or omissions, so be sure to have all paperwork accurate, organized and complete. Your aircraft may be inspected on occasion.
---
Paradise Found
Our adventure is aboard Air Journey's Beechcraft E55 Baron. Air Journey specializes in putting together flying tours for pilots, and The Bahamas is one of its specialties. With me are P&P Editor Jessica Ambats and Air Journey's Guillaume Fabry, who has flown these islands many times.
We settle into a good routine, flying in the mornings and landing at each island close to midday. One of the many alluring things about these islands is the ridiculously good weather. August and September do produce strong tropical storms and even hurricanes, and the convective activity in the afternoons dictates that flying be done in the early hours, before the unstable moist air starts roiling.
Flying over the Atlantic, we learn how clouds create shadows on the water that mistakenly look like islands. Thunderstorms on the radar aren't as ominous as they seem to us California-based pilots, and NEXRAD and careful vigilance allow us to steer around the billowing "cue." Below us, the vast chain of islands creates a different swirl in the Jade canvas that surrounds it.
Harbour Island—part of Eleuthera—is an idyllic paradise. The "town" is charming—a loose collection of simple homes in ice-cream colors along a narrow road only accessible by golf carts. The beach surrounding the island is what you daydream about. There you'll find pale-pink coral sand, churned by the turquoise sea for thousands of years into a fine powder.
These islands were once part of the British West Indies and the great British Empire beyond that. Colonialism has remained strong here, and our marvelous hotel—Valentine's Resort (www.valentinesresort.com)—reflects that in its architecture and feel.
We continue to North Bimini, only 50 miles from the U.S. but a world apart. In the process, I get used to crossing large expanses of ocean, with the engine churning out its comforting bray. From the air, these islands offer up colors that not even Picasso or Pollack could fashion.
Bimini is more bohemian, with an older central town and a long history of pirates and expatriates that sought to disappear within its relaxed environs. Big-game fishing is the deal here, with Bimini serving as the launch point for trophy marlin, swordfish and others. Our hotel, the Bimini Big Game Club, is walking distance from some of the most postcard-Bahamian beaches imaginable. The northern part of the island caters to the yacht crowd, with the Bimini Bay Resort and Marina.
A mention needs to be made about the Bahamian people. They're among the warmest I've encountered in any country. There are various levels of acceptance of Americans around the world—from mere tolerance to genuine camaraderie—and the Bahamians win. They possess a certain spirituality about them, too: a reverence for the sea, for their islands and for their faith. They genuinely want you as a guest and exist with you, not just for you.
---
LSA Fly-In
| By Mike McMann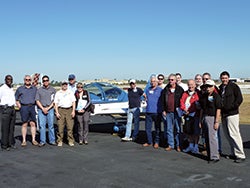 Early in 2007, I got a call from a new LSA manufacturer who thought he had a great story idea: his upcoming cross-country flight to Sun 'n Fun. "But," I asked, "where was the story in flying an LSA cross-country?" I learned to fly in the early '60s, and flew many cross-country flights in aircraft that today qualify as LSA. In 1985, I met an older pilot who was completing a bucket-list item, flying his Aeronca around the U.S circumference. There really isn't anything heroic about flying an LSA cross-country—it's entirely feasible.

This is why, when I was invited to partake in the first annual Bahamas LSA Fly-In in December 2010, I responded with an enthusiastic "yes." Flying an LSA cross-country would be like old times again—throw in The Bahamas, and how much better can it get? The Bahamas opened their islands to LSA just a few days prior, so our group would be establishing history when we arrived in 17 LSA.

We departed from Banyan Air Service in Ft. Lauderdale, Fla., en route to Freeport. I flew in a new Remos, one of the more popular LSA with a very good safety record. In my many thousands of hours of flight, this flight was one of the most beautiful, with a kaleidoscope of colors in the waters below.

The welcome provided by the Bahamas Ministry of Tourism and Aviation was impressive. Twenty-five people flying into one airport in 17 LSA is unique and can hopefully be duplicated frequently if The Bahamas continues to do things right and aircraft buyers start flying these affordable aircraft to a much larger degree. One of the best recollections of the trip was that we all burned less than 10 gallons of fuel!

The second annual Bahamas LSA Fly-In (www.breezeraircraftusa.com) will be held December 9-11, 2011, departing from Miami's Opa-locka Executive Airport to Bimini, a distance of just 50 nm. Plans are already underway for snorkeling and boat trips, as well as other resort activities common to the Bahamas. The Maverick Flying Car may also make the trip this year—talk about adventure!
Taking The First Step
As pilots, we have the best access to this paradise, and can experience it in minutes rather than hours. The Bahamas was made for pilots, and it's only from our little aerie that the full spectrum of this place becomes evident.
Start your journey at www.bahamas.com/flying, and set a mental goal to fly to these islands. It's easy, it's immensely rewarding, and it's within the reach of any pilot. I'm bewildered as to why every pilot in Florida isn't flying here daily.
As for me, my mind is back on that coral-sand beach, where it will remain until I can return to this land of robin's-egg blue. My love affair with these islands is deep and relentless. My mistress is a tiny strip of deserted sand, the gentle sound of azure waves lapping at my feet and the smell of trade winds wafting the salt air into my lungs. It's a recipe for paradise, and all the ingredients are ready—all you have to add is the pilot and the plane.
---
Bahamas Checklist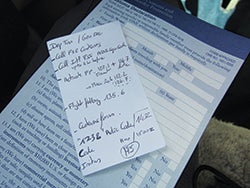 General Requirements
Mode C Transponder
12-inch tail numbers
Life jacket for each occupant
U.S. Customs user decal
Documents To Enter The Bahamas
Three copies of the C7A "Bahamas Cruising Permit" form
One Immigration Card per person
Passport for each person
Procedures—Outward-Bound from U.S.
File a Defense VFR (DVFR) or IFR flight plan by telephone at 1-800-WXBRIEF or www.fltplan.com.
File the eAPIS outbound manifest online (recommend doing the inbound/return at the same time).
Activate in the air prior to crossing the ADIZ and get discreet squawk code.
Prior to landing, close VFR flight plan with Nassau Radio, or use the blue phone at each Bahamas AOE.
Land at an AOE and clear Bahamian customs (see "documents" above).
Procedures—Return to U.S.
File the eAPIS return if not already done (at least one hour prior to departure).
Must depart from airport of entry (AOE) in The Bahamas.
Pay $20 departure tax per person six years of age and older (five and under is free).
Return stamped C7A form to Customs; return pink immigration card(s).
Telephone and advise U.S. Customs at closest U.S. AOE of ETA and get officer's two-letter code.
File a Defense VFR (DVFR) or IFR flight plan by telephone at (242) 377-7116 or (800) WXBRIEF.
Activate in the air with Nassau Radio prior to crossing U.S. ADIZ and get discreet squawk code.
Prior to landing, close VFR flight plan on 126.7 or at U.S. Customs office.
Remove all baggage from airplane and take to Customs office. No photos or video allowed.
Must have a blue Customs form (one per family), a passport for each person and the Customs decal on your airplane.