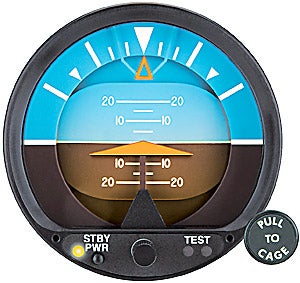 Every pilot knows "Hoover's Law": It's not a question of if your vacuum system will fail, but when your vacuum system will fail.
To eliminate the vacuum problem, many owners have opted to go with an electric primary or standby gyro. Great idea—until the power goes out. Then what? Well, thanks to Mid-Continent Instruments, pilots who install its new 4300 series Lifesaver electric attitude indicator with built-in battery backup can keep flying for up to an hour.
"Even if every other system in an aircraft's avionics panel goes dark, this innovative product powers on," explained Todd Winter, president of Mid-Continent Instruments. "It not only has power for the electric gyro, it also has self-contained LED lighting so the pilot can see which way is up."
Winter and Mid-Continent's engineering team, led by his father, put the experience that came with overhauling tens of thousands of gyros into creating the Lifesaver. And there's a lot more to it than just its unique battery backup system.
Better Performance Through Better Technology
One of Lifesaver's biggest technological advantages is that its new-generation electric motor turns the unit's rotor at about half the speed. "Typically you achieve the necessary [gyroscopic] rigidity through spinning mass," he explained. "But we were able to use proper gyroscopic principles to redesign the rotor, making it a bit bigger; we can achieve even more stability than a unit spinning twice as fast."
Coupled with new technology bearings that extend the lubricant life, Winter proudly boasts that the Lifesaver's mean time between failures (MTBF) is 7,500 hours. "Our bench tests on the rotor have gone over 20,000 hours," he added. "Seventy-five hundred hours is about three times more than what a typical vacuum-driven unit can achieve."
"That's a huge value to the customer," continued Winter. "Especially to operators that fly a lot of hours, like an active flight school, that could put as much as 2,000 hours on an airplane yearly."
He points to a couple of reasons why the units achieve this incredibly high reliability. "Being an electric gyro, it's not susceptible to dirt, moisture or other stuff gumming up the bearings and deteriorating the gyro's mechanical parts," Winter said. "We've also made the internal components much more rugged than in previous-generation gyros."
According to Winter, the Lifesaver series also has redesigned contact points between the gyro and the display. "We've gone to great lengths to eliminate the problem of parts wearing down and causing sticking problems," he said. "We had a helicopter operator in Canada that was getting 200 hours with its old electric attitude indicators. We've supplied its pilots with some of our new units and they've just been thrilled. I think they are over 1,200 hours now."
It Keeps Going!And Going!
Of course, the real highlight of the Lifesaver gyro is the built-in battery pack. And according to Winter, it isn't just the battery's size that's critical; it's the battery's powerful punch. "Because we used some new electrical technologies and electronics," he said, "we found that we were able to run the Lifesaver off this small battery for up to an hour."
It doesn't just have endurance with each use, it has a long lifetime. When properly and routinely recharged, the battery lasts three years. "It's more or less maintenance free," Winter said. "It's only when the aircraft isn't flown on a regular basis that the battery loses its durability. It's just like a car battery—you can't let it sit there and expect it to last. Using it too little is worse than using it too much."
"We recommend that owners change the battery every three years regardless of its condition," he continued. "You have a little bit of maintenance then, but it's a lot better and easier (ie, cheaper), than maintaining a vacuum system."
Obviously, flying IFR alone at night is no time to find out that your Lifesaver's little battery has passed on. So Mid-Continent has included a built-in self-test function on the instrument. The pilot just has to push a button to automatically check the overall status and health of the battery.
Reliability At A Fair Price
Winter said that aircraft owners aren't only going to appreciate all of the advances that Mid-Continent has built into the Lifesaver series when the power goes off. They're also going to like the ease with which it can be installed in their aircraft.
By doing away with the need for an external battery and all the associated wires and switches, Mid-Continent has cut way down on installation time and costs. "Our unit uses a single four-pin connector," he added. "The only other thing you'll need is power, and to connect the panel light."
Speaking of power, another huge convenience for owners and installers is the Lifesaver's unique multi-voltage electric unit. If a shop has a Lifesaver in stock, it can install it in any airplane with a 10- to 28-volt electrical system.
"That's another thing that has never been done before," he stated. "Years back you couldn't even buy a 14-volt electric attitude indicator. You can now." With the Lifesaver's wide power range, if you're flying an airplane with a 28-volt system and you have an electrical power failure, it takes some time for the aircraft's battery to get down to 10 volts, which is when the Lifesaver's battery will kick on, allowing you even more time to find an alternate airport.
So how much does all of this advanced technology and security cost? Winter said the retail [uninstalled] price for the Lifesaver Gyro with battery is $4,770. "We realize that owing an airplane is expensive," Winter said. "We put as much reliability and quality into our products as possible and still keep the price fair." With Mid-Continent's aftermarket and OEM sales increasing every year, it looks like pilots agree that they're meeting that goal.
For more information on this product, contact Mid-Continent Instruments at (800) 821-1212 or (316) 630-0101 or visit www.lifesavergyro.com.