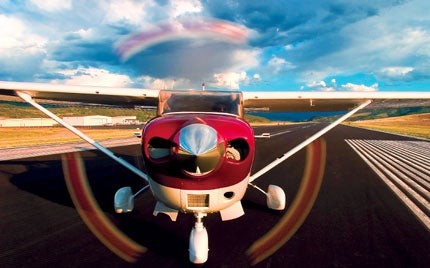 Utility airplanes must answer to a different kind of owner. Unlike most personal-transportation machines that are dedicated to recreation or fun, utility models are most often working airplanes that must pay for themselves.
The Cessna 206 has always been regarded as one of the premier work vehicles. Cessna Stationairs are almost universally revered around the world. They're generally tough airplanes, and that endears them to operators for whom where you can go and how much you can carry is far more important than how fast you can get there.
Stationairs have a deserved reputation as being tough birds capable of lifting pretty much anything that you can close the doors on, at or over gross. I've made my share of delivery flights in C-206s.The latest was in a new airplane that I picked up at the Cessna factory in Independence, Kan., and ferried to Bankstown, Sydney, Australia. Much of that flight was at 900 to 1,000 pounds over gross, operating under the special airworthiness certificate that comes with a ferry permit. If the handling was essentially truck-like and nothing happened very fast, at least the airplane hardly knew that it was nearly 30% over normal gross weight. (No, that's not a suggestion that anyone should run right out and fly their C-206 over gross. It's merely an example of what's possible under special circumstances.)
In fact, power-lifter has always been everyone's image of the C-206. The type is almost universally regarded as a rugged super-hauler, a kind of flying Chevy Suburban, willing to take on any load and not especially picky about the destination, be it paved, asphalt runway or unimproved, grass or dirt strip. With or without oversized bush tires or wheel fairings, the Stationair's sprung steel gear is strong and resilient, willing to forgive a multitude of sins. Stationairs also are approved on skis and floats, and many of the type based in Alaska or Canada spend half the year on wheels and the other half on floats. The C-206 also is licensed for amphibious floats by Fiber Float, DeVore and Wipaire that allow operation on land or sea interchangeably, but these are of limited value in bush mode because of the additional weight.
Cessna left the basic 206 Stationair airframe as it was, but the company made a major change in avionics technology. In September 2004, Cessna earned certification of the Garmin G1000 integrated glass cockpit system. The G1000 incorporates essentially all navigation and communication radios, flight and engine instruments into two large, flat-screen displays, a primary flight display and a multi-function display. The G1000 originally was certified in the Diamond Star, then the Cessna 182/T182, Mooney Ovation and Bravo, and now the Stationair 206 and T-206. It seems everyone is jumping on the G1000 bandwagon, and any pilot who has had a chance to fly the system understands why.
While there's little question that flying the G1000 is more complex than flying the airplane itself, Garmin's new avionics system is, at least, partially intuitive. As with any dramatically improved and upgraded avionics system, the G1000 is intimidating at first glance, but after you've sat in the cockpit for a few minutes and examined the glass-panel layout, things begin to fall into place and look more familiar.
Garmin's Matt Hara explains the company's philosophy in creating the glass cockpit: "Garmin co-founder Gary Burrell had always dreamed of someday producing an all-in-one navigation/communication/instrument system, and the G1000 is the huge realization of that dream. The Garmin 430 and 530 were major steps in incorporating VHF/GPS navigation and communication plus position depiction into a single box, but the Garmin G1000 takes the concept several steps further.
---
"Translating all that information into a single source, however, was a challenge. In some respects, it's tougher for the older, more experienced aviators to accept the new technology, primarily because they've been looking at the old conventional, round, steam gauges for years," continues Hara. "New pilots without habits entrenched by thousands of flight hours and more familiarity with computers have an easier time of it, but it can be tough to convince even them to accept rolling tapes or numerical displays. For that very reason, some of the Garmin G1000's electronics got brighter, more responsive and more accurate, but they have the same basic look."
Unlike Garmin's talented, state-of-the-art avionics suite, definitely a product of the 21st century, the latest Cessna to accept the system has changed little since its introduction in the mid-20th century. Technically, the first utility, six-seat Cessna was the C-205, a fixed-gear version of the 210, introduced in 1963. The C-205 featured 260 hp and a third door at aft left to facilitate loading rear-seat passengers. The C-206 premiered a year later with 300 hp, double cargo doors (but now on the right side) and an eight-inch fuselage stretch.
While there's little question that the Cessna Stationair has been improved over the last four decades, the changes have been more evolutionary than revolutionary. Like the Super Cub, straight-tail Bonanza and a few other designs, the Stationair remains very much the box it came in, a compliment to the talent of the engineers who conceived the original version.
The power is up slightly from 285 to 300 hp on the new-generation 206 airplane, although it's now derived from a Lycoming IO-540 rather than an IO-520 Continental engine. (The turbocharged Stationair features 310 hp rather than the original's 285 hp.) For the aerodynamicists among you, the airfoil section remains the basic original NACA 2412, the dihedral is still about 2.0 degrees, and incidence is a slight twist—one degree and 30 minutes at the root and minus-one degree and 30 minutes at the tip. The fuel capacity has increased quite marginally from 84 to 88 gallons.
Yes, there have been a myriad of other improvements, but most have been related to details rather than major design modifications. Cessna has long known that little about the Stationair is broken, so there's virtually no motivation to fix it.
The Cessna Aircraft Company store in my neck of the sky is Tom's Aircraft in Long Beach, Calif., and I recently renewed acquaintances with a new Cessna Turbo Stationair with sales manager Rich Manor in the right seat. Before our flight, Manor commented that turbos are the rule on the West Coast, and they're the dominant models throughout most of the rest of the world.
"West of the Mississippi, we rarely sell normally aspirated Stationairs," says Manor, "and even the total production favors the turbocharged airplane by two or three to one. Both models of the Cessna 206 are extremely popular overseas, with probably at least 33% of our production sold outside of the United States, especially in places such as Australia, Africa, Canada and throughout South America."
It's not hard to understand the Cessna airplane's global attraction. If you climb aboard a modern Stationair, you can't help but be impressed with how much better Cessna is building its piston airplanes these days. Interior materials are a major improvement, with none of those brittle plastic parts that used to crack and break after only brief exposure to high temperatures. Most everything is covered in leather on the new-generation Cessna Stationairs, only appropriate for an airplane that sells for $443,000 (G1000-equipped). The seats are adjustable in all the right directions, allowing plenty of leg, hip, elbow and head room. Max cabin width at the elbows in the front seat is 44 inches, and the cabin offers 49 inches of vertical space at the tallest point. Ventilation is dramatically improved with airline-style Wemacs, and entry-exit is easy, especially into the rear seats. Switches and controls have a more solid, higher-quality feel, as well.
---
From the moment you're off the blocks, it's apparent that you're driving nearly two tons down the taxiway. Taxi pressures are heavy and moving the Stationair on the ground demands the airline technique of breakaway thrust—push the power up to get the mass moving, then back off and let inertia move you down the taxiway. Even empty of fuel or payload, a typically equipped C-206 weighs in at nearly 2,400 pounds, so useful load is about 1,200 pounds. With a full 88 gallons aboard, that means that you'll be relegated to a payload of only 672 pounds, which is fairly consistent with the unwritten rule that says that most general-aviation airplanes with full tanks can't legally fly with more than 1⁄2 to 2⁄3 of the available seats occupied.
Like most of the utility airplanes, however, you can trade fuel pounds for paying pounds pretty much at will without major concern for the CG. Download fuel load to 50 gallons, two hours plus reserve, and cabin payload jumps to 900 pounds, a more reasonable number for a heavy lifter. Working Cessna 206 Stationairs carry things as often as people, and with five seats removed, payload might even approach 1,000 pounds.
The aft-right cargo doors are quite welcome for loading whatever will fit, but remember that the front seat makes do with a left side door only. Apparently, having the copilot door and cargo door on the right would compromise structural integrity.
The turbocharger allows the engine to develop full power all the way to 17,000 feet, so you can certainly expect the Lycoming engine to pull with a lot of enthusiasm at any reasonable density altitude, right up to the top of the highest mountain in the Lower 48 states. Unfortunately, no one has quite discovered a way to turbocharge the wings, so the Cessna Turbo 206 Stationair still suffers some climb loss at high altitude. Expect about 1,000 fpm from sea level at gross, more like 800 fpm at 10,000 feet. The service ceiling is listed at 27,000 feet, but there's no evidence that any Cessna 206 has ever been there.
Almost all Cessna Turbo 206 Stationair missions often don't demand high-altitude cruise operation or long range, but the airplane does quite reasonably well at mid-cruise weights. Specifically, flying at 3,300 pounds with the max cruise settings at 8,000 feet, you can expect about 145 knots of cruise speed. Ascend to 16,000 feet, and you'll hustle along at nearly 160 knots of cruise speed. Cessna Aircraft Company suggests that the fastest cruise comes at 20,000 feet, where the airplane will clock 163 knots in exchange for a fuel burn of 19 gph. If your mission demands long range, you can climb to 16,000 feet, use 55% power, true 125 knots of cruise speed and expect to reach out and touch an airport that's 650 nm away. If you need to operate the Cessna Turbo 206 Stationair into unimproved airstrips and remove the composite wheel fairings, you can expect to subtract five knots from all cruise figures.
With a full-flap stall speed of 54 knots and predictable stall characteristics, the Cessna Turbo Stationair makes a good airplane for abbreviated, if not super-short, runways. Even at full gross weight, the Cessna Turbo 206 Stationair can handle runways as short as 1,000 feet. Keep in mind, however, that it may take far more than 1,000 feet to leap back off the ground.
For more information, contact Cessna Aircraft Company at (800) 4-CESSNA or log on to www.cessna.com.
SPECS: 2005 Cessna Turbo Stationair