On August 9th, Disney will debut their new animated film, Planes. It has familiar Disney undertones (you can achieve anything you want, individuality is okay, do the right thing, etc.), but the way the filmmakers went about creating this latest classic is unique. It's Disney's first aviation film and comes off the heels of their mega-popular Cars.
Planes is the story of an underdog crop duster airplane named Dusty, who has dreams of competing as an air racer. Unfortunately, Dusty is afraid of heights (crop dusters only fly low) and isn't built for speed. So, Dusty finds a gruff ex-Navy F4U Corsair and convinces him to be his instructor for an upcoming globe-crossing air race. All manner of adventure ensues as Dusty tries to "find himself" as an aviator.
The film's director, Klay Hall, came from an aviation background. The son of a Naval aviator, he grew up in Southern California, visiting the once ubiquitous airports in the Los Angeles basin, and sharing a burger with his dad while watching airplanes. Hall's dilemma in this film was to create a compelling story while suspending the audience's disbelief enough that they'd accept airplanes essentially coming to life.
"When we first started filming, the airplanes just looked like toys," said Hall during Plane & Pilot's visit to an early screening of the film. "We realized we were going to have to make everything more authentic." Hall explained that he and his team wanted to make the film completely believable for the aviation community. "We didn't want pilots looking at this and thinking, 'Ah, it's just a cartoon.'"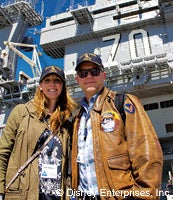 Planes director Klay Hall and producer Traci Balthazor-Flynn visited the USS Carl Vinson as part of their research efforts.
The crew conducted detailed research into how aircraft are built, how they fly, how much they weigh, and how the forces of flight affect their movement during different maneuvers. For example, where an airplane is shown turning, the correct roll rate of similar aircraft was matched, along with how the control surfaces move during the turn. The result is that the airplanes on screen look and move so convincingly that you're drawn deeper into the story.
The crew went on scouting trips to tiny airfields in the Midwest to capture the correct feel of these places. They spoke with World War II pilots about the F4U used in the film, and interviewed pilots and ground crew to gather as much accurate data as they could. Filmmakers recruited Jason McKinley to serve as the "Flight Specialist" for the film. McKinley directed the Dogfights series for the History Channel on TV and did extensive research into the physics of flight, applying that knowledge to some 800 flight shots in Planes.
The film is a collaboration of some 500 people that touches everyone—aviator or not—and achieves that rare balance of fun, adventure, a positive message and heart-pounding aerial footage.