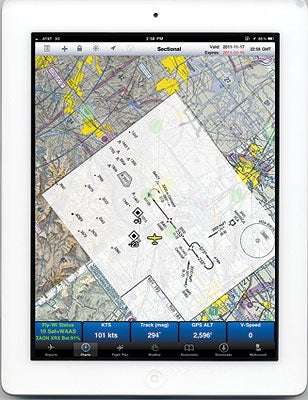 Users can overlay an approach procedure on the georeferenced sectional chart.
For no less than 50 years, pilots have relied on the Flight Guide Airport and Frequency Manual for airport information while flying cross-country. The familiar brown binders cover every public-use airport in their coverage area with an airport diagram, listings of FBOs, restaurants, hotels (including whether they offer free pickup or not), car rentals, airspace planning diagrams for busy airports—and even limited information (if only a small runway diagram) for low-use and military airports. Just last year, when bad weather interrupted a flight home from Mexico and I needed to find an FBO with rental cars, Flight Guide got me and my passengers safely home.
With the wholesale move to electronic delivery these days, it's no surprise that Flight Guide would evolve—and indeed it has, with a web-based version that's updated daily, and versions for popular e-book readers. But Flight Guide iEFB for the iPad represents the most dramatic change: It goes beyond airport information to provide nearly complete electronic flight-bag functionality, including preflight planning and weather, GPS moving map, electronic charts, and—a first for the iPad—optional traffic awareness.
Flight Guide iEFB is mainly organized around its Airports page, which lets you quickly search for any of over 5,000 U.S. airports. It automatically updates and stores the entire airport database on your iPad each day. The basic page for any airport is organized much like the page for that airport in the print version, but with some information hidden until you tap on pop-up buttons. A drop-down menu lets you view additional information, including a larger version of the airport diagram (which may be georeferenced and show your airplane, depending on your data plan), the airport's location on any of the supported chart formats, airspace planning diagrams and instrument procedures (where available). You can also use the drop-down to add the airport to your flight plan.
Charts (accessed from a button at the bottom of the screen) are another strong point for Flight Guide iEFB: Sectional, High- and Low-Altitude IFR En Route, and World Aeronautical Charts (WAC) are available in a seamless format that allows you to cleanly scroll from one end of the country to the other. All but the WACs (plus a bevy of additional charts including Terminal and IFR Area, Pacific and Caribbean) also are available in non-seamless scans covering every inch of the original paper chart, including legends and special features that aren't currently available in competing iPad products.
All of the charts are enhanced with green-dot overlays on airports; tap that dot, and a pop-up menu offers the option to take you to the airport's information page, bring up the airport diagram or (where appropriate) view instrument approach procedures. It's even possible to overlay an approach procedure on the seamless sectional chart, and you can zoom in on an airport to bring up a georeferenced Flight Guide airport diagram displaying airport data. Tapping anywhere on the chart brings a pop-up menu that lets you select nearby navaids and airports, which can be added to your flight plan, and it also allows you to select nearby intersections and create user waypoints.
While Flight Guide iEFB defaults to a standard North-up presentation, a small icon lets you toggle to track-up, which many pilots prefer, especially with the optional traffic display. That requires a $1,495 Zaon XRX portable collision avoidance device, connected to Flight Guide's $299 FlyWi GPS, which uses wireless internet to transmit GPS-enhanced position and transponder-based traffic (within a six-mile radius) to one or more iPads running Flight Guide's iEFB app. I tested this feature while doing practice instrument approaches near Modesto, Calif., on a hazy day, and the display showed multiple targets that I didn't catch by eye. It could be a lifesaver in busy airspace.
While Flight Guide iEFB's airport information, electronic charting and optional traffic features are outstanding, the app doesn't provide a graphical display of temporary flight restrictions (TFRs). Weather graphics are available but can't be overlaid on the charts, and there's no provision for "rubber-band" graphical flight plan editing. (Flight Guide's "Smart Add" feature will automatically insert waypoints into the appropriate location in your flight plan.) I was pleasantly surprised to find good coverage of North-West Mexico in the WAC and Caribbean charts, but disappointed to find that the flight planner can't deal with Mexican airports and navaids. Larry Garcia who owns the company told me that some of these issues will be dealt with in future versions: TFRs in version 4.2, weather, ADS-B and XM in version 5, and expanded coverage beyond the U.S. after that.
Flight Guide iEFB can be downloaded free from the iPad App Store, and comes with a free 30-day subscription—after that, a variety of data plans are available starting at $9.99 per month for standard VFR coverage. For more information, browse www.flightguide.com/flight_guide_iefb.html.