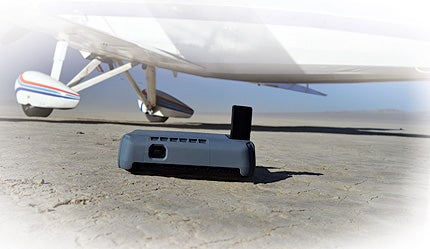 Compact and rugged, the Iridium GO! base unit has a plastic shell to shield it from water, wind and dirt, allowing it to function almost anywhere.
While cellular phones have revolutionized communications in ways unthinkable even 20 years ago, these amazing devices (which now include tablets and a host of other gizmos) won't work where there are no cellular towers. For pilots, that means that an emergency in the remote Idaho Mountains, Alaskan wilderness or countless other desolate locales is still an emergency not fixable by whipping out a smartphone and dialing 911. That's where Iridium GO! comes in.
The clever Iridium GO! unit (the exclamation point is part of the brand) is the world's first truly global and portable satellite hot spot. It creates its own WiFi zone anywhere on the planet with a clear view of the sky and will allow up to five WiFi-equipped devices (cell phones, tablets, etc.) to hop onto the Internet for voice calls, web surfing, email, social media, etc. Because it uses satellites orbiting in space, Iridium GO! isn't dependent on terrestrial (Earth-based) networks. That means a broken fuel line in the middle of South Africa's Kalahari Desert really can be fixed with a quick phone call followed by some Facebook posting while you await rescue—all without using cell towers.
While satellite phone capability isn't exactly new, it has been mostly confined to folks who could afford the crazy expensive service plans and phones. Iridium GO! takes voice capability and adds Internet and data access from multiple devices, along with other features at an affordable price point. Iridium GO! is the first to do this, making it a unique technology deserving of its many recent "Best Of" awards.
The unit has a rugged design and feels quite substantial in your hand (it's made to military specifications). It's small, though it won't quite "fit in a shirt pocket" as the marketing folks claim (unless it's a pretty big pocket). It can be mounted in the aircraft, set outside or stuffed into a bag, and it's made to withstand rain (though it's not completely waterproof), dirt and rough handling.
The real brains behind the device are the brilliant Iridium GO! apps. Two free applications are available to download on smartphones and tablets, which control all functions of the Iridium GO! unit: a base app and a Mail & Web app.
The base app allows up to five devices to make voice calls, send quick GPS or check-in messages, make Twitter posts, set up WiFi data for web access, configure settings and activate a very handy SOS "Emergency" mode, which allows a fast, two-way connection with emergency providers. You can send the SOS from your phone or by pressing a button on the GO! device. You can even send out position reports at equal time intervals for tracking. Iridium's Mail & Web app adds compressed email, photo transfer capabilities via social media and access to weather information and forecasts. The free apps work on both iOS and Android devices.
---
I tested Iridium GO! in a real-world remote environment to see how good the data connection would be and how easy it would be to use. I took my biplane and the Iridium GO! unit together with my iPhone to the remote environs of El Mirage Dry Lake in California's Mojave Desert. The airspace above the lake is among the most famous in aviation, having been home to historic aircraft, from Chuck Yeager's Mach 1-breaking Bell X-1 to the series of "X-Planes" that led to America's space program. The surface of the lake is like an alien planet, with a vastness punctuated only by dust devils and the occasional sonic boom from secret military aircraft. There's no town anywhere close by, and cell reception is nonexistent. The cracked and parched playa is a no-man's land.
Iridium GO! is intuitive and easy to use. The 4-½ inch x 3-¼ inch device must be charged before venturing forth. Once charged, activating the device is a matter of flipping up a small and rugged square antenna that powers the device on. It "handshakes" with the nearest satellite, each of which is part of Iridium's constellation of 66 Low Earth Orbiting (LEO) communications satellites, about 476 miles from the planet's surface. In 2015, Iridium will launch its second-generation satellite network called "NEXT," which the company says will offer faster data speeds and more bandwidth, along with six in-orbit spare satellites for redundancy.
Once the Iridium GO! is powered up, you open up the free app on your phone, and a couple of taps later, you're connected to the Iridium WiFi hot spot. Now, you can make a call or surf the web or interact with social media, just like you would in any location served by WiFi. Remember, you're not using your cell provider's bandwidth, you're using the Iridium network (the Iridium GO! network is subscription-based). The transmission distance from your device to the Iridium GO! is limited to about 100 feet (30 meters), which makes it flexible enough for most applications.
My voice connection was absolutely clear, strong and crisp, without echoes or digital artifacts. There was a slight time delay. It saw five bars on my phone (this is an indication of the connection between your phone and the Iridium GO! unit). Users should realize that the data connection isn't meant to compare with traditional networks. I estimated data transfer rates of about 20K/minute or so, which will feel painfully slow. The Iridium data service is perfect for texts and short emails, but can't be used practically for browsing graphics-heavy websites, transferring large files or any kind of video.
Iridium's GO! unit does away with the dedicated, stand-alone handsets of the past. Any WiFi-capable device can connect to it. It comes with a slew of chargers and international plug adapters. Street prices on the unit range from $799 to $899, and Iridium is the first to offer affordable unlimited service plans. Currently, various providers offer an unlimited SMS and data plan for $125/month. Prepaid and voice options are also available.
With its multi-device capability, enterprise-grade free apps, integration with social media and Internet, cable-free operation, and affordable service plans, Iridium GO! is a game changer in aviation and any other pursuit that takes humans to the remote edges of civilization. It's a cheap price to pay for peace of mind.