With heavy in- and outbound Philadelphia and New York traffic passing overhead, it's a challenge getting cleared to climb directly to FL280 from Queen City Municipal Airport (KXLL) in Allentown, Pa. That wouldn't affect operations for most legacy King Air 200 or B200 aircraft, whose slow-climbing Pratt & Whitney PT6A-41 and PT6A-42 engines can't race up to altitude anyway. But aftermarket options are changing the flight plans for a growing number of King Air pilots.
"I talked to a couple of my buddies over at Allentown Approach/Departure Control. They can give me unrestricted up to 8,000," Adam Winkler, one such pilot, says as we climb into N200VA, a 1977 King Air 200 outfitted with a Blackhawk XP52 engine upgrade. "And then, as soon as we get off the ground, they'll talk to New York Center, see if they can just keep it going up to 28."
Winkler, the 20-something CFI and director of operations at KXLL's Gateway Aviation (www.gatewayaviation.com), also pilots 200VA for four local businessmen who jointly own the King Air. The owners kindly agreed to let Winkler, a graduate of Florida Institute of Technology's College of Aeronautics, demonstrate the results of the recent conversion, and that called for an unrestricted climb to altitude. Yet even before taxiing, the upgrade showed its value on a steamy August morning. The King Air's air-conditioning system requires 61% power from the engines to run; the old engines only reached 57% at idle, making the AC inoperative on the ground. The Dash 52s idle at 62% to 63% power, so we had the cool air blowing as soon as the right engine spooled up.
But air-conditioning is an afterthought for most of the customers at Blackhawk Modifications (www.blackhawk.aero). "The first thing most people think about is speed," Blackhawk President Jim Allmon had told me about this latest Blackhawk upgrade. "Three hundred knots: That was the magic number King Air pilots wanted, and everyone knows you either go fast or go home."
The Waco, Texas–based company, founded by Allmon and two partners in 1999, first marketed STC engine upgrades for Cessna Conquests and then King Air C90s before unveiling its Blackhawk King Air 200/B200 conversion option in 2007.
---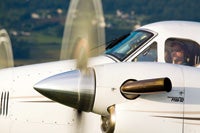 Picking Powerplants
Blackhawk initially selected PT6A-61 engines, which power the Piper Cheyenne IIIA, for the King Air 200/B200 upgrade; Dash 61s could deliver 300-knot speed and also fit in the existing cowl, simplifying and minimizing installation costs. A pair of four-blade Raisbeck/Hartzell Quiet Turbofan propellers—part of the upgrade package—delivers more thrust than the three-blade Hartzells mated to the -41s, while reducing noise and vibration.
As Blackhawk began marketing the conversion, P&W revealed that it was about to introduce the -52 engine. The -61 and -52 are identical, except that the -52 is certified with an ITT operating limit of 820 degrees, versus 800 degrees for the -61. Blackhawk offers customers their choice of either engine. The -52's higher certified temp means more power, but P&W charges about $40,000 more for it. The owners of 200VA opted for the -52s, but operators typically have to back off power at altitude to keep the airspeed from exceeding the max Mach number, so many customers choose the -61 and save the price difference.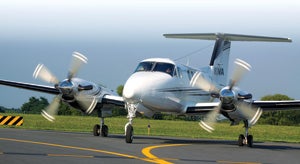 The Case For Conversion
The conversion choice can be quite compelling for owners of old engines near TBO. For example, 200VA's 13,000-hour engines were near overhaul when a piece of metal of indeterminate origin was found in one engine.
"We were told the price for overhaul would probably be in excess of $900,000, because work needed to be done about the metal they found," Winkler says.
Meanwhile, for about $900,000 installed (plus trade-in on the old engines), the owners got brand-new engines under warranty and the four-blade props, and will now save on operating and maintenance costs. Besides engines, props and new exhaust stacks (either Frakes or Hawker Beechcraft D4 stacks), the only change the upgrade requires is swapping the analog ITT (oil-temp and -pressure) and NG (percent power) engine gauges to digital gauges. (The rest of the engine gauges can be replaced with digital Blackhawk gauges as an option.) Conversions typically take two weeks and are performed at authorized Blackhawk service facilities. Turboprop East (www.turboprop.com) in North Adams, Mass., installed 200VA's upgrade.
"We climbed straight up to 28K," Winkler says, recalling the postupgrade test flight. "We let it go at 1,800 rpm, and it just walked right up past the barber pole. We're sitting there going, 'This is awesome!'"
I'm having a similar reaction as our initial climb rate shows about 2,400 fpm at 150 knots. Handed off from Allen-town Departure, New York Center clears us to one-seven, then two-eight thousand. We briefly stop at FL270 for traffic, yet still arrive at 280 in 16 minutes.
"Before [installing] these engines, I was never able to get above 27,000 feet," Winkler says. "It climbed at just 500 fpm above 18,000 feet, and once we got up to 27,000, it was very squirrely, because there wasn't a whole lot of airflow over the control surfaces."
---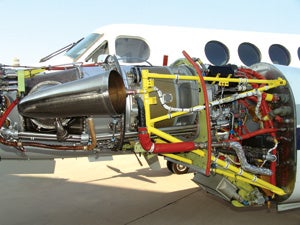 Blackhawk's XP52 engine upgrade for the King Air 200 series requires no airframe modification. The original PT6A-41 and -42 engines are exchanged for factory-new engines.
Blackhawk's flight operations manager, Chris Dunkin, is also aboard the flight, proudly surveying the results of the upgrade as the airspeed indicator climbs clockwise.
"It's pilots doing mods for pilots," Dunkin says, explaining Blackhawk's philosophy. "We look for performance gains that will make the airplanes better for the pilots."
The OAT is minus-19 degrees C (+15 ISA). We crunch the numbers and determine that true airspeed, even on this hot day, is 305 knots.
Expanding Options
Blackhawk upgrades are just one of the aftermarket options transforming the pre-owned King Air world. For example, 200VA was already outfitted with several performance system mods that Raisbeck Engineering (www.raisbeck.com) offers in conjunction with the Blackhawk engine upgrade. These mods include dual aft body strakes that improve stability, a ram-air recovery system that boosts power, and crown wing lockers for additional storage space.
At 28,000 feet, 200VA's new engines burn more fuel per hour than the originals, but the speed increase and halved time to climb lead to lower fuel consumption per trip. The new engines also deliver better short-field performance. Using the engines' reverse range after landing to slow the King Air, Winkler can consistently make the intersection turnoff 1,100 feet down runway 25 at KXLL. "I can do that without touching the brakes, just beta," he says.
Most of 200VA's flights are around the Northeast and the Eastern Seaboard. The owners opted to forego RVSM (reduced vertical separation minimum) capability, which is required for flight from 29,000 to 41,000 feet. Owners who go the RVSM route can operate up to the King Air's 35,000-foot service ceiling and see further increases in range and economy.
After my flight in 200VA, I talked to Robert Lowery of Gillette, Wyo., who has a Blackhawk XP61 upgrade with a Raisbeck performance package, an RVSM-compliant Garmin G1000 glass-panel retrofit and BLR winglets.
"I'm very enthusiastic about the overall package," Lowery says. "It completely changes the way we operate the airplane. With the RVSM capability, we're able to fly about 4,000 feet higher on the same fuel burn at anywhere from 20 to 30 knots faster true airspeed."
So far, about 50 King Air 200/B200 aircraft have gone Blackhawk. With the response from pilots like Winkler and the owners who fly behind him, expect to see more.
"The owners have said it's definitely quieter and has less vibration, and that we get places a lot faster," Winkler says. And that's before considering the benefits that can't be quantified. "One owner told me that each time he flies his airplane, he falls in love with it all over again."
---
King Air Aftermarket Specialists
Engine upgrades are just one of the aftermarket options available for King Air owners and operators. Here are some of the specialists serving the marketplace, and some of their offerings.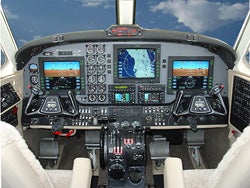 American Aviation
American Aviation
www.americanaviation.us
(352) 796-5173
A certified installer of popular aftermarket upgrades (Blackhawk, Garmin, Raisbeck and others) that also offers a completion center and sales arm, American Aviation at Hernando County Airport (KBKV) in Brooksville, Fla., can provide turnkey King Air solutions. The Alliant King Air Flight Deck, for example, offers dual large-format Avidyne EXP5000 PFD screens and an S-Tec IntelliFlight 2100 digital multi-axis autopilot. Each EXP5000 has an integrated solid-state air data, attitude and heading reference system (ADAHRS) and Avidyne's two-way MultiLink datalink weather service, an EGPWS/TAWS display, lightning and traffic systems, and 19 different weather radar systems.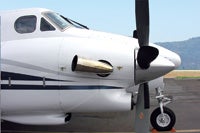 American Aviation Inc.
American Aviation Inc.
www.americanaviationinc.com
(800) 423-0476
Based out of Coeur d'Alene Airport (KCOE) in Hayden Lake, Idaho, American Aviation Inc. delivers performance-enhancing modifications for the King Air 90 and 100 series of airplanes. These modifications include a pitot cowling ram-air recovery system, streamlined oil-cooler cowlings and aerodynamic speed stacks. "All of the systems are designed to increase the climb and cruise performance of the King Air," explains the company's vice president, Jim Christy. The increases depend on the model of King Air and the operation altitude, but can range from 15 to 20 knots. "You can operate the airplane to save fuel, extend range and/or increase the cruising speed," Christy comments. He notes that in 1984, Beechcraft incorporated similar technology in the C90A, "and those airplanes are about 15 knots faster than previous models with the same engine."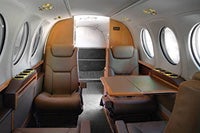 Aviation Design
Aviation Design
www.aviationdesign.com
(800) 725-4297
It doesn't take new engines or a retrofit panel to update a legacy aircraft. Groveland, Calif.–based Aviation Design specializes in custom interiors and Confor foam seating, which utilizes technology developed for the U.S. space program. "With a cabin-class aircraft," CEO Tim Hallock says, referring to the King Air C90 and 200/B200 aircraft the company has refurbished, "the biggest need is for really comfortable long-range seating. We use different-density foams so your muscles completely relax." Offering what it calls "old-world craftsmanship combined with new-world technologies," the company can make a complete set of new seats out of one seat sent from an aircraft, minimizing retrofit downtime. Aircraft with the company's interiors have won a host of awards at major venues including EAA AirVenture, Sun 'n Fun and AOPA's national convention.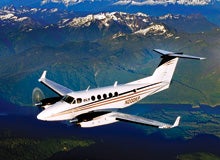 BLR Aerospace
BLR Aerospace
www.blraerospace.com
(800) 257-4847
With aftermarket winglets from BLR Aerospace, the benefits that factory-designed winglets deliver on the King Air 350 are available for King Air 200- and 300-series aircraft. BLR's aluminum and carbon-fiber winglet system adds 3.5 feet to the wing, increasing the wing aspect ratio and diminishing induced drag. The winglets "improve most phases of flight, including short-field takeoff, climb, high-altitude operations, cruise, speed, fuel burn, handling qualities and slow flight," says Dave Marone, BLR's vice president of sales and marketing. To date, BLR has shipped 190 King Air 200 units.
"Operators cover the spectrum from those who are looking for speed, fuel savings and range to those seeking RVSM access and short-field safety," Marone says. Let's not forget that they also look very slick. BLR expects an STC for installations on the King Air 90 series of aircraft in time for NBAA's convention in October.
CenTex Aerospace
www.centex.aero
(254) 752-4290
Based at Waco Regional Airport (KACT) in Waco, Texas, CenTex develops STC mods aimed at markedly boosting gross weights. For King Air C90s, the Halo 90 upgrade increases payload from 250 pounds to more than 700 pounds, depending on the model of C90. On the drawing boards is the Halo 250 STC, which will increase gross weight for King Air 200s to 13,500 pounds from 12,500 pounds, and the Halo 295 STC will up gross weight to 14,000 pounds. The STCs will require no airframe modification. STC certification for both programs is expected in Q4 2009, and the upgrades will be available through Hawker Beechcraft service centers.
---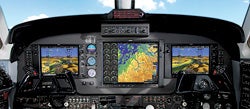 Cutter Aviation
Cutter Aviation
www.cutteraviation.com
(800) 234-5382
Phoenix-based Cutter Aviation has been closely associated with the Beechcraft brand for more than 60 years. Along with its status as a certified dealer/installer for a host of King Air aftermarket options, Cutter also offers acquisition services, with purchase proposals illustrating the economics of buying and upgrading a legacy King Air. The company advocates the Garmin G1000 glass-panel upgrade, and not just because it's RVSM-compliant, opening up altitudes all the way to the King Air's 35,000-foot service ceiling. "You're saving 250 to 350 pounds by getting rid of the inverters and wiring and replacing them with lightweight components," says Cutter's Dave Harsay. "That's huge. Its gives you the opportunity to carry one or two more people and carry the same amount of fuel." Cutter has eight locations around the Southwest.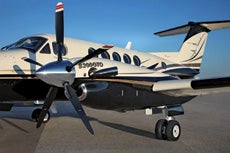 Enhanced Aero
Enhanced Aero
www.enhanced.aero
(254) 848-2668
Enhanced Aero of McGregor, Texas, offers a proprietary PT6A-52 STC engine conversion for the King Air 200/B200 series, along with King Air mods that include McCauley four- and five-blade propellers, BLR winglets, Raisbeck products and interior conversions from its own Interiors by Brazil company. A complete conversion can be accomplished in four weeks. President Grady O'Hara has more than 35 years of experience in business aviation.
Executive Beechcraft
www.executivebeechcraft.com
(816) 842-8484
Since 1938, Executive Beechcraft (EB) has been associated with the Beechcraft brand. "We've been through it all," says the company's vice president and general manager, Ed Chevrestt. The long association with Beech has paid dividends for customers. EB was the first facility certified to retrofit the Garmin G1000 in the King Air C90. The benefits go beyond the company's complete upgrade offerings and capabilities, and make it a preferred choice for owners and operators looking for a quality maintenance and repair partner. EB's turnkey King Air services include crewing and placing King Airs on lease programs to generate revenue. With deep roots in Kansas City and St. Louis, EB now has four locations in the area.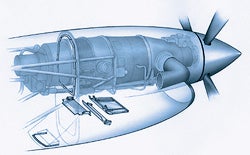 Raisbeck Engineering
Raisbeck Engineering
www.raisbeck.com
(800) 537-7277
Seattle-based performance mod manufacturer Raisbeck Engineering has designed and developed performance systems for King Airs for 25 years. Raisbeck received certification of its Epic Platinum and Epic Gold Performance Systems in 1990. The Platinum system includes Quiet Turbofan Propellers, while the Gold package is designed for aircraft already outfitted with the four-bladed props. Both systems incorporate dual aft body strakes to improve stability and reduce drag and yaw, a ram-air recovery system that boosts climb and cruise performance, and enhanced-performance leading edges that increase cruise speeds and reduce wing structural fatigue. "We currently have more than 6,000 performance systems installed on the King Air fleet, says Anne Lockemy, Raisbeck's Advertising & PR Manager, "and our [wing] lockers and strakes have been standard on the Hawker Beechcraft 350 production line for nearly seven years."

---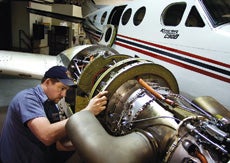 Silverhawk Conversions
Silverhawk Conversions
www.silverhawk135.com
(800) 479-5851
Silverhawk Conversions in Lincoln, Neb., offers turnkey King Air C90 and 200 conversions. The C90 conversion replaces the PT6A-20 or -21 engine with a PT6A-135A engine and four-blade Hartzell propellers. The conversion boosts true airspeed by more than 50 knots (from 211 to 266 knots at 24,000 feet). Also included are new engine mounts, fuel and oil hoses, overhauled oil coolers and recalibrated and remarked engine gauges. The conversion typically takes three weeks. The company's King Air 200 engine upgrade makes use of the -52 used in the King Air 200GT.
"Silverhawk is unique in that we manage the entire conversion process from initial order to completion," says CEO John Gillum. "Our technicians are specialists in doing King Air conversions, and they bring this expertise to every conversion. If additional work is needed, ranging from airframe inspections to avionics upgrades or a new interior, we can handle it while the aircraft is down for the conversion. This minimizes downtime for the aircraft owner."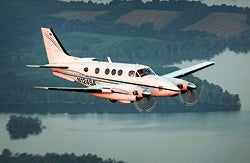 Smyrna Air Center
Smyrna Air Center
www.smyrnaaircenter.com
(615) 459-3337
Located at Smyrna Airport (KMQY), just outside of Nashville, Tenn., Smyrna Air Center holds an STC for the Power 90 King Air engine upgrade for A90-, B90- and C90-series aircraft. The installation replaces the stock Pratt & Whitneys with GE Aviation's Walter M601E-11A engines and five-blade Avia propellers, delivering 751 shp and a cruise speed of 250 knots at 25,000 feet, according to Erick Larson, one of the center's owners. GE Aviation bought Czech Republic–based Walter Engines in 2008. Walter's new H80 is expected to receive certification soon, and that more fuel efficient engine will also be available through the Power 90 STC. A fully certified repair station, Smyrna Air Center can provide turnkey aftermarket solutions, including new paint and interior, avionics upgrades and Raisbeck mods. "We do complete rehabs on King Airs," says Larson.
Trace Aviation
www.traceaviation.com
(601) 857-0992
King Airs have long been feted for their ability to handle unimproved airstrips. Trace Aviation further enhances that capability with its King Air landing-gear overhaul or exchange program. "Our main thing is landing gear," says Trace's Carter Thompson. "We do everything from start to finish, and work for guys in Canada, Australia, North America and South America." Trace also performs all levels of King Air inspection/maintenance and component overhauls. "Our greatest appeal and benefit to the customer is that they can deal directly with the component overhaul and maintenance in one facility," says Thompson. "Our knowledge and expertise in the overhaul, installation and rigging of King Air landing gear gives the operator confidence that the system is operating as designed. I don't know of another company that offers these specialized services."