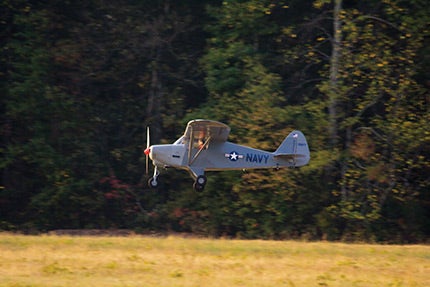 Jim Miller first learned to fly in the Air Force at Vandenberg Air Force Base, and earned his license in 1970. Today, a retired Navy dentist and part-time pharmacist with no formal training in aircraft repair, he has completely refurbished his 1962 Piper Colt PA-22-108 with modifications from sight fuel gauges in the wing roots to sheet-metal fasteners in the aircraft belly.
It's not the biggest, strongest or fastest stallion in the paddock. But the spirited two-place Piper Colt PA-22-108 serves as a perfect mount for pilots seeking a trusty, uncomplicated steed over a high-strung, pricey thoroughbred. And you won't find a sweeter Colt than Jim Miller's. With no formal training in aircraft repair or modification, Miller, a retired Navy dentist and part-time pharmacist in Normandy, Tenn., completely refurbished N54592, his 1962 PA-22-108. And the makeover incorporates a number of Miller's own modifications—alterations some experts consider solid improvements to the original Colt—from the sight fuel gauges in the wing roots to the sheet-metal fasteners in the Colt's belly.
"The changes he put together make more sense than what Piper had in the '60s," said Richard Blazer, a noted A&P, and proprietor of Ragwing Aircraft in Tullahoma, Tenn. "He's just got some natural talent."
"It's impressive," said Gilbert Pierce, a board member of the Tennessee chapter of the Short Wing Piper Club (www.shortwing.org), speaking about the innovative modifications that make Miller's Colt easier to maintain, and more comfortable to fly than stock versions. "He adapted quite well to modifying airplanes."
And with the eye-catching military livery of his airplane, Miller demonstrates a bold aesthetic flair to go with his gumption.
"I'm not afraid to tackle projects," the soft-spoken Miller said, as he told the story of the acclaimed Colt at Tullahoma Regional Airport (KTHA). "I was always into that kind of thing, like working with old cars as a kid."
But working with an old airplane—let alone owning one—was something Miller never considered as a youngster, despite his interest in aviation.
"I was from a small, poor town in Kentucky. Flying was just something people there didn't really do, unless they were born into family with ties in general aviation," Miller said. "I remember standing outside the airport, looking through the chain-link fence. That was my whole exposure to general aviation."
Miller learned to fly in the Air Force as an enlisted man. Stationed at California's Vandenberg Air Force Base, he borrowed money from the credit union for lessons at the base flying club. "A Cessna 150 was six dollars an hour, wet. The instructor was five dollars," he recalled.
---
Miller earned his license in 1970. After his tour of duty, he went to college on the GI bill, earning degrees first in pharmacology and then dentistry, which left no time or money for flying. But he got back into the air after joining the Navy. Serving as a dentist in the Philippines, he rented Cessnas from the base club on his days off, and went flight seeing with his wife, Donna.
By the early '90s, Miller was back stateside with the Naval Reserve, living in Normandy and flying an Ercoupe. His plane shared a hangar with a Piper Colt. "I was always having to move it to get to the Ercoupe," Miller said. "I didn't think much about the Colt at the time."
But in 1994, when he decided to trade up from the Ercoupe and learned the Colt was for sale, he started thinking about it quite a bit. "One of my concerns was whether parts were hard to find or expensive," Miller said. "Once I realized that wasn't a problem, I bought it. I was real glad I got it."
Not that the airplane didn't have issues. The fabric was faded and nicked, the interior a little ratty. The fuselage had some corrosion. And the engine was starting to leak oil.
"It didn't look like much when he first brought it home," Donna later told me. That was a far different airplane than the one that stood before us that afternoon.
"Almost everybody mistakes it for a Tri-Pacer," Miller said as we started a walkaround. With good reason: The Colt was the two-place trainer variant of the four-place tricycle-gear PA-22 Tri-Pacer. The airframes are almost identical. Some telltale differences: The Colt has no rear side windows nor a hump atop the cabin (for extended headroom). Some modern touches, when it was introduced in 1960, were side-by-side instead of tandem seating, and a yoke rather than a control stick. Almost 1,900 were built by the time production ended in 1964 to make way for the PA-28 Cherokee family.
Miller chose the matte gray finish and the national aircraft insignia of a World War II-era Naval warbird on his Colt for both sentimental and practical reasons. "Being Navy, I liked some kind of military look," he said. "Plus, it's easy to do: Paint it gray and slap on a couple of Stars and Bars. If you have to paint three colors, it can get real detailed, and painting is not one of my fortes."
Like the rest of the Short Wing Pipers—the PA-15/PA-17 Vagabond, PA-16 Clipper, PA-20 Pacer and the Tri-Pacer (all with a wingspan of just over 29 feet)—the Colt has a fabric-covered steel fuselage and aluminum-frame wings.
It was only after he retired from the Navy in 2002 that Miller began his two-year refurbishment project. Miller's friend and IA (Inspection Authorization certificate holder) Bob Martin tracked the paperwork, including more than a dozen 337 Forms, the applications for FAA approval of major repairs and alterations to a certificated aircraft.
"I had a folder three inches thick" with documentation for the project, Martin said.
Miller sought approval to replace the electric fuel gauges in the panel with fool-proof sight gauges in the wing roots borrowed from a Piper Cub. He designed fasteners for the sheet-metal access panels over the gear bungees that used machine screws in place of the sheet-metal screws that typically came loose; he wanted inspection plates providing easier access to the fuselage; and since Donna didn't regularly fly with him, he dreamed up a desk for flight materials that could easily be swapped for the right seat.
"Paperwork is the biggest challenge," Miller said. To win approval, the FAA has to deem the alterations equal to or better than whatever they replace. Not all the applications were approved the first time.
---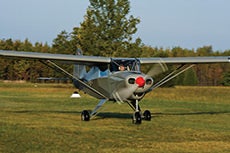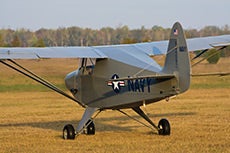 Miller chose the matte gray finish and the national aircraft insignia of a World War II-era naval warbird for sentimental and practical reasons: He's from the Navy, and the paint scheme was easy to do. The original fuselage had so much corrosion that he bought the fuselage of a parted-out Colt and transferred the data plate from the corroded airframe.
"He was persistent," Martin described Miller's creative process. "He'd say, 'We're going to try this again,' and he'd sit down and think it out and say, 'What about this, Bob? Do you think they'll approve this? Give me your opinion.'"
"Jim is a real particular-type person, real mechanically inclined, and he really thinks things out," agreed Blazer. "He gets on the Internet, and he uses every resource he can find before he decides to go a certain route."
Among the resources were the online forums of the SWPC, where Miller was a frequent participant, soliciting opinions and asking for advice on his project. Not all his alterations were minor. The fuselage showed enough corrosion for two years of work in itself, so he bought the fuselage of a parted-out Colt and performed a "legal fuselage substitution," transferring the data plate from the corroded airframe. A bare metal airframe has been known to stop more than a few novice refurbishers in their tracks, as they suddenly confront the magnitude of their task.
"That happens—people get an airplane dissembled, and they get overwhelmed," said Pierce. But having gotten acquainted with him through the SWPC's forums, Pierce was confident Miller would persevere. "I had no doubts about his project," he said.
Indeed, the story of the Colt's makeover lacks the coda of vindication, where doubters come forward to marvel at the results and admit their lack of faith. It seems everyone believed Miller could achieve his lofty refurbishment goal.
Preflight inspection complete, we climbed aboard. Miller didn't spend much time or effort gussying up the interior. It's neat and tidy, but there's no rich upholstery, cup holders or other luxe touches. The Colt doesn't have the extra headroom of a Tri-Pacer, but Miller put a skylight across the roof adjoining the windshield, giving the cabin an open, airy feeling. Also overhead is another of Miller's approved changes: He replaced the elevator trim handle with one he hand-milled from a solid block of aluminum. The cabin is compact, but Miller, a tall, lanky fellow, has no trouble settling in for his flights, which have included about 50 trips back and forth to Indiana to visit his mother, and day trips to Gatlinburg and dinner flights in the area with Donna.
"It's a good way to get around to different places without having to take half a day to get there," she said.
With its short wing and lack of flaps, the Colt isn't a STOL aircraft. With the two of us aboard, we lifted off at about 70 mph and climbed up to pattern altitude at about 500 fpm. At 1,900 feet msl and 2,420 rpm, we were indicating 85 knots. Miller says he typically cruises at about 105 mph.
"On a typical flight, I fly low and stay under 3,000 feet," Miller said, "but sometimes I may climb higher."
The VFR panel is devoid of frills. In an era of flat-panel displays and 200 mph benchmarks, there's still room for an inexpensive machine that can cruise at better than 100 mph on less than seven gph on its 108 hp Lycoming O-235-C1B engine. Plenty of people in those cars on the highway Miller passes on his way to Indiana probably wish they could be up with him. Who can blame them?
A yoke-mounted handheld GPS helps him navigate. "I fly airport to airport—I plug in one to the other on the GPS. It breaks up the flight and gives waypoints."
With the project complete, you might expect Miller would be spending time enjoying the fruits of his labor. Instead, he has started another makeover, even as he continues to tweak his Colt. "I'm rebuilding a Super Cub," he said, starting with the fuselage. "I'm taking a welding class at the local vocational college."
But maybe it's not just a love of aviation that drives him on. Perhaps he's just trying to avoid alternative refurbishment projects. "I kind of wish he was that way with the house like he is with the airplane," said Donna. "I'm trying to get him to do my kitchen floor here."