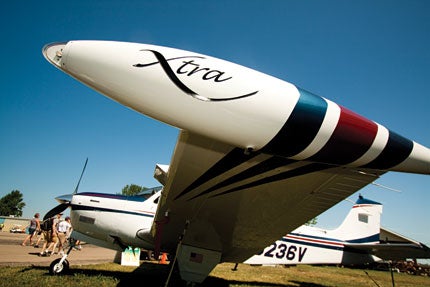 Upgrade options offered in Hawker Beechcraft's Xtra program include an upgraded engine and propeller, D'Shannon tip tanks, a Garmin G500 glass panel and refurbished interior.
For years, GA manufacturers have left the upgrade aftermarket to STC (supplemental type certificate) holders and mod shops—the entities that developed or acquired an approved process of altering a certificated aircraft, and aircraft repair stations that specialize in installing STC upgrades, respectively. If you want a glass panel, extended-range tanks, a new interior or a blueprinted engine for your otherwise perfectly fine airplane, you select the mods, choose the shop, drop off the old ride and pick up a newer one.
The system has worked out pretty well for aircraft owners, providing us with a range of upgrade options and installation facilities, complemented by an effective multimodal grapevine that has helped aircraft owners make informed aftermarket choices. But OEMs (original equipment manufacturers) are realizing they can't afford to ignore the aftermarket in today's—and probably tomorrow's—sales environment. And no OEM has done a more abrupt or emphatic about-face on its aftermarket stance than Wichita-based Hawker Beechcraft Corp.
Last fall, the company unveiled its Hawker 400XPR program to outfit legacy Hawker 400XP and Beechjet 400A jets with new more fuel-efficient engines and Rockwell Collins Pro Line 21 avionics suites. Earlier in 2010, Hawker Beechcraft unveiled a similar upgrade program for the Hawker 800XP. Then in December, the company announced its King Air 200GTR upgrade for King Air 200GT owners, adding winglets and a Raisbeck Engineering Ram Air Recovery system that significantly increase the aircraft's performance. But the refurbishment program that will likely have the biggest impact on rank-and-file pilots was unveiled last September at the annual American Bonanza Society (ABS) convention: a comprehensive package of factory upgrade options for all model -33, -35 and -36 Bonanzas under the banner of the Bonanza Xtra. The options include an upgraded Continental engine and Hartzell propeller, a Garmin G500 glass panel, D'Shannon tip tanks, interior refurbishment and environmentalsystems upgrades.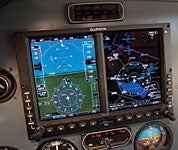 "If you're looking for more fuel and range, more capabilities in avionics, more cabin comfort or all of the above, now you have the option to get any or all of it from factory service centers," said Mike Turner, Hawker Beechcraft Manager, Product Marketing, on the Orion FBO ramp at Wittman Regional Airport (KOSH) during AirVenture. Hawker Beechcraft brought its Bonanza Xtra demo aircraft to AirVenture to introduce the refurbishment program to the Oshkosh crowds, and invited Plane & Pilot aboard for an Xtra special demo flight.
Xtra Options
N3236V, a 1985 A36 Bonanza, is tricked out with most of the available Xtra options, making it akin to a new G36 in performance, comfort and safety, as Hawker Beechcraft Senior Sales Demonstration Pilot Dan Johnson showcased during the flight—.0IFR in CAVU conditions to the Dells VOR (DLL) and back.
Under the cowl, the Xtra's Continental Motors Gold Standard IO-550-B—the same engine in today's factory new G36 Bonanzas —replaces a legacy Bonanza's stock engine. The new engine's tighter tolerances and balanced components deliver more efficiency while reducing noise and vibration.
---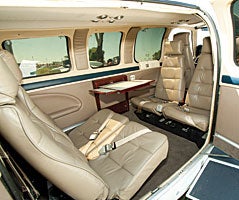 The refurbished interior on the Bonanza Xtra features new side panels with inset armrests, optional wood trim and French stitching, and upgraded seats.
A Hartzell Scimitar three-bladed propeller improves both climb and cruise performance, providing as much as 12% more thrust than a two-bladed MacCauley and 2% more than Hartzell's own standard three-bladed prop certified for the engine. The prop also lowers noise, thanks to the design of its tip sweep, which reduces transonic drag. The combination made for a smooth, comfortable climbout as we monitored the flight on the Xtra's glass panel.
The Xtra's avionics upgrade is built around the Garmin G500 with 6.5-inch PFD and MFD, driven by a Garmin GNS 430 GPS NAV/COM. The G500 includes a terrain elevation database, moving-map display and optional synthetic vision technology. (FliteCharts and SafeTaxi also are options.) Owners can choose additional compatible panel upgrades as desired. The demo plane, for example, has retained its Bendix/King KFC 150 autopilot. The KFC 150 can accept heading commands and other basic directives from the G500, but can't handle altitude preselects and other functions the G500 is capable of performing when coupled with a compatible digital autopilot. Garmin's new touch-screen GTN units are also an option.
In the cabin, the Aviation Design Interior had turned the vintage Bonanza into a factory- new look-alike. New side panels with inset armrests increase cabin width by as much as four inches, with optional wood trim and French stitching imparting a more refined look. Upgraded seats incorporate comfortable, energy-absorbing material developed for the U.S. Space Program that doesn't impede circulation, the primary cause of seating pain and fatigue.
With a flight of some 120 nm, we weren't going to need the D'Shannon extended range tip tanks that are another key option, but these make a particularly compelling upgrade. The tanks add 40 gallons of fuel capacity—20 gallons per side—adding a third more fuel capacity and extending range from about 800 nm to about 1,200 nm. The installation bestows an automatic gross weight increase—from 3,650 to 3,833 pounds—that adds a net of 150 pounds to the useful load. That weight doesn't have to go in the fuel tanks, either—keep the tip tanks empty, and you can carry the extra payload in the cabin. Installation of the composite tanks includes fuel pumps, triple filtration, flush-mounted filler caps, quick drains, fuel-quantity gauges, wingtip navigation lights and strobes. (LED nav and strobe lights are optional.)
Available environmental system upgrades can help keep everyone onboard more comfortable during those longer flights. These upgrades include G&D thermal pane window inserts that reduce cabin noise and thermal resistance, and a Rosen Monorail Sunvisor System. Coming soon: an environmental control system that maintains a set cabin temperature and can remain on during takeoff, weighs 20 pounds less than the current system and eliminates its belly scoop, adding an estimated four knots to cruise speed.
A unique Bonanza Extra paint scheme, a retro motif inspired by the tip tanks, is also available, though the demo aircraft (which belongs to the Beech Employees Flying Club) doesnt sport this livery.
We had barely sampled the benefits of the Xtra upgrades by the time we were Oshkosh inbound, cleared for the VOR 27 approach.
---
The Case For Factory Upgrades
Back on the ground, Tim Glaser, Hawker Beechcraft Manager Sales Aftermarket Development, explained that the various STC options were chosen both for their utility and quality.
"We just didn't just go out and find some nice STCs and put them on this plane and call it a package," Glaser said. "We put a list of [STCs] together and took a team of engineers and went all through [the STC holder's] paperwork. We picked these mods based on whether they met our quality expectations, and if they made sense from a business case perspective. There were some [vendors] we went to visit that we walked away from. So when we have these mods on the airplane, it's Hawker Beechcraft saying these mods are up to our quality standards."
Hawker Beechcraft plans to introduce more upgrade options for the Xtra as they become available, and hints that an anti-icing or de-icing system may be next on the menu.
All Xtra upgrade work is performed at Hawker Beechcraft-owned Authorized Service Centers. A total makeover with all the options would cost about $140,000, according to Turner. Depending on the amount of work performed, the upgrades require from 90 to 120 days.
The company has been in discussions with the Aircraft Bluebook and VREF, which publish market prices for used airplanes, in an effort to have these reference guides recognize the value of the Xtras' factory installations in the used aircraft marketplace, as compared with upgrades performed by third-party installers. That could further sway owners to make the Xtra upgrade choice.
Hawker Beechcraft notes the a la carte options will be welcomed by owners who don't want to or can't afford to complete upgrade at once.
"It's completely up to the individual operator what they want to do, and how far they want to take it," Johnson said.
But the company believes the real value will go to those who want the full monty. "Drop your airplane off at Beechcraft once, we'll take it apart and make it exactly how you want it, and you're saving time and money doing it all at one time, instead of doing it multiple times," said Glaser. "This is the first time we've gone to this level of support to keep these airplanes flying and keep them looking new for legacy customers. We've been watching the aftermarket companies taking a lot of our airplanes in and doing the kinds of things we should be doing."
Those days of watching from the sidelines are over at Hawker Beechcraft, as the company continues to upgrade its own aftermarket offerings. Look for an announcement of an upgrade program for the twin-engine Beechcraft Baron at this year's ABS convention in October.