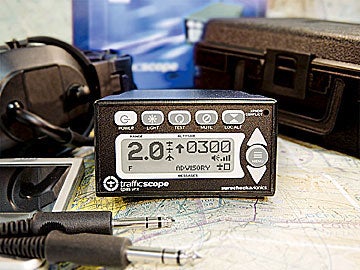 Pilots who rent can now bring their own traffic-alert system with the introduction of the portable TrafficScope VRX. The unit shows the distance of nearby traffic and how far above or below it's situated. An audio alert will sound when traffic gets too close.
For those of us who routinely fly in busy airspace, the need to constantly "keep your head on a swivel" competes for our attention with ATC instructions, terminal area charts and instruments on the panel. The folks who fly "heavy iron," on the other hand, have had options like TCAS (Traffic Alert/Collision Avoidance System) for more than 20 years, which they can rely on for warning of other aircraft on a collision course. But the cost of such a system (which can run into the tens of thousands of dollars) has been prohibitive for most of the GA fleet.
That's where SureCheck Aviation's TrafficScope TPAS products come in—they offer most TCAS functionality in a portable package priced at around $1,000. TPAS stands for Traffic Proximity Alert System. It's a passive, receive-only technology, which listens in on nearby modes A, C, S and military transponders, triggered by ATC radar or active TCAS transmitters. TPAS also listens to your own transponder to provide a base reference. Since most U.S. airspace is in radar coverage and TCAS is now common on airliners and executive jets, you can expect TPAS to work most of the time—although it won't detect ultralights or older airplanes flying without an active transponder.
The digital logic inside the TPAS receiver calculates approximate distance to active transponders based on signal strength and can tell if a transponder is approaching you, based on whether the signal strength is increasing. The TrafficScope VRX model also notes relative altitude based on Mode-C transmissions and a built-in altimeter, which avoids triggering alerts from targets that are well above or below you.
Physically, the TrafficScope VRX is a 5.36x2x3.65-inch box with connectors on the back for a short antenna and an optional connection to a 12- to 36-volt cigarette lighter (the unit will also operate for over five hours on four alkaline AA batteries—over seven hours if you spend extra money for lithium batteries). It also includes an audio jack for a headset adapter that allows you to listen for audio alerts—one of the TrafficScope's best features.
The front panel includes a power button, volume controls, a bright LCD display and five additional buttons used to control the TrafficScope's various operating modes, one of which is the default in-flight mode. In this setting, the unit detects all traffic within a certain range. A few button presses will switch to ground mode, which reduces clutter by ignoring transponders from other aircraft at (or below) your altitude. Automatic mode starts in ground mode and switches to in-flight mode when you climb approximately 500 feet. The display indicates range to the most threatening target (the nearest target the unit believes may cross your altitude). It also has a multiple target indicator that tells you if more than one airplane is in your vicinity, a four-digit altimeter that gives the relative altitude of the closest target, a low-battery indicator and an "Alert" indicator that tells you if an aircraft has been determined to be a threat. There's also an indicator for Mode-S transponders, which generate automatic wake turbulence alerts.
The default 5 nm range generated an excessive number of traffic announcements while operating within the class-D airspace of my home airport, but I got better results by setting the range down to 2 or 3 nm. Most of the announcements you'll hear just indicate that there's traffic in the vicinity—but, as with ATC flight following, the words "traffic alert" indicate that you're close to a target and that you need to take action to avoid it.
That's when the TrafficScope's most significant limitation becomes apparent: It can tell you whether or not a target is approaching, how far away it is and how much it's above or below you, but it doesn't give any indication of direction—so you don't know whether to look ahead, behind or to one side, which I found frustrating. Of course, given that the unit tells you, for instance, that the most threatening aircraft is 500 feet above you and 2 nm away, you can decide to descend, even if you can't see him. In some cases, you can infer direction from the closure rate—if the range is closing rapidly, then he's probably ahead of you; if he's closing slowly (or not at all), then he's probably behind. But it isn't like a TCAS, which gives you a direction to look. Then again, the least expensive TCAS installations cost around 10 times as much as the TrafficScope!
You can put the unit on your glare shield or (with a form 337 and approval from the FAA) mount it in or under your control panel. In the latter case, there's also an option to run an audio input directly to your intercom, rather than using the adapter for your headset. The TrafficScope firmware can be upgraded for free by downloading updated files from SureCheck's Website, and the company is using this mechanism to offer new features—including an Altitude Alert option that was made available only after I'd completed my tests. It allows you to select a cruise altitude and have the TrafficScope generate an audio alert if you deviate by more than 200, 500 or 1,500 feet.
TrafficScope VRX sells for $1,195 and comes with an excellent manual that has over 100 pages, a hard carrying case and a quick-reference guide. A less expensive ($695) model is also available, which indicates range, but not altitude.
For more information, call SureCheck Aviation at (888) 340-8055 or log on to http://surecheck.net.