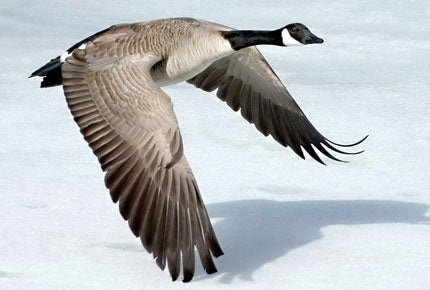 LONELY FLYER. A Canada goose skimming over ice at the Inglewood Bird Sanctuary in Calgary, Alberta, Canada.
The morning sun had yet to break over the horizon, and as I speed-walked my usual early morning, let's-get-the-blood-flowing-
and-the-joints-loose route, I could actually see my breath. Light frost crusted the yards—a rare but not unknown happening here in the desert. Then I heard a single honk overhead and glanced up: Instantly, I felt just a little melancholy.
The honker was a single Canada goose. He wasn't part of one of those marvelously fluid wedges of his brethren on the way to warmer climes. He was alone, which isn't a natural state for geese. They normally mate for life, so flying in pairs is their natural mode of transport. I found watching him (or her) gracefully winging through the predawn sky a little sad. An unknown tragedy had occurred, and I was watching an aviator alone. I couldn't help but think about the human aviator and how some of us are so closely allied to the solitary soul overhead.
Some of us live a life that appears very solitary in nature, but actually isn't. In my case, if I'm not flying, I'll sometimes go for weeks without leaving my property. I'll be psychologically strapped into my computer chair as if the rest of the world doesn't exist. Which, of course, isn't true at all: Because of the computer, I'm constantly conversing with hundreds of other aviators worldwide, many of whom have become my good friends even though we've never met face to face. Folks like me may look like loners, but we really aren't.
Another reason that most of us who are self-employed and appear to be hibernating in our cubbyholes aren't actually loners is because we seldom live alone. The "AZ Redhead" (aka Marlene) is the other half of my existence without whom I couldn't do what I do or be who (or what) I am. I wish I had coined the line, "You complete me"—from Jerry Maguire—because it fits so well and explains a good marital flight team so precisely. We're partners to the core.
It's because of my connection with the AZ Redhead—and my desire to share the flying experience with her—that I don't own certain types of airplanes. I have, for instance, lusted after the Midget Mustang since I was a teenager, when I first discovered the racy-looking little aluminum arrow. I've been lucky enough to fly several, and for my entire adult life, they've whispered in my ear, tempting me to buy the plans, pick up a stack of aluminum sheets and start beating rivets. I'm forever scanning the pages of Trade-A-Plane for a super deal on one, knowing full well that I'll never actually buy it.
---
The same thing is true of the little Cassutt racer, a speedy aerobat that barely sips fuel, surely the biggest bang for the buck in the world of sport aviation. I easily could nestle three or four of them around my own airplane and not even crowd my hangar. I could roll it out in the early morning and be in Los Angeles visiting my daughter in a couple of high-speed hours, having burned maybe 10 gallons of fuel.
And it would seem only natural to also have a single-place Pitts—probably an extremely light S-1S—stuck in a corner of my hangar next to my two-place teaching bird. Plus, I've always wanted to build a modern replica of the original Lil' Stinker Pitts; pictures and models of it set my heart on fire while I was in junior high, setting the course for the rest of my life.
I would dearly love to have any of the foregoing little birds, but some part of me, the part that gets its nourishment from my connection with the AZ Redhead, wouldn't be happy doing that. The truth is that as much as I like flying alone, the aforementioned part of my psyche doesn't truly enjoy it. I miss sharing the experience, and I don't want to come down and try to explain to Marlene what I did or where I went. I want her to be there so we can discuss the experience and remember the moments. I want it to generate images that will live in both of our hearts and sustain us forever. That's the character of a partnership.
It should be understood, however, that the sophomoric-sounding emotions just described aside, a partnership doesn't mean the elimination of free will or the cannibalization of two souls. Both entities have to be complete within themselves so that they're fully functional in their own right. If each person is going to contribute to the whole, then each must have his or her own identity. The strength of a partnership comes from the subtle overlapping of two strong personalities, and God knows, those exist in our household.
The urge to share is at least as strong as our individual urges for independence, so there will be no single-place airplanes in this household. This goose doesn't want to fly alone.
Budd Davisson is an accomplished aviation writer and photographer, CFII & CFIA, aircraft owner and builder. He has authored two books and lectured at the Smithsonian and NASA's Langley Research Center. Check out his website at www.airbum.com.