David Shaw is a bit of a perfectionist. His hangar has a wide collection of tools and parts, and all are neatly arranged. Both his airplanes are immaculate, as are all eight cars in his collection. And when you ask if he needs help pushing an airplane out on the ramp, he's apt to say, "I've got it."
Retired from years as a television producer (among other things, for Murder She Wrote), he can afford to own and fly both a 1989 BE-58 Baron and a brand-new Carbon Cub, so he's not put off by avionics upgrades that might have other owner-pilots gasping at the price. On the other hand, he's also not one to spend more than he has to and, like any pilot, prefers to minimize downtime.
So when he decided the GPS and transponder in his Baron were due for an upgrade, Shaw could have put pretty much anything in the panel. He chose Avidyne's IFD540 and AXP340, which gave him a combination that's ADS-B ready and didn't require a complex and time-consuming installation. In fact, the upgrade from the Garmin GNS-530W that was in the panel to the new IFD540 took "about an hour," most of which was spent making sure the configuration settings matched.
The IFD540 is a "plug-and-play" upgrade for GNS-500 series navigators that slides into the existing tray, eliminating the need to rewire the instrument panel, while providing enhanced functionality. Shaw was able to trade in the GNS-530W that was removed, which cut his cost almost in half. He also took the opportunity to install Avidyne's AXP340 Mode-S transponder, which supports the extended squitter (ES) option required to meet the FAA ADS-B Out mandate. Shaw will get ADS-B In to be displayed on the IFD540 from the Avidyne MLB100 receiver.
Avidyne calls the IFD540 interface "hybrid touch," which in practice means most (though not quite all) functions can be accessed by using either the touch screen or a series of hardware buttons and knobs on the bezel. Shaw says the user interface is intuitive, and after spending some time with both the IFD540 in his airplane and Avidyne's iPad-based simulator, which can be downloaded for free, I tend to agree. In most respects, it feels and acts like a more sophisticated GNS-series device. Unlike GNS-series navigators, it will display terrain, navigation data, weather and traffic all on the same page, much like a multifunction display. Shaw finds the result cluttered, so he usually turns off on-screen terrain. There's also an option to show a small 360-degree "radar" display of nearby traffic in the lower-left corner of the display.
The IFD540 understands airways as well as waypoints, which makes setting up flight plans much easier—select an entry waypoint, then pick the airway you want from a drop-down list and pick an exit waypoint (which may be the entry to another airway). The unit also supports fingertip "rubber band" editing of flight plans, though the active leg currently can't be edited—something that will be updated in the upcoming version 10.1 software release, according to Avidyne's Steve Jacobson.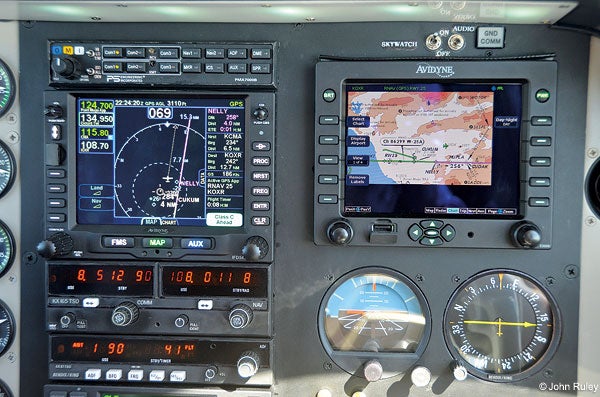 Avidyne's IFD540 directly replaced the Garmin GNS-530 in this Baron's panel.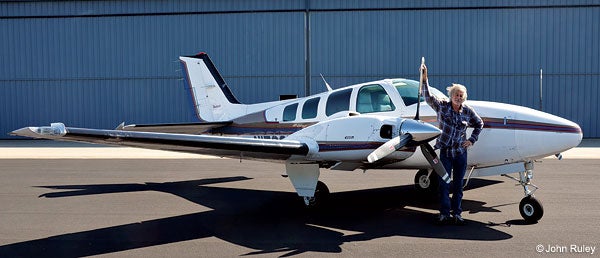 N1566K is a 1989 BE-58 Baron owned by retired TV producer David Shaw.
Version 10.1 will also add Bluetooth support, according to Jacobson: "That requires an additional STC and will only be available with FAA approval. Jacobson also told me that the IFD540 will support wireless internet (WiFi) as an alternative to Bluetooth connectivity, but that awaits a later software release.
There are two compatibility issues with the IFD540 that bear mentioning: It supports cross-fill of flight plan data, but only with another IFD-series unit, not with a Garmin GNS series. The IFD540 can display TIS-A traffic from a Garmin GTX-330 transponder, but doesn't show orientation tails. Neither was a problem for Shaw's installation.
Shaw says that Avidyne has been extremely supportive so far and is particularly impressed by a download feature that allows you to save an IFD540 system configuration file to a flash drive. The configuration file can then be uploaded to Avidyne tech support, who can diagnose many problems by email. The same USB port is used to update the IFD540 database. As with most modern GPS navigators, the data comes from Jeppesen.
He didn't sign up for Avidyne's extended warranty, which has gotten a lot of attention in press reports and discussion forums. The IFD540 has a one-year parts and labor warranty. Avidyne also offers an extended warranty program called AeroPlan, which provides two years of additional warranty at no charge, but requires the owner (all owners if the airplane is in a partnership) to sign a legally binding waiver. Asked about that, Avidyne's Tom Harper told us: "It's important to note that AeroPlan is an optional extended warranty. If you sign the AeroPlan extended warranty agreement, we provide an additional two years of warranty for no additional charge, which reduces your ownership cost. The choice is yours. For those who are not on AeroPlan and have reached the end of their warranty coverage, we offer very competitive out-of-warranty repair pricing." The flat-rate IFD540 exchange price published on the Avidyne website is $1,200.
The IFD540 understands airways as well as waypoints, which makes setting up flight plans much easier.
Shaw took me for a brief but exhilarating demo flight, departing his home base, Oxnard, Calif. (KOXR), toward the nearby Santa Maria (KSMX) airport, then flying an autopilot-coupled RNAV (GPS) approach back to runway 25 at KOXR. I've often heard the term "homesick angel" used to describe how some airplanes climb, but it really applies to Shaw's Baron—once he pulled the gear up, we were looking at 2,500 fpm to 4,000 feet. Functionally, it's not very different than using the GNS-530W in my Skylane, though it's definitely easier to enter waypoints using the on-screen keypad, and the fact that it understands airways would be a huge help when getting short-cut vectors in busy airspace.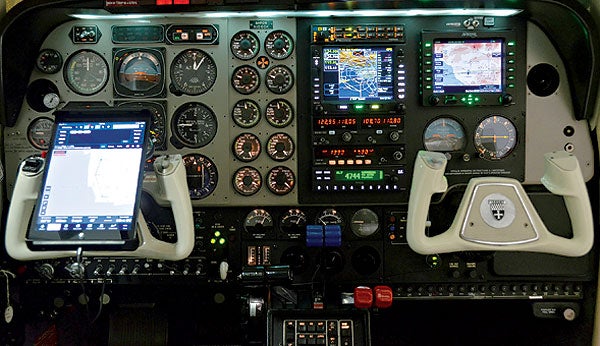 The revised panel in N1566K features Avidyne's IFD540 GPS and EX600 MFD.
He has owned the airplane since 1991, buying it with 14,00 hours on it. "I'm the second owner. I went through the airplane and replaced the engines with factory-new, all done through Beechcraft." It's a new enough model to have standard control placement (pre-1984 Barons had throttles between the mixture and prop controls, and landing gear and flap switches reversed from their usual location).
Shaw likes to go fast and flies the airplane "pretty hard," typically seeing 195-200 knots at low altitude. He pays for that with a fuel burn that averages 31 gallons per hour. On longer flights at higher altitudes, it's quite a bit more efficient: "I used to go to Sun Valley, Idaho [KSUN], flying between 1,400 and 16,000—I'd see 180-190 knots at around 27-28 gph."
With medium-range tanks (166 gallons usable) the airplane will fly a four-hour leg with reserves, though Shaw rarely flies it that far: "Honestly, I'm usually only flying an hour or hour and a half to San Francisco." There's a very definite trade-off in load versus range: "You can't do full fuel and six people, but I don't fill the seats anyway. The nice thing in the air-plane is that even with one engine out, I have 400 fpm rate of climb at sea level, as long as I'm above blue line [minimum single-engine control airspeed]." He has also added speed brakes, which he says are "a huge help" flying in busy Southern California airspace, where ATC often expects pilots to descend several thousand feet in just a few miles. He does have one warning about them: "Putting the speed brakes out feels just like lowering the landing gear," so a GUMP check is mandatory on short final.
Shaw likes to go fast and flies the airplane "pretty hard," typically seeing 195-200 knots at low altitude.
He says the Baron's a solid IFR platform: "It's a hot rod, but doesn't do anything unexpected. I've been flying it so long now that I'm very comfortable. I made a trip home from Sun Valley with a dog and my girl in the airplane—3.5 hours of solid IMC. Lightning, bumps, it was a real nightmare, but the airplane got us home okay."
To keep costs down, Shaw no longer carries hull insurance: "It was running about $6,500 a year. I figure by now I've more than got my investment back in the time I've owned the airplane." He pays about $1,000 per year for liability coverage. As for maintenance: "I do owner-assisted annuals with an A&P/IA who likes my work," at an average cost of about $1,500 a year. Aside from typical maintenance, he has had to deal with "one very nasty AD to replace instrument panel switches—one heck of a job. I think they're causing more trouble by having people mess with the wiring. Some switches do come loose and ought to be replaced, but if the switch isn't loose, leave it alone." The airplane has also been through several vacuum pumps. And every year, during his annual, he practices emergency gear extension procedures: "I don't want to have to think about it if I ever have to do an emergency extension for real!"
The Baron isn't the only airplane in his hangar. Shaw also has a Cub Crafters Carbon Cub, which like the Baron is immaculate. I asked why anyone would want to own two such airplanes: "I can go out for $35, and fly for an hour and have more fun. It's just fun flying! The Baron's a travelling airplane and great for instruments. The Cub is low and slow and just fun to fly. And it's an LSA—I can do all my own maintenance."
Asked if he'd like to pass on a last word, Shaw added: "I've been really happy with Avidyne and their support. There's a huge advantage to working with them—you can download on a little thumb drive, send the info to the factory, and they'll call back and tell you where your problem might be. That's where we need to go with avionics."
Beechcraft 1989 BE58 Baron

SPECIFICATIONS
Model:
58 Baron
Engine Type:
Piston
Thr ea engine (hp):
300
Fuel (gals.):
172 (166 usable)
CAPACITY
Gross Weight (lbs.):
5500
Empty Weight (lbs.):
3443
DIMENSIONS
Length (ft./in.):
29/10
Height (ft./in.):
9/9
Wingspan (ft./in.):
37/10
PERFORMANCE
Max Speed (kts.):
204
Recommended Cruise (kts.):
192
Stall Knots, Dirty:
74
Range (nm):
1109
All Eng Service Ceiling:
20,688
Eng Out Service Ceiling:
7284
All Eng Rate Of Climb:
1750
Eng Out Rate Of Climb:
394
Takeoff Over 50 ft.:
2371
Takeoff Ground Run:
1403
Landing Over 50 ft.:
2498
Landing Ground Roll:
1439