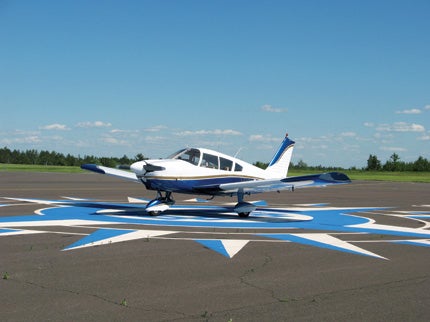 From time to time, Plane & Pilot embarks on a proverbial aircraft-upgrade project and chronicles the progress for the enjoyment and edification of readers. While the rationale behind upgrading what you already own versus biting off an armored carload of new debt to finance another aircraft may be open to debate, the upgrade process itself is dynamic and worthy of revisiting on occasion. Consider how much the field of retrofitable avionics has changed since 2007, and you'll see what we mean by "dynamic."
In a three-part series about upgrading a 1971 Piper Cherokee PA28-180, we'll walk you through refurbishing an original interior/exterior, modernizing a steam-gauge panel and deliberating over the options firewall forward—all the while noting the thought process, budget implications and personal experience of the odyssey.
Refurbishing The Exterior
In my case, I decided to start the project from the outside in, opting first for new paint. While it may seem logical to finish the upgrade process with paint (to minimize potential damage in the process of engine and panel upgrades), I needed corrosion protection first. Thus, it was either bucket-and-roller time, or enlist the help of a trained professional: I opted for the latter.
Frankly, my aircraft was so ugly, I'd fly it only at night; that way no one would see me walking out to it. Consequently, the upcoming exterior refurbishment had great appeal to me. Certainly the panel and firewall-forward upgrades enhance safety, but a shiny new paint job can be appreciated by everyone and offers pride of ownership.
Finding The Right Shop
As with most things, you really do get what you pay for when it comes to aircraft paint jobs. While there's a wide range of prices (typically $5,000 to $15,000 for a piston single), there's a commensurate range of quality. Having seen paint jobs on the lower end of the spectrum, I knew that I wanted more for my paint investment than a "budget job." I wanted something I was proud of and workmanship that would last for years.
High-quality aircraft painting is an art form, and some of the finest paint shops never seem to advertise. Consequently, finding them can be a challenge. In the past, I've left business cards on aircraft, hoping that the owner would contact me with a hot tip. I've also just plain asked anyone and everyone I know in the industry (and that's a good number of folks). Ultimately, my choice was solidified through a word-of-mouth recommendation from someone I trust and respect. (A word to the wise: Once you make your selection, look at some examples of the finished product. If you intend to drop five figures on paint, you certainly don't want to suffer buyer's remorse the day you pick up your plane.)

As with most things, you really do get what you pay for when it comes to aircraft paint jobs.

I selected Custom Aircraft Refinishing (www.aircraftrefinishing.com) in Casselton, N.D., and I couldn't have been more delighted. The company has been painting aircraft for more than 14 years and has done warbirds, business jets, singles, twins, experimentals and even the occasional crop duster. Its environmentally controlled paint facility ensures that humidity and dust—two of the three worst enemies of a quality paint job—are controlled so the end product is near perfect every time. (If you visit a potential paint shop that's painting aircraft with the hangar door open, run away—screaming is optional.)
---
One sign of a great paint job is a clear-textured sprayed-on wing walk, which accentuates the paint job while offering necessary traction over a heavily trafficked part of your plane. Above, the PA28 before and after Custom Aircraft Refinishing refurbished its wing walk area.
What You Can Expect To Pay
The variation between a $5,000 and $15,000 paint job is vast. Read on to learn what makes the difference and judge for yourself what will have value for your paint job needs. Generally, the quoted price includes a few hours (10 seems the norm) of bodywork repair. Minor cracks in wingtips, cowlings, wheel pants and the like can be returned to like-new condition. It may behoove you, however, to simply replace some of the worst pieces, and take the opportunity to upgrade damaged original wingtips to new ones with integral wingtip lighting, or replace the original cowling with a new cowling that enhances airflow and improves speed. In any event, expect to replace some plastic and/or composite pieces that won't be included in the original quote.
Labor and materials don't vary much; the only way a company can really take cost out of a paint job is to cut corners somewhere (or everywhere). Conversely, on the high end, the attention to detail will add cost. Either way, you'll get what you pay for—just make sure to get price quotes in writing so there are no misunderstandings.
How To Identify A Great Job
One huge differentiating factor in the broad spectrum of paint jobs involves the removal of flight control surfaces. Higher-end shops spend many more man-hours in prep and finish work, including the removal, balancing and reinstallation of flight control surfaces. Removing them allows the painter to verify if the control surfaces are balanced. Because flight controls don't come off for annual inspection, there's no way of knowing if the balance has changed over time due to the introduction of foreign objects (e.g., bird nests, wasp nests, etc.). Unbalanced control surfaces can lead to flutter: It's important that the company painting your aircraft has the equipment and expertise to rebalance the control surfaces after stripping and repainting.
You may find that a shop charging more for an aircraft paint job is just plain painting more. For example, Custom Aircraft Refinishing paints the inside of the wheel wells on retractable aircraft. (You certainly don't need to do this if you're cutting corners, because it requires a significant amount of time and a postpaint gear-retraction/extension test for safety's sake.)
---
Good prep work is an indication that you're going to get a good finished product. A quality paint job is 60% prep work and 40% finish work. The prep work should include a complete chemical strip down to the bare metal or composite surfaces; complete removal of flight control surfaces, wheel pants, cowlings and fairings; and a corrosion inspection. In the upgrade process, I noticed that the following made for a great paint job:
• No Overspray: After making certain that whatever can come off does come off, a careful masking job ensures that there will be no signs of unsightly overspray when the package is unwrapped. Brake lines, windows, tires, props, brake calipers, hydraulic cylinders, cables—whatever. If it isn't designed to be part of the new paint scheme, it needs to be masked so it isn't part of a residual paint scheme.
• Jams & Tight Spots: One other nicety that separates the good, bad and the ugly is finding paint in places you hadn't expected—that's paint, not overspray. Naturally, part removal makes it easier to shoot paint into places that rarely see the light of day, such as inside wheel wells and behind flight controls. However, shooting the inside of cabin door jams and baggage areas provides a high-end finished feel. Painting door jams may increase price, so you'll need to decide if it's really worth it. (I voted "yes" since I opt to enter and exit through the door every time, and open the baggage door almost as frequently.)
• Sprayed-On Wing Walk: The same holds true for the wing walk area on low-wing aircraft. Extra care should be given to this area because you'll see it every time you enter the aircraft, though it'll never appear in beauty shots. A clear-textured sprayed-on wing walk allows the beauty of the new paint to shine through while providing the necessary traction over the wing root. Whether you decide to go with clear or traditional black, a sprayed-on wing walk provides a high-end feel.
• New Placards: This was a finishing touch that I hadn't bargained on. Apparently, new placards are required, but I must admit that finding vinyl, die-cut placards for door releases, level points, fuel indications, static ports and more was an unexpected surprise that also adds an excellent high-quality finished feel.
• Polished Windows: Due to the risk of doing more harm than good, some paint shops don't polish windows. Polishing windows may not sound like a big deal, but consider the alternative: You've just spent a tidy sum of cash to upgrade the appearance of your aircraft, only to discover that when the masking is removed, your windows reveal the aircraft's true age. Polishing the windows during the paint process is one of the simple things that'll make you appreciate the difference between the services of a budget paint facility and a top-tier facility.
• Windshield & Window Sealant: Now this was something I did myself, but the hot tip and some basic instruction came from the paint shop. Adding a bead of Pro-Seal or similar product around the windshield and windows helps seal out the elements and is another finishing touch.
---
How Long & When?
Expect about three to four weeks of downtime for the paint process. When you understand the scope of work, you'll appreciate how fast the process is. Summer usually brings aviators out of the woodwork, so if you don't plan ahead, you may not get your paint job completed until summer is over. If you use a paint shop with an environmentally controlled booth (heat, humidity and dust), the
timing
of the actual paint job likely matters not. If you decide to go with a budget/open-hangar/paint-when-the-wind- is-blowing-the-right-direction shop, consult a meteorologist, psychic and the
Farmer's Almanac
before scheduling your paint work.
What To Consider In A Scheme
There are simple dos and don'ts about choosing a paint scheme. Do consider resale, so don't go crazy with the colors and scheme to the point where you're the only person who thinks it's cool. The beauty of many aircraft is that the design is relatively timeless; meaning that an elegant new paint scheme on a 1960s, '70s or '80s vintage Cessna, Beechcraft or Piper can make it look decades newer. And if designing an aircraft paint scheme isn't your bailiwick, resources like Scheme Designers (www.schemedesigners.com) specialize in beautifying aircraft through creative use of line and color.
Also, no matter what the scheme looks like, consider where the stripes fall on the airframe, just in case more significant repairs are required in the future. For example, if multiple stripes cross a wingtip, matching the paint colors and metal flake when repairing hangar rash becomes more of a challenge. The same is true if stripes cross upper and lower cowlings and other potential repair/replacement areas.

Once you make your selection, look at some examples of the finished product. If you intend to drop five figures on paint, you certainly don't want to suffer buyer's remorse the day you pick up your plane.

Protect The Finish
Now that you've beautified your ride, go one step further—protect its finish in the high-wear areas with a clear protectant film. These clear, flexible, impact-resistant films can be used on the leading edges of wings, struts, wheel pants, door sills and even around key locks where dangling keys can scratch the finish. The film can be purchased in bulk or even in precut sets for specific aircraft. Try AeroTect (www.aerotect.net).
Warranty
This may be where the rubber meets the runway and what sets a great paint job from a mediocre one. While two or three years seem to be the norm for a paint job, the very best shops offer a full five-year warranty on workmanship. If you're investing your money on a paint job, why not select a paint shop that's willing to stand behind its work twice as long as the competition. I guarantee that any shop offering a five-year warranty on paint is likely doing everything possible to ensure your satisfaction through its own superior craftsmanship.
Look for Part II (panel) and Part III (engine) in upcoming issues.