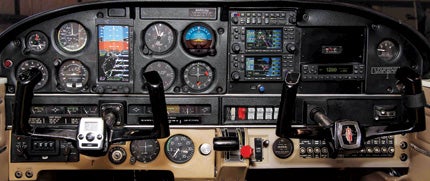 After receiving a brand-new exterior paint job, the author's 1971 Piper Cherokee PA28 was outfitted with an upgraded panel.
In the December 2009 issue, we took you through the process of upgrading your aircraft's exterior (see "Upgrade Your Plane! Part I"); now, we step inside and guide you through a panel upgrade.
While having a modern, state-of-the-art panel may be a dream, this is no dream article. Given today's economy, we're taking a practical look at the best real-world solutions for getting maximum functionality without having to sell a kidney for financing. Effectively upgrading a typical aircraft on a real-world budget means considering the confluence of purchase price, installation cost and functionality.
Project Considerations
At the onset of the panel upgrade project, we established three important parameters. By adhering to these parameters (budget, upgradability and integration), we hoped to limit exposure to "scope creep." As research commenced, every product decision would need to pass a litmus test of how it impacted the total upgrade budget, future upgradability and integration with other selected components. Additionally, a significant portion of the upgrade project was devoted to enhancing safety by improving situational awareness, reducing pilot workload and adding redundancy.

Effectively upgrading a typical aircraft on a real-world budget means considering the confluence of purchase price, installation cost and functionality.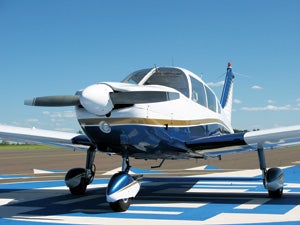 The "Before" Panel
When I took the keys, the 1971 PA28 was equipped with a very basic IFR panel that previously had been upgraded with a GX55 en route GPS. NAV/COM functions were managed by a pair of Bendix/Kings: a vintage KX 170B and a more modern KX 125 with digital CDI. The panel also had the obligatory Mode C transponder, an ADF and a single NAV head with glideslope. To say the least, without even the most basic autopilot, the original panel configuration was a challenging single-pilot IFR platform. It was finally out with the old and in with the new—well, sort of.

A More Robust GPS
These days, a GPS device is the heart and soul, and primary navigation source, of most panels. While I'm a firm believer that primary flight training should be done in minimalist fashion on steam gauges, the reality is that a great number of aircraft are flown primarily by reliance on satellites, thanks to the advent of GPS for civilian use. Even if an aircraft isn't equipped with a panel-mount GPS, many pilots carry aboard a handheld, yoke-mount or other type of portable GPS.
Having a GPS unit is an invaluable resource, but we wanted more functionality than what the decade-old GX55 had up its sleeve. And if one is good, two are better—we wanted the convenience and redundancy of two GPS units in the new panel. So space was allocated in the panel and budget for a pair of refurbished Garmin GNS 430s. In this case, using two reconditioned 430s was more affordable than purchasing one new GNS 530W. Plus, the 430s are upgradable to WAAS capabilities and also support a host of other functionality and integration features.
---
Selecting A PFD
Flying behind large-screen PFDs in corporate aircraft, then getting into the steam-gauge PA28 was a strange and interesting endeavor. I enjoy the "airmanship" of flying on steam gauges, but my father-in-law is right: "It's easy to get used to whipped cream." My glass-cockpit experience had truly spoiled me beyond recognition. Thus, this vintage bird was destined to get a PFD as part of the panel upgrade.
The available PFD options for even this level of aircraft are nothing short of remarkable. Prices ranged from $9,995 to $35,000, so once again, the ultimate selection was based on the best blend of price, upgradability and integration.
The upgradability issue was important because the panel upgrade wouldn't be completed in one fell swoop. Components were selected that could have supplemental functionality—i.e., software—added in the future without throwing money away (by the need to change hardware). This speaks to the critical issue of price.

Do your homework and find a reputable shop that's a retailer, installer and warranty/repair facility for all of the avionics you choose.

Because you have little control over purchase price, one way to manage the total budget is by limiting labor costs wherever possible—ergo, minimizing the panel modifications required for installing the PFD and other components. For us, all roads led to Aspen Avionics (www.aspenavionics.com). The ingenious EFD1000 is designed to be installed in the existing three-inch-diameter hole typically occupied by the attitude indicator. The EFD1000 interfaces nicely with the Garmin GNS 430 and will serve as the heading reference required for an autopilot and GPSS. The Aspen unit is fully upgradable with up to two additional units placed on either side of the PFD to create a wide array of MFD capabilities and redundancy for traffic, weather, terrain, reversionary PFD and more. And perhaps best of all, Aspen's EFD1000 has a backup lithium battery to power its own GPS and ADHARS in an emergency.
Attitude Adjustment
All digital PFDs require the redundancy of four backup instruments: altimeter, airspeed indicator, attitude indicator and heading reference (DG or compass). Thus, installing the EFD1000 meant the attitude indicator would be retained but relocated. However, since one of the objectives was to improve safety, we decided to eliminate the aged vacuum pump.
We opted to replace the now-backup, vacuum-pump-driven AI with a Lifesaver from Mid-Continent (www.lifesavergyro.com). The Lifesaver is a fully self-contained, electrically driven AI that also has its own battery-powered life support. Even with a complete ship electrical failure, the Mid-Continent 4300 Series Lifesaver attitude indicator provides the pilot with one full hour of levelheaded thinking to get on the ground, shiny side up. Having already survived both a real-life and simulated vacuum-pump failure, experiencing such a failure again isn't something I care to "three-peat." Adding the redundancy of the Lifesaver to the security of internal battery backup in the EFD1000 provides cheap "life assurance."
---
Virtual Copilot Wanted
Anyone who has ever had to figure out a routing change while flying single-pilot IFR without an autopilot has probably shaved some years off his or her life. Taking your eyes off the ball while trying to locate intersections and frequencies on an L chart, read approach plates and configure the radios, reprogram a flight plan in a GPS, etc., usually means that when you look up again, you're headed somewhere you hadn't planned on going. In this case, even the most basic autopilot becomes a virtual copilot to keep you on the magenta line and prevent your pencil from falling to the ceiling. Adding an autopilot to interface with the PFD and GPS provides a significant level of enhanced safety.
While adding a two-axis autopilot was preferred, the need to conserve cash for the upcoming firewall-forward upgrade (Part III) led us to start with a single-axis autopilot that could be upgraded later. After a bit of research, we selected the S-Tec System Twenty single-axis autopilot from Cobham (www.s-tec.com).
As you'll recall from basic flight training, there are three axes of flight that pass through the aircraft's center of gravity: vertical (pitch), horizontal (yaw) and longitudinal (roll). While there are autopilots that control one, two and three axes, System Twenty controls the roll axis and thus holds a desired heading (from GPS, VOR and localizer inputs).
System Twenty, which is designed to integrate with Aspen's EFD1000, is an excellent rate-based autopilot known for its precision and reliability. It benefits from being easily upgradable to a System Thirty two-axis autopilot that can capture and hold both heading and altitude. Therein lies the beauty of S-Tec's "building block" philosophy—start with a great foundation and add functionality when it suits you. Incorporating System Twenty into the panel as a starting point means that a well-trimmed aircraft will help maintain altitude while the single-axis autopilot will keep you on the straight and narrow, so you can momentarily divert your focus in IMC long enough to accomplish other necessary tasks with confidence.

Panel Integration
Having the latest retrofitable modern avionics installed in the aircraft's panel is just the ticket to reinvigorate your enthusiasm for flying. But getting a suite of components manufactured by different companies to work as a single, cohesive advanced avionics package is more than an installation project—it's an integration project. Selecting the right avionics shop to complete the work is just as important as selecting the right avionics.
Do your homework and find a reputable shop that's a retailer, installer and warranty/repair facility for all of the avionics you choose. We selected Wipaire (www.wipaire.com) in St. Paul, Minn., for its reputation for craftsmanship and customer support, and because it sells, installs and supports all of the components we selected. Wipaire did a top-notch job on the panel aesthetics, took great care not to scratch the freshly painted aircraft and also installed precut screen protectors from Aerotect (www.aerotect.net) for the Aspen and Garmin displays.
---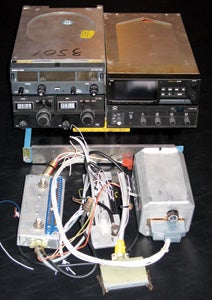 Some of the original avionics are removed. The KX 170B and KX 125 are on the left; the GX55 is on the right (with assorted encoders, glideslopes, etc.). Missing are the DG, AI and about five pounds of wiring harness and connectors that were replaced.
Upgradability
Essential to the upgrade project was the selection of premium components that provided immediate improvements in cockpit functionality (and aircraft residual value) and would be the building blocks for future upgrades.
As mentioned before, the Aspen Avionics EFD1000 PFD can be integrated with up to two additional displays to add PFD/MFD capabilities and PFD reversionary redundancy. Cobham's S-Tec System Twenty is fully upgradable to a two-axis autopilot. Furthermore, System Twenty requires no panel modifications because Systems Twenty and Thirty are a direct replacement for the standard turn coordinator.
The ubiquitous Garmin GNS 430s can be upgraded to support the addition of terrain, traffic and weather data. Furthermore, the older pre-WAAS GNS 430s (like the ones we installed to save money) can be upgraded to WAAS capabilities by sending them to Garmin. In preparing for the WAAS upgrade, the astute avionics team at Wipaire inspected the GNS 430s for WAAS-upgrade capability, ensuring that the integration would be seamless with the EFD1000 and S-Tec System Twenty. Here again, another reason to select the right shop to do the installation work.
Bonus Features
As you'd expect, completing a project of this magnitude offers some value-added perks beyond the improved safety, enhanced residual value and increased functionality of cockpit modernization. When it was all said and done, we were pleasantly surprised to get an increase in useful load, GPS steering and music capabilities (other than AM radio via the seemingly worthless ADF).
• Useful-Load Increase: After reviewing the new weight-balance data, we discovered that the panel upgrade project netted a two-pound increase in useful load. Granted, that may not sound like much, but considering that the upgrade included the addition of a second GPS, audio panel, autopilot (complete with servo) and an avionics cooling fan, gaining rather than losing useful load was a nice bonus.
• GPS Steering: Wedding the Cobham S-Tec System Twenty to the Aspen Avionics EFD1000 Pro provides the GPSS feature that takes autopilot performance to another level of sophistication and accuracy, especially when flying in strong crosswinds.
• Music: Finally, adding an auxiliary audio input and proprietary Bose headset jacks into the panel means I can access my iPod's music library through my Bose Headset X while enjoying the scenery and allowing George to help with the flying chores (at least the heading portion anyway).
In the next issue, read Part III. Upon reaching TBO, an aircraft owner has a number of options: factory-new, factory-rebuilt, overhaul or continue to run the engine beyond TBO. In Part III, we'll take an in-depth look at the nuances distinguishing one alternative from the next. You may be surprised to discover that what you stand to gain (or lose) with your decision is worth the cost.