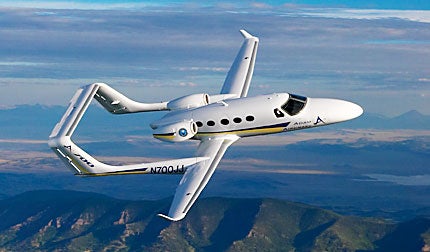 We're about to find out if the Very Light Jets (VLJs) will be the dominant force in general aviation that some people predict. CEOs Jack Pelton of Cessna, Vern Raburn of Eclipse and Rick Adam of Adam Aircraft think it will. Within only about 18 months, we're liable to see three different models of VLJs certified and delivered to the market.
Those three are the Cessna Mustang, Eclipse 500 and Adam A700. The Mustang made its first flight on April 23 and, at this writing in late June, had already accumulated some 140 hours of flight testing. The Eclipse and Adam airplanes have been flying for more than a year and have logged hundreds of hours of flight-test time. (Diamond's single-engine D-Jet and Honda's unusual twin jet are other serious entries into the VLJ market, but they're both probably farther down the certification road.)
Some industry observers question whether or not there is enough market for the proliferation of light jets proposed by the companies above. Critics like to note that the entire jet market consisted of only 500 sales last year, making it unlikely that VLJ manufacturers alone will produce 1,000 airplanes a year.
But the VLJ manufacturers are betting on a changing pattern of transportation, encouraging pilots and non-pilots alike to take advantage of the smaller jets. Eclipse Aviation, for example, just announced an agreement with DayJet Corporation to supply as many as 300 VLJs to operate a new on-demand service on a per-seat basis. Additionally, Cessna Aircraft Company, Adam and Eclipse are gambling that the step-up and replacement market will generate plenty of potential buyers. Since Cessna discontinued the 300- and 400-series twins in the mid-1980s, there have been essentially no corporate piston twins available, and the VLJ builders hope that their products will serve as replacements for many older piston twins and turboprops.
Unlike the Mustang and Eclipse, the AdamJet employs Williams engines, in this case, a pair of FJ-33s with 1,200 pounds of thrust per side. The Williams FJ33 was certified in 2004 and is a scaled-down version of the company's FJ44 that currently powers the Cessna Citation CJ1, Raytheon Premier and the upcoming Swearingen SJ-30-2.
The A700 is a derivative, of course, of the piston-powered A500. The new AdamJet will use the same wing, same boom, same tail, same nose gear, same instrument panel, same seats and so on. This ability to use components that were already approved during the certification process of the A500 has given the new Adam jet a jump start right out of the gate.
---
"As a simple rule of thumb," says Adam Aircraft president Joe Walker, whose dossier includes stints at Cessna and Gulfstream, "a clean sheet of paper airplane is a five-year project. Derivative airplanes are typically three-year projects. That's why everyone tries to do derivatives, and that's why the A700 is moving along so well."
Will the accomplishments of the A500 bring the Adam A700 to the VLJ market first? Walker is confident as he says, "Go out five years from now, what's important is the fleet size, not the exact month the airplane first came to market." Another point of interest to Walker is how the VLJ market has begun to evolve even before the deliveries have begun.
Walker explains, "If you look at the history of the twin market, for example, first, there was the 310, four seats, all facing forward. Later, you saw cabin-class twins develop with club seating, lots more room and comfort. We're seeing the same thing now. The Eclipse has five seats, all foreward-facing. The A700 has six with a club-seating configuration, plus a lav. In fact, the A700 has 90% of the cabin space of the CJ1, but at about half the purchase price and 2/3 of the operating cost."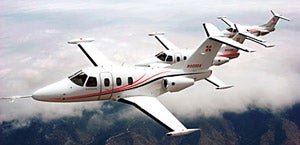 Walker says that the company is comfortably on track to reach certification in 2006 and has $183 million in orders for the A700. Rick Adam hopes to build 60 airplanes a year, with a targeted price of $2.1 million in standard configuration.
Eclipse CEO Vern Raburn has been described as the father of the VLJ movement, and regardless of whether or not that's true, he was certainly the first to initiate R&D on the type back in 1998. There's no question that former Microsoft vice president Raburn, along with Sam Williams of Williams International, has introduced a whole new movement in general aviation. Williams has been building small jet engines for a quarter-century, dating back to the introduction of the first cruise missiles, and it was obviously in his interest to foster the installation of Williams powerplants on the new VLJs.
In seeming contradiction of that partnership, however, power on the Eclipse 500 is provided by a pair of FADEC-controlled, Pratt & Whitney 610F engines, rated for 900 pounds of thrust. Eclipse opted out of the original Williams EJ22 turbofans because they were not reliable enough for the Eclipse 500.
---
The construction of the five- to six-seat Eclipse 500 is relatively conventional, although Raburn has taken some steps to facilitate its production. The airframe and wing are built of tried-and-true aluminum, even though much of the structure is assembled using friction stir welding, a heat-and-bonding process that joins the metals with a stronger, lighter bond than with rivets. Control deflection is via standard cables, pulleys and pushrods, and as a further concession to simplicity, the Eclipse doesn't use anti-skid brakes. The trailing link gear is all-electric, and the emergency extension is gravity drop.
The fuel system utilizes simple wet wings to the tips with 1,540 pounds (230 gallons) of total capacity. Flaps are electric and Fowler-type, and translate a foot aft as they arc down to a max 37.5 degrees, increasing the wing area and reducing stall.
The 500's panel is in the now-standard PFD and MFD configuration, using proprietary Avio software with Avidyne displays. Raburn's computer background has convinced him of the reliability of electronic displays, so there will be no backup airspeed, attitude and altimeter instruments as on other glass-cockpit airplanes. Pitch and roll are controlled with a side stick rather than a yoke, intended to free up legroom in front of both pilots and to facilitate the instrument and switch access.
Raburn and company are shooting for a cruise speed of 375 knots at altitudes as high as 41,000 feet. Initial climb at sea level and at max gross of 5,640 pounds is listed at nearly 3,000 fpm with both engines turning, 888 fpm with one mill caged. Useful load in standard trim will be 2,250 pounds, so even with full fuel in the tanks, the airplane should be capable of lifting four folks. Stall is suggested at 67 knots, meaning you can use Piper Seneca and Beechcraft Baron approach speeds of 100 knots or less without tempting fate.
The current price works out to just under $1.5 million, and even that may be expected to rise before the airplane sees certification in early 2006. Raburn claims some 2,200 orders for his groundbreaking VLJ and plans to assemble the components at the company's Albuquerque, N.M., facility. In a perfect world, Eclipse hopes to receive certification by April 2006 and intends to deliver 260 airplanes during the first year of production and more than 800 in the second year.
Cessna is certainly the most established manufacturer of jets, with some 4,200 Citations built in only the last dozen years. For that reason, the Mustang may be regarded as the most viable of the VLJs.
Cessna held a ceremonial first flight on June 24th in Wichita, Kan., for invited guests and position holders. In keeping with the tradition on Citations, the Mustang will be single-pilot-certified and is essentially an all-new design. The flight test and development is currently on schedule, so barring FAA roadblocks, Cessna's promise of first deliveries by the fourth quarter of 2006 looks fairly realistic.
---
The Mustang features a cabin in standard conference configuration (two plus four) plus a side-facing toilet seat abeam the cabin door for a total seating capacity of six. Predictably, the panel will feature the industry-standard glass primary flight display (PFD) and multi-function display (MFD) supplied by Garmin. In keeping with RVSM requirements above FL280, the Mustang will feature dual altimetry, dual air-data computers and an appropriately sophisticated autopilot, also by Garmin. In addition, Garmin will provide XM weather downlink, a Garmin radar and a traffic information system.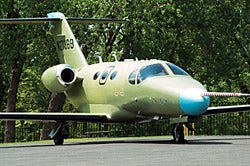 FADEC is the trend these days, and the Mustang will offer it, along with anti-skid brakes and the obligatory speed brakes. The Mustang is planned to have a wide speed envelope, with high cruise and low approach speeds, so thrust reversers won't be necessary for landings.
Unlike the CitationJets that fly in front of Williams turbofans, the Mustang is powered by a pair of fuel-efficient Pratt & Whitney PW615F fan jets rated for 1,350 pounds of thrust a piece. Preliminary specs are for a cruise speed of 340 KTAS at FL350 with an 8,000-foot cabin.
Cessna currently claims over 230 orders for the $2.3 million Mustang, which will be built at the Independence, Kan., plant. The company is confident that it will meet or beat the December 2006 first-delivery date for its VLJ.
Adam Aircraft president Joe Walker sums up a feeling for all three of the VLJ contenders. "What's really exciting is that now, you'll be able to get a jet for half the price you could five years ago. Now, that's pretty amazing and wonderful."
For more information about the Adam A700 jet, contact Adam Aircraft at (303) 406-5900 or log on to www.adamaircraft.com. For Cessna Aircraft Company and its Citation Mustang, call (800) 4-CESSNA or visit www.cessna.com. For Eclipse Aviation and its Eclipse 500 jet, dial (505) 245-7555 or click on www.eclipseaviation.com.