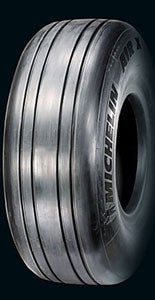 Airplane tires are a breed unto themselves. A tire on your car has it easy compared to one on an aircraft. Your car doesn't drive along a sun-baked, 120-degree F taxiway, then climb into sub-zero temps several miles above the Earth, hanging in a 100-mph wind, then come down and smash onto the ground at 80 miles an hour, maybe even bouncing a few times. Not just any tire is up to the mission.
That's why aircraft tires must be certified by the FAA, as well as TSO'd, which sets standards for aircraft tires, including how they're to be tested and the limits of their endurance. With a legion of federally established performance parameters added to the unique requirements put forth by a dazzling variety of aircraft, it's not hard to see that creating an aircraft tire is a high-tech proposition.
"We're very much a technical company," points out Michelin's Harvey Stackhouse. "We have succeeded in business because of our technical strength."
He goes on to describe how his company goes about the business of creating aircraft tires. "An airframe manufacturer comes to us and says, 'Here's the plane we're going to make. Here are the size constraints. Here are the weight constraints, and here is the performance we expect. Can you make us a tire?'"
Michelin engineers start with a blank sheet of paper, then they go from there. And sometimes the solutions they arrive at come from outside the aeronautical business. "British Aerospace and AirFrance came to us," remembers Stackhouse, "and asked, 'Is there anything you can do to get the Concorde flying again?'"
---
The Concorde was grounded after a catastrophic tire puncture, which ultimately brought on a chain of events that led to the first and only Concorde crash. Michelin engineers looked at experiments from another division within the company that was concentrated on motorsports.
That section of the company was working with an NZG (near-zero growth) tire designed to significantly reduce tread cutting. "Regular nylon will grow when it's inflated, and when it's heated, it will stretch," explains Michelin product engineer Khanh Le. "A regular tire grows about 10%, but an NZG tire only grows about 1% to 2%." The NZG technology now has translated from racing into improved, tougher tires for general aviation in Citation and Falcon jets.
"We took this technology and got the Concorde flying again," says Stackhouse.
From that and other research at Michelin comes the Tweel. A Tweel—a tire and wheel combination—actually puts a composite material that can be fabricated and molded on top of rubber. A Tweel isn't inflated and requires no maintenance. You can shoot this tire, and it still performs. Understandably, Tweel technology is attractive to the military, but Michelin is looking into a variety of applications for general aviation. "This is a research project, and until it's closer to completion, we can't make a decision about aircraft tires," says Le, "but we're looking at the possibilities."
---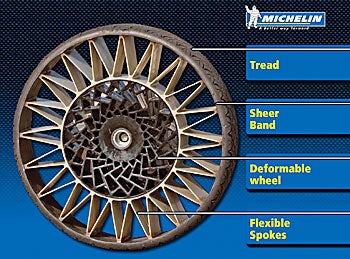 For the aircraft tires you have now, Le and Stackhouse offer two important thoughts for pilots. One, your aircraft tires are in every sense of the term "high-performance tires." They need care and maintenance to continue delivering the performance for which they were designed. Second, your high-performance tires were designed to operate at a specified pressure. Underinflated tires won't perform their best and, in some cases, can even become a safety issue. For example, Michelin makes the tires for the space shuttle, and those tires need 600 psi. You can bet that tire inflation is an important part of the NASA preflight checklist and it should be part of yours as well.
If you'd like to get smart about your airplane tires, Michelin has a unique section on its Website called Certified Aircraft Tire Expert, levels 1 and 2 (www.airmichelin.com/resources.html), and you can find a wealth of other info on airplane tires. Or if you want, you can call the company at (877) 503-8071 ext. 4 and speak directly to a Michelin aircraft tire engineer.
"You can actually talk to the engineer who designed your tire!" smiles Stackhouse. "We do that almost every day."
That kind of effort to educate pilots about their plane's tires works well for everybody. "The smarter the customers are," says Stackhouse, "the more likely they are to buy Michelin."