Tuesday, September 18, 2012
Husky Dawn Patrol
Aviat's new Husky and the Northern Idaho backcountry make a perfect pair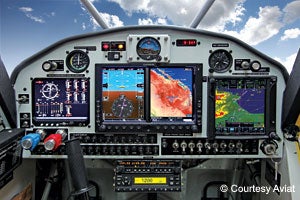 Four panel configurations are available. The most popular IFR panel features the Garmin GTN 750 and EDM 930 from JPI, while VFR panels can be configured with Garmin units, including the 796, 430W or 530W.
With the sunlit mountains all around me and the lightly whitecapped lake to my left, I was suddenly thrust into a postcard. I was struck by the comfort of the seats until Taylor explained the engineering that went into each one. Not only can the cushion alone absorb 16 G's of force, the structure adds another 9 G's. Horn explained to me how the seat and seating angle were set so they rotated your hips forward while moving your shoulders back, opening up blood flow through the area, resulting in much less fatigue and pressure points. They felt great.
The Husky is an obedient pup, never scaring or surprising you. Taylor—like many Husky pilots—prefers a power-off, slow-speed approach, then adding a smidge of power on the flare and setting the tailwheel down first, followed by the mains. It's pretty standard though it took me a few tries, and I concluded that it would take a few more hours before I really felt proficient; many more to land on those postage stamp-sized strips common in this area. Taylor and Horn make it look easy.
Sandpoint is a gateway to some of the most spectacular scenery I've seen anywhere. To be able to fly here is a gift, and the Husky—built like a tank but with the handling of a Cub—is one of the most ideal platforms for it. With a structure that has proven itself many times, this Swiss Army knife of the air has earned its name. Here in the Idaho backcountry, with the Canadian border looming a few miles north and the realities of winter in the air, the Husky gives a pilot peace of mind.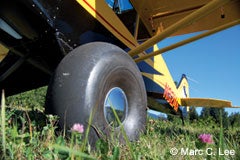 The 31-inch tundra tire option is new for 2012. The landing gear has also been reengineered with shock-absorber- dampened bungees for better ground handling.
As dawn gives way to the machinations of a new day, our options lie almost limitless before us. There's the prospect of a late breakfast at Cavanaugh Bay—a beautifully kept 3,100-foot grass strip on the edge of Priest Lake, with a stunning view of some of the most crystalline water you've ever seen, and a world-class restaurant to boot. Perhaps a hop over to McGee—a remote grass strip with breathtaking views of endless miles of blue spruce, aspens and stands of Douglas fir, with lush grass to throw a camping tent on. Or a dozen others all within an hour's flying time in the Husky, with enough room for all the gear we can handle and plenty of fuel, too.
Sitting on the grass at Sandpoint and mulling over our options, I catch a glimpse of our Husky sitting silently in the grass, its nose up in the air and its oversized tires looking like giant hiking boots. Overhead, another Husky enters the pattern, and still another calls in from five miles out. As the smell of fresh coffee wafts through the air from the FBO and turns daybreak into a regular morning, I realize these Huskys aren't really going anywhere. Here in these mountains born of glacial upheaval and tenebrous millenia, these Huskys and their pilots are home.
Page 4 of 5