The patchwork of farms and wetlands disappearing in all directions below made it hard to believe the world's largest gathering of airplanes was being celebrated just a few miles away. More astonishing was that the alternative fuel powering the airplane's 200 hp Lycoming was more efficient, safer and cleaner than avgas, and also costs under a buck a gallon. "Why isn't everyone using this?" one had to wonder. Oh, yes: because the proof-of-concept fuel system on this certificated aircraft makes it the only one in the world that can use the plentiful and readily available alternative fuel—as of now.
A Here-And-Now Alternative Fuel
The quest for a 100LL avgas alternative has become general aviation's Holy Grail, sending academic research teams, large companies and basement tinkerers searching for a philosopher's stone that can transmute batteries, biomass, sunlight or a host of pie-in-the-sky technologies into the gold of efficient, affordable, nonpolluting flight. So, it was a surprise to see a here-and-now solution to the avgas crisis, whipped up in six months' time, fly into AirVenture this year virtually under the radar, like Fred MacMurray's flubber-powered Model T landing on the White House lawn in Disney's classic The Absent-Minded Professor.
Not to cast aspersions on the venerable Aviat Husky, the platform for this avfuel innovation, by comparing it to a Model T. But like that one-off automobile from the movies, this Husky's novel power source could usher in a new era in how we get around the skies. Developed by Afton, Wyo.,-based Aviat Aircraft, the Husky's manufacturer, and Minneapolis-based Aviation Foundation of America (AFA), the experimental Husky unveiled at Oshkosh is the first dual-fuel piston-powered aircraft that can operate on either compressed natural gas (CNG) or aviation gasoline (avgas).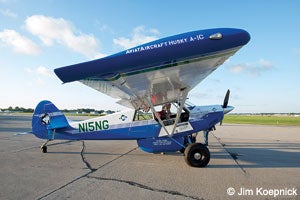 Aviat's experimental Husky can operate on either compressed natural gas (138 octane) or standard 100LL avgas. It's outfitted with a nine-gallon belly tank that can be filled through a valve, or it can be disconnected and brought to a CNG-fueling facility.
The CNG power is the real potential game changer: CNG is homegrown, plentiful and cheap (about $0.86 per gas gallon equivalent, or GGE). It's 90% less polluting, it's less flammable and causes less engine wear than avgas, and it's 138 octane, so CNG can provide more power than 100LL. Oh, and it weighs less, too: 5.66 pounds GGE versus 6.02 pounds pg for avgas. As for compatibility with existing technology, other than putting in high-compression cylinders to burn CNG more efficiently, the A1-C's stock 200 hp Lycoming IO-360-A1 D6 is unchanged. It can operate entirely on CNG, but as that fuel isn't readily available at airports, the dual-fuel system allows the pilot to select the fuel source, which can be changed at any time, on the ground or in flight.
The N15NG was on display in front of AirVenture's new Innovations Pavilion, and AFA president and GA advocate Greg Herrick, who initiated the project, was watching the crowd around the Husky and "seeing people's reactions" when I stopped by. Of course, CNG powers many municipal ground transportation fleets, and if you have a heater in your hangar, CNG likely powers that, as well, Herrick noted. He said about a year before, he began wondering if CNG could power airplanes. "I posed the question on blog engineering sites, and people said 'yes' and 'no.'" Herrick concluded he'd need a committed OEM behind the project. "I immediately thought of Stu [Horn, Aviat Aircraft owner and president]."
---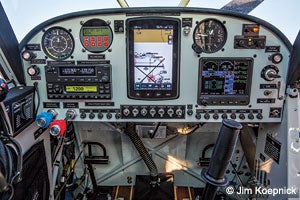 At Aviat's AirVenture exhibit area, not far from the Innovations Pavilion, Horn described his reaction to Herrick's pitch. "First I thought, 'Why would I want to do this?' And the answer was, 'Because I can,'" Horn said, as he provided an overview of the program and ticked off the logic and benefits of exploiting CNG. "This could be an interesting way of solving some of these [aviation fuel] issues in a real, viable way in real time. Not in the future, but using things we have today that we can integrate into general aviation," he summed up.
Nodding along with Herrick and Horn, it was difficult not to feel as though one had imbibed the Kool-Aid, too. Could a CNG solution really be that simple? Horn invited Plane & Pilot to fly the aircraft and experience CNG airpower for ourselves.
The Dual Fuel System
On the ramp at Orion Flight Services in the dawn's early light, N15NG looked like the relatively standard blue-and-white Husky A1-C on tundra tires; its one distinguishing feature the bulbous pod on its belly—the faring covering its CNG tank. Aviat test pilot Steve Anderson pointed out that the landing gear on this Husky has been extended four inches and positioned two inches forward of the standard undercarriage, providing more angle of attack on the ground, a design the company has been "toying with offering," he said. On this airframe, it also ensures adequate ground clearance for the CNG tank.
| | |
| --- | --- |
| | |
The choice of tank underscores that this is a proof-of-concept application, not a state-of-the-art CNG demonstrator. When Aviat commenced work on the project early this year, "We didn't know anything about CNG," Horn had said at the Aviat display area. One of the lessons soon learned was that CNG storage tanks, now made of composite materials rather than steel, are undergoing rapid advances. The borrowed nine-gallon belly tank on N15NG weighs 70 pounds; a current-generation tank would weigh 40 pounds, little more than half.
The tank can be filled through a valve on the port side, but the faring can be removed, and the tank quickly disconnected and taken to a CNG-fueling facility, if needed. Clearly, a lack of such facilities is one of the infrastructure challenges facing wider use of the fuel; in fact, Horn was concerned about its local availability when he weighed taking on the development program.
---
"It turns out there's a civil engineering company in Afton; they had converted their trucks to run on natural gas, and they have their own refueling station, so we bring the fuel tank to them," Horn had said. (Anderson noted that he had found a gas station with a CNG pump on the service road across the highway from the Oshkosh airport.)
Early this year, Horn assembled a team of about eight Aviat employees complemented by half a dozen CNG experts to develop the dual-fuel system. "It took approximately six months until the first flight," which utilized a different aircraft, Horn said. The fuel controller, only partially visible on N15NG with the cowl open, regulates the dual-fuel operation.
One major concern during development was the possibility of ice buildup caused by expansion cooling—interfering with the CNG flow at the tank valve; the system resolves the issue by using engine oil to heat the valve. With the current tank, the dual-fuel system weighs 135 pounds.

The CNG power is the real game changer: CNG is homegrown, plentiful and cheap (about $0.86 per gas gallon equivalent).

Fuel mapping for the engine—the curve that defines changes to the fuel-air mixture as power goes from idle to maximum—can be set at the factory, with the controller automatically compensating for density altitude, engine timing variations and other factors. But as a proof-of-concept installation still undergoing development, N15NG has a programmable interface for the fuel controller in the cockpit, a round gauge to the left of the multifunction display (MFD) in the center panel. A small fuel gauge tucked between the fuel controller interface and the MFD indicates CNG fuel level in quarter-tank increments via four vertical lights.
Flying On CNG
The fuel source is selected by simultaneously flipping a pair of toggle switches mounted on the starboard sidewall just below the instrument panel. When off, in the down position, avgas feeds the engine; when in the on position, the forward switch shuts the avgas fuel valve, and the rear toggle activates the electronic fuel injectors for the CNG system. When changing from avgas to CNG, the mixture control is simultaneously retarded to idle cutoff. (A separate CNG mixture control is located on the left side of the instrument panel.) When changing from CNG to avgas, the mixture control is advanced. Should electric power be lost when operating on CNG, the system automatically reverts to avgas power.
---
We started the motor on CNG power, which, by the way, is immune to hot-start problems, another of its, "But wait, there's more!" benefits, and shortly, we're taxiing to runway 27, the Lycoming blissfully ignorant of what it was being fed. Besides the visceral thrill that always comes with operating in or out of Oshkosh during AirVenture, the takeoff and climbout on CNG power were un-noteworthy, except for the realization that we were wasting lots of the CNG's 138 octane power.
As noted, the only modification to the engine for this installation was the switch to high-compression 10:1 cylinders from the standard 8.50:1 set, but as Horn had pointed out, "The standard Lycoming is set up to be efficient at 100 octane, so technically the engine can't take advantage of that [extra] energy."
We leveled at 2,000 and switched to avgas for air-to-air photos, conserving the CNG for cruising the countryside. Changing from CNG to avgas or vice versa in the demonstrator creates a slight, transitory burble, but nothing that raises the heartbeat.
When flight-testing the system, the Aviat team found exhaust gas and cylinder head temperatures ran about 20 degrees cooler with CNG than with avgas power. Cruising on CNG at 24-squared and 95 knots indicated that after the photo shoot, oil temperature was 164 degrees, oil pressure was 77 psi and CHTs were in the 340-degree range—all well within normal operating parameters. The fuel flow gauge read "0." (As CNG is consumed, the four vertical lights on the CNG gas gauge turn from green to red in sequential order starting at the top; the bottom light is always red.)
The Future Of CNG Power
Not much else in the aircraft needed to be demonstrated, so I was free to wander over the countryside (which to a Husky all looks like one big landing strip) and imagine a CNG avfuel future. A dual-fuel system like N15NG's would add about $12-$15,000 to the cost of a new aircraft, according to Aviat.
The company will also pursue Supplemental Type Certificates (STCs) for retrofits on other aircraft types, Horn said. Thus, the system could pay for itself in a few hundred hours of flight time through fuel savings and reduced maintenance. True, CNG fueling systems aren't common, but that's hardly a reason to cross it off the list of potential avgas alternatives.
---
Herrick sees flight schools as logical first adapters of dual-fuel technology, which he believes could spark a resurgence in GA. Training flights are relatively short (97% last less than 1.5 hours, Herrick says), so aircraft don't need large CNG reserves, and the fleets operate from one base, making a CNG-filling system a worthwhile investment. "That takes the cost of fuel down 80% and training becomes more affordable," said Herrick. "The key is lowering the cost of flying," he explained.

Changing CNG to avgas or vice versa creates a slight burble, nothing that raises the heartbeat.

Meanwhile, I was enjoying my stick time in the Husky, recalling adventures I've enjoyed over the years in the aircraft. I asked Anderson where he'd go if he were given a week with a Husky to fly wherever he wanted. "I would probably go up to Hell's Canyon and take my fishing pole," he said. "I'd go in the first day and land and fish, and leave the last day."
With N15NG having demonstrated its point, we headed back toward the airport.
A standard landing checklist is used when operating on CNG, and there's no difference in the shutdown procedure, either. Oh, and one more thing, as Anderson pointed out: With CNG as the power source, no residual fuel remains in the cylinders after shutdown, so ungrounded mags can't cause a propeller to turn unexpectedly.
With wider adaptation, engine OEMs would have incentive to design motors that could harness CNG's full power, and aircraft OEMs could integrate CNG tanks into their airframes. "We're at the cusp of our learning, there's so much we don't know about CNG and where it can take us," Horn said. "What we do know is that this works today," he said.
Think about it. No lead. No fouled plugs. No vapor lock. No long development time and no hefty premium for a "green" solution. No-brainer. Stu, please get a dual-fuel STC for the TSIO-360 Continental in my Mooney!
---
Check out the newest Husky and other fantastic single-engine airplanes in our latest Piston Singles Buyer's Guide.