Tuesday, March 9, 2010
Cougar Baron: Most Happy Baron
Rocket engineering offers the world's most enthusiastic Baron
It doesn't require a brain surgeon to figure who Conrad's market will be. Though several VLJ manufacturers have attempted to market small jets around $1 million, no one has even come close, and the economics involved make it unlikely anyone ever will. If Cirrus can bring its Vision jet to market at the proposed $1.7 million, that may wind up being the industry's least costly jet. (The Diamond D-Jet now is up to $1.9 million, and all indications are that the PiperJet will cost well over $2 million.)
Conrad hopes to sell his conversion for $895,000 with new engines, and $795,000 with 1,000-hour-or-less warranteed "takeoff" engines. You can buy midgeneration 58P Barons for between $200,000 and $250,000. That's a total of around $1.05 million, a half million less than the least expensive VLJ (assuming the price holds). What else is in the $1.05 million range these days? A new Piper Mirage, a brother-in-law price on a new, normally aspirated Beech 58 Baron, and that's about it among new aircraft.
Okay, we know we're comparing apples to grapefruits—a new airplane to a 30-year-old, former-piston-engine conversion. It's obvious the VLJs will have higher pressurization differentials and more modern systems than the Baron. The question is: How much are you willing to spend for those benefits if performance is roughly the same?
In the airplane business, there's a mentality that some buyers will never purchase a used aircraft, much less a used conversion. As someone who has owned six airplanes over the last 45 years—only one of which I bought new—I don't agree. My current LoPresti Mooney is a highly modified Executive, and it's unquestionably the best airplane I've owned.
Certainly, if money was no object, I'd probably own a dozen or more flying machines, with a Gulfstream 550 for long-distance travel, an Aerostar 700 for shorter-range trips, an Extra 330 for fun, a Seawind for the water, a Jet Ranger for helicoptering, etc. If you need to operate on a million-dollar budget, however, and your missions are mostly straight line, it may be difficult to beat the Rocket Engineering Cougar.
Your Photo In Plane & Pilot!
Log on to Favorite Flying Destinations and submit your best photos and stories for a chance to be published in an upcoming issue
Share Your Favorite Flying Destinations!

Post hot spots, photos and flying tips on our new online gallery. Click over to "Favorite Flying Destinations" at planeandpilotmag.com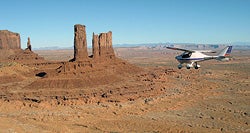 Monument Valley, Utah/Arizona
Tim Greer, Phoenix Deer Valley Airport (KDVT), Phoenix, Ariz.
Airport: Monument Valley Airport (UT25)
Activities: Incredible flying opportunities—plus hiking, cycling, camping, trail rides and nearby river-rafting and boating. There's plenty of history, culture and parks. Spend a few days and make Page (KPGA) your home base. From there, it's a short flight to the Grand Canyon, Bryce, Zion, Lake Powell, Marble Canyon and much more. Goulding's Lodge has a great airstrip (UT25) next to a hotel, campground and wonderful restaurant. Permission should be obtained prior to landing; call (435) 727-3225.
Best Season: Autumn
Flying Tips: Avoid thunderstorms and the heat of summer. There's bumpy afternoon flying if the weather gets hot.
GPS Longitude: 110° 12' 4" W
GPS Latitude: 37° 1' 0" N
What to Bring: A camera and lots of film.
About Your Plane: A Flight Design CTSW LSA that cruises at 120 knots, holds 34 gallons and burns 5 gph.
URL: www.gouldings.com


Page 4 of 4