Thursday, January 1, 2004
A Really New Skylane
A Garmin glass panel brings a fresh view for Cessna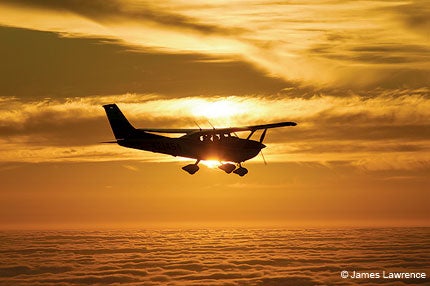 Cessna naysayers would complain that the company's line of high-wing singles has changed little since its inception, save a continuing, but sometimes diminutive, evolution of enhancement and refinement. But at a recent gathering the company put on for its network of dealers, a sneak preview of the 2004 Skylane turned so many heads that more than 300 of the new C-182s, as well as Skyhawks and Stationairs, were sold—in a single day. Beginning in the second quarter of this year, Cessna will begin shipping its 230-hp four-seat singles with Garmin G1000 glass panels. From a distance, the 2004 Skylane isn't particularly novel. It sports a blue, white and tan paint scheme for the new model year, but the silhouette is still classic Cessna. The finely finished leather interior is a holdover from an earlier year, and those with previous 182 experience will have little difficulty finding their way around inside. There are new LED lights in the cabin, giving the interior a jet-like feel.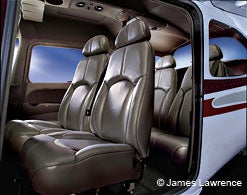 Cessna continues to wrap the passengers in leather.
But one look at the panel is all it takes to stop most pilots in their tracks. It's a Garmin G1000 Integrated Cockpit System, which consists of two high-resolution display screens, a primary flight display (PFD) and multi-function display (MFD), providing flight, navigation, communication, terrain, traffic, weather and engine sensor data, all at the same time.
"Scanning the panel for all your information is practically a thing of the past," says Cessna Flight Training Supervisor Kirby Ortega. "You don't have to teach your eyes how to look all over the place for information. Now it's all right there, right in front of you."
One feature that caught Cessna's corporate attention is the G1000's Attitude Heading and Reference Systems (AHRS), which uses a system of algorithms to calculate all three axes of flight data. While all-glass panels rely on AHRS technologies, the G1000 is the only system that can initialize itself "on the move." That might not sound like much at first blush, but the difference becomes more apparent should an AHRS system suffer a power interruption or otherwise hiccup. The G1000 can re-initialize itself in flight, while other systems require the pilot to land to get the system going again.
Also, the Garmin unit is the only system that's "integrated." For example, in the Cirrus SR22, Avidyne chose to design its FlightMax Entegra display screens to interface with two separate, stand-alone Garmin 430s mounted at the end of the pilot's right hand. Garmin built all the navigation/communication/ surveillance radios to be self-contained within the G1000.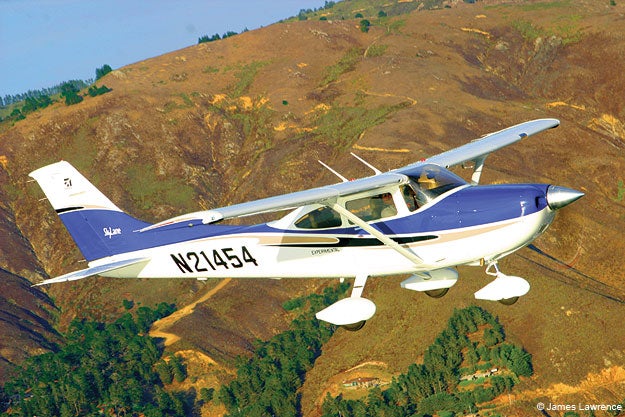 A molded headliner offers cabin-class LED lighting and air ducts for multilevel ventilation, giving the new Skylane a jet-like feel.
Page 1 of 3