Tuesday, April 21, 2009
Caravan for the Jet Set
Cessna's Caravan goes plush, with all the accoutrements of a jet (except the speed)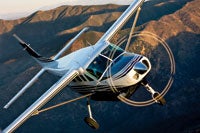 "I looked at several aircraft options before deciding on the Caravan," Linehan explains, "from a Pilatus PC-12 and a Piper Meridian to a TBM 850. For the money, the Caravan offered, by far, the largest cabin with the most options, though it was obviously slower than the others. In talking to some of our prospective customer base, however, the comfort and luxury far outweighed cruise speed."
Linehan Aviation uses that attribute to its advantage in chartering the airplane around the Southwestern United States. Brian Linehan says the Grand Caravan has been an instant hit along the West Coast. "Right now, we're flying about three revenue flights a week," he says. "We're promoting the Grand Caravan as the next step down from a Citation, and we've found a ready market among corporate executives and small businessmen who don't need to travel long distances but like to fly with their family or several business associates in their party. We charter the airplane at $1,400 per hour, but you can carry seven people for that price. That devolves to $200 per person per hour, a very reasonable rate.



ACR AeroFix 406 GPS PLB

www.acraerofix.com
The 13-ounce AeroFix has an internal GPS receiver that acquires your location and transmits it (with your personal identifier code) through SARSAT satellites, instantly alerting search and rescue services that you need help.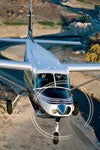 "The big benefit of the Caravan is that it takes virtually all the hassle out of air travel. We eliminate the long lines for ticket pickup, baggage check, security screening, boarding and all the other inconveniences at both ends of the flight," Linehan points out. "We can pick you up on your schedule at your local airport or even a private strip, fly your party to virtually any airport in America, transport as much as 1,000 pounds of luggage in the cargo pod to maximize cabin comfort, provide more room than in most jets and fly a much wider variety of missions."
Chief pilot Gary Reeves says the big Caravan serves surprisingly well in the executive transport role. "We've used it for ski trips to Big Bear and Mammoth, we've actually performed weddings in the aircraft in flight, and we've flown corporate transport to places ranging from Phoenix and San Francisco to McMinnville, Oregon, and Sacramento," says Reeves.
"We often find our passengers are impressed with the extreme comfort of the airplane. We've discovered the low operating altitude, usually 8,000 to 10,000 feet, often serves as more of a positive than a negative," Reeves brags. "We've had several clients comment that it's an interesting contrast to watch the ground roll by rather than stare down at a gray haze from FL410."
Page 3 of 5