Tuesday, April 21, 2009
Caravan for the Jet Set
Cessna's Caravan goes plush, with all the accoutrements of a jet (except the speed)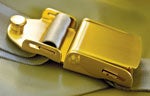 No expense was spared in outfitting the Caravan's luxurious cabin. Gold-trim detailing extends to the seat belt buckles.
Linehan and Reeves have found plenty of semi-short-haul traffic in the executive transport business. "We do quite a bit of business flying to Northern California and Arizona," says Linehan, "and we're currently considering some contract flying. We're talking to a number of wineries in Napa about flying clients into their facilities. The Wrigley family on Catalina Island has contacted us about transporting some of their executives around the Los Angeles Basin on a fill-in basis when their airplane is busy."
Of course, the Caravan's primary claim to fame has always been its huge cabin, a whopping 62 inches across and more than 48 inches tall. It's also nearly 17 feet long, so you can carry anything from drilling equipment to caskets to truck engines to people in the available space. Years ago, I ferried a new Grand Caravan from Wichita, Kans., to Johannesburg, South Africa, with seven 55-gallon-drum ferry tanks mounted behind the front seats. The airplane was destined to become a mini airliner to transport photo safari enthusiasts back and forth between Joberg and game camps in the Okavango Swamp region of Botswana. The trip wasn't the fastest I've made to the Dark Continent, but it was definitely one of the most comfortable. (The airplane eventually wound up in high-density configuration, transporting as many as 14 folks at a time around southern Africa.)
Driving a Grand Caravan is a little like aviating with your own apartment directly behind you. It's an airplane with a total lack of wuss, all brawny strength and muscle and attitude, as appropriate to the backwoods as it is to operating into the LAXs and ORDs of the world.

IRIS From L-3

www.l-3avionics.com
The IRIS infrared camera system offers an aid to terrain mapping, collision avoidance, weather mapping and situational awareness. During ground maneuvers, it helps pilots spot animals, ground crew and other taxiing aircraft.

Versatility is perhaps one of the Caravan's best features. The 208 makes a stable, predictable instrument platform with low approach speeds, and it's easily adaptable to both paved and turf/grass runways. Should Linehan and Reeves feel the need for seed, the biggest Cessna single will accommodate willingly. Short-field characteristics with the large flaps and low stall make the airplane ideally suited for the boonies.
In-flight handling is exactly what you might expect of a four-and-a-half-ton flying pachyderm, only quicker. The airplane has almost a locomotive's sense of straight ahead, but it's surprisingly maneuverable when you feel the need to twist and shout. The Caravan uses slot-lip spoilers to augment its small ailerons and impart a quicker roll rate.

Spot Satellite Messenger

www.findmespot.com
Essentially a combination GPS (for gathering location information) and satellite phone (for sending information to the Spot system), the 7.4-ounce Spot device can send preprogrammed messages around the world. [Read "Tech Talk: Spot Satellite Personal Tracker" from P&P Nov 2008 at our online home.]

Page 4 of 5