Tuesday, June 23, 2009
Cessna 400 Corvalis TT
Cessna initiates changes to its recently acquired Columbia line of low-wing singles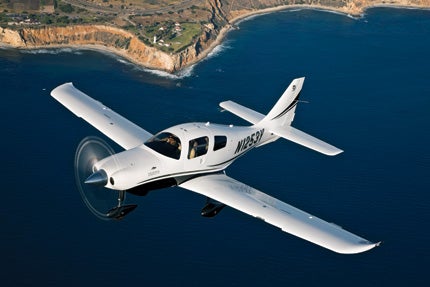 Back in the '80s, when I was working on the ABC TV show
Wide World of Flying
, I flew up to Washington State to interview Ken Wheeler, designer of the Wheeler Express homebuilt, and fly his innovative airplane. In those days (1987?), the Wheeler Express was that rare machine: a four-seat homebuilt.
Like so many other homebuilt designs of the time, it was also a fixed-gear composite airplane, nevertheless possessed of near-retractable performance. Wheeler's explanation of why he elected to design his airplane with fixed rather than retractable gear was interesting. "This is a homebuilt airplane, after all," said Wheeler, "so ease of construction is important. Fixed gear is simpler, lighter and, in many ways, stronger. Whether you're designing a homebuilt or certified airplane, retracting the wheels is almost universally more trouble than it's worth. For most airplanes, this one included, it just makes more sense to leave the wheels hanging than to retract them."
Lance Neibauer apparently felt the same way when he configured his first certified airplane, the Columbia 300. Though Neibauer had previously designed a number of fast, retractable homebuilts (including the world-beater Lancair IV and IV-P), he recognized that fixed gear was simpler to build, lighter, less maintenance-prone and, perhaps most important in this context, less expensive to certify.
The original Columbia 300 evolved to become the all-electric Columbia 350; later, Columbia added a turbocharged model—the 400. Today, the airplanes have been rebadged: the 350 as the Cessna Corvalis, and the top-of-the-line 400 as the Cessna Corvalis TT. Since Cessna acquired the model line nearly two years ago—its first low-wing piston singles ever—the company has made few changes to the basic design, but a few modifications were in order for model year 2009.
Despite their obvious style and speed, the original model 350 and 400 were light on payload, so Cessna addressed the airplane's weight problem head-on. For 2009, a new composite, single-bottle oxygen system is mounted in the tail, replacing the former wing-mounted, metal containers, and that recovers a 25-pound payload increase.
Buyers also now have the option of deleting the formerly standard air-conditioning system for a credit and another significant improvement in useful load—about 75 pounds. That's a total payload increase of 100 pounds over the old airplane.

The Corvalis TT sports a slick composite finish, and its main gear are carefully faired and tucked beneath the wings. Gull-wing doors that fold up and out provide ingress into a generously sized, automotive-like cabin.
A new cold-weather kit improves engine-oil temperatures for pilots operating the aircraft in frigid climates. For those same folks, Cessna has completed certification on an inadvertent TKS anti-ice system on the Corvalis TT, and is hard at work on the Corvalis (though that system wasn't certified at press time). Rosen sun visors now are standard equipment. Finally, every Cessna Corvalis and Corvalis TT comes with a comprehensive FITS-based (FAA/Industry Training Standards) ground syllabus and five hours of flight training to bring new owners up to speed on the airplane's systems.
Of course, the big news is that the Corvalis TT offers cruise performance more appropriate to a retractable than to a fixed-gear airplane. I flew a ferry-time-only 2009 Corvalis TT from Tom's Aircraft in Long Beach, Calif., with product specialist Jade Duckart. Tom's Aircraft Sales Manager Rich Manor explains that the new airplanes filled a gap in Cessna's product line and expanded the company's horizons in a big way. "The Corvalis line represents a major departure for Cessna in several areas," says Manor. "Not only is it a low-wing airplane, it's also an all-composite design with gull-wing doors and a side stick.
Page 1 of 3