Wednesday, September 1, 2004
The Cirrus SR22-G2
The evolution continues in the Monument Valley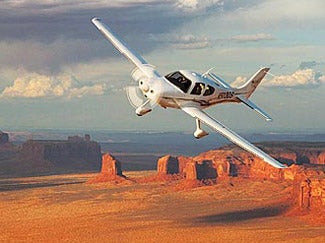 The Navajo Indians believe that everything has its own rhythm, its own beat, its own time to birth, to flourish, to change, to adapt. That's how the land and its native people originated, they say. The story goes that the world began in darkness, but the people weren't happy in that place. They gradually moved up through three more worlds before coming to where they are now, a sacred land known as the Monument Valley. " />
And out of that philosophy, a whole line of Cirrus aircraft was born. In 1998, the company introduced the Cirrus SR20, which was the first of its kind that incorporated an all-composite construction with a flat-panel, multi-function display. Equally, the SR20 was the first certified aircraft to feature a built-in ballistic airframe parachute, called the Cirrus Airframe Parachute System (CAPS). In 2000, the Klapmeiers introduced their best-selling model thus far, the SR22, which combined the SR20's easy handling, advanced avionics and CAPS safety, but with 110 more horsepower for much better performance. Now, it's the new and improved SR22-G2, which is exactly what the Klapmeiers see as "evolution."
According to Dale, "The reason we call it an evolution, not a revolution, is because these are very small changes to the customer. We didn't totally redesign the airplane. What we did was we took the SR20 and the SR22 as they were and said, 'What could we make better out here that affect the customer that they're going to want?'"
The changes that produced the SR22-G2 are subtle, transforming the original SR22 airframe and design into a better version of itself. Although much of it stayed the same, including the all-glass panel and the standard avionics that were in the original, the enhancements provided enough difference that it improved the overall look and feel of the airplane.
Taking a cue from the automotive industry, the Klapmeiers designed the doors with a Secure Latch system that allows passengers and pilots to close the doors with a single movement. Just slam it and it's closed.
"We grow up in a world of slamming the doors to close them, which isn't the norm in airplanes, because they usually require closing the door, throwing a latch and pulling a lever," explains Dale. "So why not design the airplane doors so they can simply be slammed shut?"
The Klapmeiers also took a hint from the auto industry's interior design concept and found an auto interior supplier that's using an extremely lightweight material for aircraft use. Perforated leather seats with French stitching and a leather-wrapped side-yoke, throttle lever and grab handles make the flying experience much more enjoyable and luxurious.
Other improvements include a new paint/color scheme, a six-point engine mount that offers a smoother ride, a Hartzell Scimitar Select propeller that provides better performance and efficiency because of its aerodynamically sword-shaped blades and a new cowling with improved airflow management and performance because of the reduced size of the exhaust contours.
Page 3 of 4