Tuesday, August 25, 2009
21st-Century Technology For Every Cockpit!
A panel-mount buyer's guide for all pilots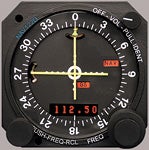 Narco NAV122D/GPS
Narco
has updated its discontinued (but popular!) NAV122 in a new version as the
NAV122D/GPS
. It's a fully functional VHF NAV receiver built into a standard-sized CDI, with features that include 200 NAV channels, 40 glideslope channels, localizer and glideslope indication, and autopilot left/right and up/down interface, plus it's GPS-compatible. Prices for the NAV122D/GPS start at $3,500. Contact: Narco Avionics, (800) 223-3636,
www.narco-avionics.com
.
Even the humble audio panel gets a makeover for the 21st century.
PS Engineering's PMA8000B
, priced at $1,895, combines a six-place intercom; dual COM radios (with COM1/COM2 functions so that the pilot can talk on one channel and the copilot on another); easily configurable dual music inputs; a "smart" front-panel interface that can be used with portable entertainment devices, cell phones or audio-alerting devices; pilot-configurable controls; patented "IntelliVOX" automatic microphone level setting; and a built-in digital recorder. An alternate intercom mode allows passengers to talk among themselves without distracting the pilot from critical communications. And it's "plug and play compatible" as a replacement for Garmin's GMA 340. Contact: PS Engineering, (800) 427-2376,
www.ps-engineering.com
.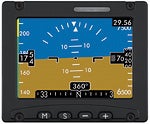 L3 Avionics Trilogy ESI-1000
ometimes 21st-century instruments offer functions that aren't obvious. Looking at a photo of
Sandel's SN3500
primary navigation display, most people would probably assume it's a radar display. And this is one thing it does—but look closer, and you'll see traffic and GPS-based navigation data and heading. The SN3500 offers many of the features of an MFD in a package small enough to fit a 3 ATI instrument cutout. And with the optional reversionary attitude option, it can offer one feature that most MFDs do not: With the press of a button, it provides PFD-style simulated horizon, heading, airspeed and altitude. The SN3500 sells for $10,990 and requires a remote compass input. Contact: Sandel Avionics, (760) 727-4900,
www.sandel.com
.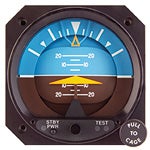 Mid-Continent Lifesaver Gyro
One huge advance in the modern instrument panel is the broad availability of satellite-based weather.
WSI's InFlight
offers graphical "NowRad" precipitation; extended lightning detection that includes North America and offshore locations; graphical METARs, TAFs, SIGMETs and AIRMETs; pilot reports; winds and temperatures aloft; and graphical TFRs. InFlight requires a WSI AV-300 satellite weather receiver, which typically sells for less than $5,000, plus a compatible MFD or other display device and a subscription. Various plans are available starting at $29.95 per month. Contact: WSI, (800) 872-2359,
www.wsi.com
.
By far, the most popular option for in-cockpit weather today is
XM WX
, a service of
XM Satellite Radio
that broadcasts U.S. NEXRAD precipitation radar, lightning, cloud-top images, METARs, winds aloft, freeze level and other data to compatible weather receivers. Install one (such as Garmin's $3,500 GDL 69) and a compatible MFD or other display, and you'll be ready to receive. XM WX is sold on a subscription basis, with plans starting at $29.95 per month. Contact: XM WX Satellite Weather, (202) 380-4000,
www.xmwxweather.com
.
Page 4 of 4