Tuesday, December 25, 2012
ADS-B Buyers' Guide
Today's solutions for tomorrow's mandate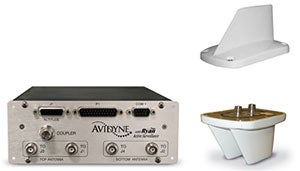 Avidyne TA5600A
NavWorx
www.navworx.com
The NavWorx ADS600-B is a remote mounted 978 MHz transceiver providing weather and traffic that supports several panel mounted EFIS/MFD and portable displays (including Garmin). This is the transceiver used in SkyVision's Xtreme portable ADS-B (see below). "Our first customer in 2010 was Cessna Citation ultra jet plus," said NavWorx president Bill Moffitt. "He flies regularly, no problem getting weather and traffic." Traffic can be displayed via an optional ARINC 429 interface. Currently uncertified, NavWorx will replace units with certified UATs when available, so customers can buy now ($2,595) without concern for obsolescence. NavWorx plans to release a dual channel solution in the summer of 2013.
Sagetech
www.sagetechcorp.com
Sagetech makes the Clarity line of ADS-B solutions, smallest of the current portables, with single and dual channel In, and single and dual channel In-Out units. The Clarity line features a patent-pending internal phase array antenna, rather than less robust circuit board antennas. Internal battery provides 6-12 hours of use. Data burst capability enables the unit to store and send bursts of received information to a display device; if a mobile app is shut down to conserve its battery, the EFB app can be awoken, and at the touch of a button the Clarity's data burst will feed the information instantly, instead of waiting the 15-20 minutes for complete ground station reception. Which unit should customers buy? "If you're not sure, get the cheap one," advised Sagetech founder and president Kelvin Scribner. "That's going to give you 80-90 pc of benefits." Prices of the Clarity units run from $699 to $1,117.
SkyRadar
www.skyradar.net
The SkyRadar-L and SkyRadar–D2 offer single- and dual-band (978 MHz, and 978 and 1090 respectively) portable ADS-B In and Out weather and traffic. The D2 also supports AHRS for synthetic vision and other graphical displays. The data can run on SkyRadar's proprietary EFB app, WingX and MountainScope, and the architecture is designed for simple compatibility with other EFB apps. "We prefer to have an open solution," said SkyRadar chief technology officer (CTO) and founder Alexey Zaparovanny. SkyRadar is also compatible with iPad and Windows tablets. Both the L, a brown plastic unit with internal antenna, and the D2, metal with two small external antennae, are designed to perch on the glareshield in flight. The L and D2 are priced at $600 and $750, respectively.
SkyVision Xtreme
www.skyvisionxtreme.com
SkyVision Xtreme was first to market with its portable Xtreme Vision 978 MHz ADS-B In-Out product, providing in-cockpit weather and traffic displays. Since introduction the Xtreme Vision has been repackaged into a small suitcase unit, externally powered by an electrical source in the aircraft. The transceiver is made by NavWorx (see above) and data can be cabled into a compatible display unit or to a dedicated monitor, sold separately. "We see this product as something they can purchase and use today, pay for the UAT they're going to install, then [later] install that with permanent mount antennas," said SkyVision operations manager Jeremy Brady. An optional Wi-Fi unit can display the output on multiple iPad, Android or Windows-based mobile devices. The company has its own proprietary app for weather and traffic, which includes a 3-D traffic depiction. Xtreme Vision is priced at $3595.
Trig Avionics
www.trig-avionics.com
UK-based Trig Avionics makes certified Mode S/1090ES Out transponders, with an emphasis on the light-sport and GA market. "If you're getting a certified Out [solution], it's best to have 1090, so you're not restricted to any altitude, and it can be used outside the U.S.," said Trig marketing manager Jon Roper. With hardware separate from the control head, the units are ideal for aircraft with limited panel space. Its TT22 is the world's smallest GA transponder. The TT31 is a plug and play retrofit for the Bendix King KT76A, and can become the hub for a certified 1090ES ADS-B Out solution. Trig plans to introduce a certified ADS-B In receiver with optional built-in WAAS GPS in 2013. The products are well supported in the U.S. List price for the TT22 is $3,071; the TT31 is $3,349.
Zaon
www.zaon.aero
Zaon's MAX 1090 and MAX 1090 GR portable ADS-B units are designed strictly for traffic detection, utilizing a 1090 ES receiver. "Collision avoidance is our focus," said Zane Hovey, Zaon president and owner. "The only country that's spending the money on the 978 is the U.S. The rest of the world is limited to 1090, a market we think has been overlooked." Interface options for porting to displays include Bluetooth, Wi-Fi and two RS232 ports for connecting to compatible Garmin products (396 and up). The MAX 1090 can complement Zaon's PCAS XRS, which tracks Mode C and Mode S transponders, and in conjunction, the two units can provide a comprehensive traffic solution. The 1090 GR, or "Ground," is for buyers who want to monitor traffic from the ground, displaying traffic on PC or iOS systems as it would appear on an ATC screen. Base price for the MAX 1090 is $599; Bluetooth or Wi-Fi options, $649; MAX 1090GR is $399.
Page 3 of 3