Tuesday, September 22, 2009
Best Handheld Products!
Your guide to the newest portable gear

Garmin's GPSMAP 696


Hangar
B-17's PalmEFIS
Last fall,
Garmin
introduced its
GPSMAP 695
and
696
models, which add a seven-inch portrait-format display and electronic charting to the already rich feature set offered by the previous top-of-the-line GPSMAP 495 and 496. All four units provide a complete aviation database with terrain, navaids, obstacles, airports, instrument procedures, taxiway diagrams and AOPA's Airport Directory. GPSMAP 696 adds an IFR map mode with a display similar to standard en route charts and includes electronic U.S. approach procedures, while GPSMAP 695 is available in versions optimized for use in North American, Pacific or Atlantic airspace. Like GPSMAP 496, GPSMAP 696 includes a built-in XM satellite radio receiver for aviation weather (which requires an XM satellite radio subscription), support for TIS traffic if you have a compatible Mode S transponder (not supplied with the unit) and turn-by-turn ground navigation with a wide range of predefined points of interest. All four models offer a GPS-based simulated instrument panel (that updates five times per second) for emergency use. The GPSMAP 696 retails for $3,595; the GPS695 goes for $2,895. The smaller GPSMAP 496 and 495 are available at lower prices.
Contact:
Garmin,
www.garmin.com
.
Hangar B-17's PalmEFIS, PocketEFIS
and
WinEFIS
software applications turn PDAs and tablet PCs into GPS moving-map displays with flight planning, terrain, airspace, navaids, wind direction and emergency attitude-indicator functions. Unlike competing products, the Hangar B-17 software does this without an expensive electronic attitude gyro—only a compatible GPS is required. Aviation weather is also available with a compatible XM satellite radio receiver (not included). Software pricing starts at $210. The company also offers a variety of hardware bundles.
Contact:
Hangar B-17,
www.hangarb17.com
.
Midwest Sport Aviation
offers
FlightMaster Aviation GPS
(formerly Aeropalm 3 GPS) software for PDA devices running the Palm operating system. Features include moving map with a Jeppesen database, terrain and conflict resolution, digital HSI, vertical navigation, waypoint search, turn anticipation, track log and night mode. The software costs $129.
Contact:
Midwest Sport Aviation,
www.flightmaster.aero
.
Handheld VHF NAV/COMs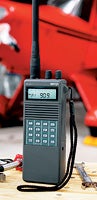 If the alternator fails in controlled airspace, there's no substitute for voice contact with ATC, and access to VORs and localizers can be a lifesaver. All three products in this section offer NAV and COM functions, including five-watt transmitter power (the maximum legally available) for voice communications.

Icom's IC-A24 offers VHF NAV/COM functions, including a duplex feature that allows you to talk using the selected COM frequency while the unit displays a digital CDI showing deviation on the selected NAV channel. Other features include flip-flop recall buttons for the last 10 channels, 200-channel memory, a dedicated 121.5 MHz emergency channel button, an external power jack and optional rechargeable battery packs. The IC-A24 retails for under $325. Contact: Icom America, www.icomamerica.com.

Sporty's SP-200 (pictured) is a $279 handheld VHF NAV/COM with localizer functionality, 8.33 kHz frequency spacing, 20-channel memory and CDI display with OBS function (plus external microphone, speaker and power jacks). Eight standard AA batteries provide up to 15 hours of continuous operation. A wide range of accessories is available at extra cost. The unit is covered by a five-year warranty. Contact: Sporty's, www.sportys.com.

The Vertex Standard VXA-300 Pilot III offers VHF NAV/COM and FM weather radio receiver functions. It runs off a rechargeable battery pack (an overnight charger is included). Other features include a dedicated 121.5 MHz emergency channel button, 150-channel memory, scanner mode, CDI and optional public address function. The VXA-300 retails for under $270. Contact: Vertex Standard, www.vertexstandard.com.


Page 3 of 5