Tuesday, September 22, 2009
Best Handheld Products!
Your guide to the newest portable gear

Stenbock & Everson's ChartCase Professional


Mountain
Scope from PCAvionics
MountainScope
software from
PCAvionics
turns a PDA or tablet PC with GPS into a moving-map display with flight planning, terrain, controlled airspace, instrument approach plates, airport diagrams and TFRs. With an optional electronic attitude gyro, MountainScope can provide a simulated attitude-indicator display. With an optional XM satellite radio, it can display aviation weather, and with external ADS-B or traffic receiver, it can display traffic on screen. Synthetic vision terrain view is available when running on a tablet PC. Pricing starts at $470.
Contact:
PCAvionics,
www.pcavionics.com
.
Stenbock & Everson's Chart Case Professional Version 5
software turns a tablet PC running Microsoft Windows into a Class 1 EFB with such features as in-cockpit weather (when used with a compatible XM satellite radio receiver), moving map (when used with a compatible GPS receiver), digital charting (including all U.S. sectional, WAC and low/high en route charts), approach plates and taxi diagrams, traffic (with an optional Zaon XRX receiver) and even GPS-based synthetic vision with Highway in the Sky (HITS). The software runs on any Windows-based PC with a 900 MHz processor and at least 512 MB RAM and 10 GB available disk space. Price is $449. The company also offers a variety of tablet PC hardware and accessories. A subscription is required for chart revisions.
Contact:
Stenbock & Everson,
www.flightprep.com
.
One-Of-A-Kind Portable Traffic Avoidance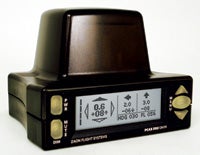 While a wide range of portable collision avoidance devices are available, Zaon's PCAS XRX ($1,495) truly is in a class by itself. The company calls it "the first-ever portable, passive, stand-alone collision avoidance system for general aviation to offer direction from within the cockpit." The XRX's integrated display gives relative position for up to three transponder-identified targets (prioritized by risk of collision) and shows you which way to look. When used with a compatible EFB or GPS navigator, the XRX can provide MFD-like traffic displays without the expense involved in panel-mount solutions. Contact: Zaon Flight Systems, www.zaon.aero.


Page 4 of 5