Tuesday, December 16, 2008
Choosing Your Handheld
What to consider before you purchase a GPS, EFB or NAV/COM
TELETYPE'S GPS
software turns a PDA running Microsoft Windows Mobile into a GPS moving map with features such as flight planning, controlled airspace, navaids, obstacles, terrain, airways, runway information and radio frequencies. It also provides weight-and-balance calculation, E6B functions and instrument approach plates, as well as street-level ground navigation. A compatible GPS is required. Price: $195.
Contact:
TeleType, (800) 717-4478,
www.teletype.com
.

HANGAR B-17'S PalmEFIS, PocketEFIS and WinEFIS
are software applications that turn PDAs and Tablet PCs into GPS moving-map displays with flight planning, terrain, airspace, navaids, wind direction and emergency-attitude-indicator functions. Aviation weather is also available with a compatible XM Satellite Radio receiver (not included). Price: $210.
Contact:
Hangar B-17, (310) 938-8966,
www.hangarb17.com
.

STENBOCK & EVERSON'S CHARTCASE PROFESSIONAL SOFTWARE
turns a Tablet PC running Microsoft Windows into a Class-1 EFB with features including weather (when used with a compatible XM Satellite Radio receiver), moving map (when used with a compatible GPS receiver), digital charting and even GPS-based synthetic vision. The software runs on any Windows-based PC with a 900 MHz processor and at least 512 MB of RAM. Price: $449.
Contact:
FlightPrep, (503) 678-4360,
www.flightprep.com
.
MIDWEST SPORT AVIATION'S FLIGHTMASTER
software (previously the AeroPalm 3 GPS) is intended for PDA devices running the Palm operating system. Features include moving map with a Jeppesen database, terrain and conflict resolution, digital HSI, vertical navigation, waypoint search, turn anticipation, track log and night mode. Price: $149.
Contact:
Midwest Sport Aviation, (608) 467-0233,
www.flightmaster.aero
.

AIRGATOR'S NAVPAD 5
is a one-pound Tablet PC with a touch-sensitive, 4.8-inch display, 600 MHz AMD Geode processor, 512 MB RAM and 6 GB solid-state storage device running Microsoft Windows XP and AirGator's NavAirWx software, bundled with wireless WAAS-enabled GPS and XM Satellite Radio receivers. The result is a complete EFB solution that offers moving map, aviation weather and instrument approach functionality. Price: $2,695.
Contact:
AirGator, (914) 666-5656,
www.airgator.com
.
LOWRANCE'S AIR MAP 2000C
is a 12-channel, WAAS-compatible portable aviation GPS with a five-inch color display. Built-in databases provide worldwide terrain at low resolution; U.S. terrain at medium resolution; and data for airports, navaids, intersections and obstructions, plus optional plug-in high-resolution databases with customized points of interest. The unit stores up to 100 predefined routes with up to 100 waypoints per route. Price: $69.
Contact:
Lowrance, (800) 324-1356,
www.lowrance.com
.
HANDHELD VHF NAV/COMs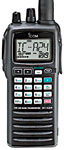 While a handheld aviation GPS navigator or EFB can enhance situational awareness, there's still no substitute for VHF voice communications and navigation radios. The products that follow all offer both NAV and COM functions, and all provide five-watt transmitter power (the maximum legally available) for voice communications. Features to consider include battery type, duplex mode that enables you to talk on a COM frequency while monitoring deviation on a NAV frequency, predefined memory for frequently used channels, and emergency access to "guard" on 121.5.



ICOM's IC-A24 offers VHF NAV/COM functions including a duplex feature that allows you to talk using the selected COM frequency while the unit displays a digital CDI showing deviation on the selected NAV channel. Other features include flip-flop recall buttons for the last 10 channels, 200-channel memory, a dedicated 121.5 MHz emergency-channel button, an external power jack and optional rechargeable battery packs. Price: $325. Contact: Icom, (800) USA-ICOM, www.icomamerica.com.

SPORTY'S SP-200A is a handheld VHF NAV/COM with localizer functionality. Its features include 8.33 kHz frequency spacing, 20-channel memory, CDI display with OBS function and external microphone, speaker and power jacks. The unit is powered by eight standard AA batteries, offering up to 15 hours of continuous operation. Price: $279. Contact: Sporty's, (800) SPORTYS, www.sportys.com.

VERTEX STANDARD'S VXA-300 PILOT III provides VHF NAV/COM functions and also performs as a 10-channel FM weather radio receiver. Features include a rechargeable battery pack and overnight charger, dedicated 121.5 MHz emergency-channel button, 150-channel memory, scanner mode and a CDI. Price: $270. Contact: Vertex, (714) 827-7600, www.vertexstandard.com.
Page 4 of 4