Thursday, November 1, 2007
Handheld Avionics
Using portable gadgets to fly safer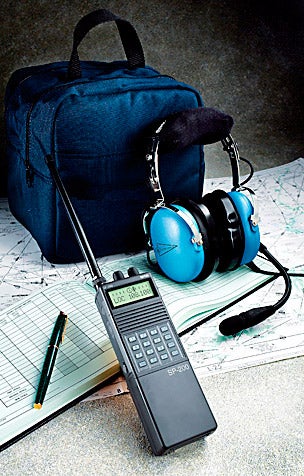 I'm sold on the concept that using portable avionics in the cockpit will make the flying experience safer and more convenient. As a flight instructor, I teach in aircraft with large differences in avionics, ranging from the latest and greatest in glass panels to ships with no radio or electrical system. Regardless, it's always comforting to have my trusty Garmin GPSMAP 496 along for the flight to help with situational awareness and to have the latest weather at my fingertips.
I've given up trying to talk to students over the roar of the engine without an intercom on board, so I always have my handy portable intercom in my flight bag, ready for use if the customer's aircraft isn't equipped with one. And when I fly my own aircraft, a Bonanza equipped with a Garmin GNS 530W and a GDL 69A weather receiver, I still carry my 496 GPS with me. I use the 496 GPS XM weather for predeparture planning; en route, it backs up the panel-mounted equipment. In my case, I get more weather products on the portable than the panel mount, including the ability to animate the NEXRAD to understand where the weather's going. Often, I find that viewing en route conditions is easier on the portable than on the panel mount. I've even practiced flying with only the 496 pseudo instruments page and can make an emergency instrument approach without reference to any of the panel-mounted instruments.
Before I start up, I listen to the ASOS on my handheld VHF transceiver to get the field information. Sometimes, when it's obvious there will be extended ground waits, I use the handheld to request my clearance and then stand by until they're ready for me. I bought all the accessories for the handheld so I can plug it into my headset in the event of an in-flight radio or electrical failure. I also try to keep the handheld battery charged and have a fully charged spare that I bring. And to improve the handheld's range, I've installed a plug-in antenna jack that attaches to a com antenna mounted on the airplane's belly.
To display traffic, I have a Garmin GTX 330 that's interfaced with my 530W. But after seeing the Zaon portable traffic receiver at Oshkosh, I'm seriously considering adding it as well. Plus, I can use it when I am instructing in someone's airplane that doesn't have traffic!
I don't rent airplanes any more, but for those who do, flying in different aircraft with various navigation systems requiring different operating interfaces can be intimidating. In such cases, your trusty and familiar portable GPS can provide extra safety and comfort for that VFR flight. Here are some of the portable products offered today that can make your flying safer and more pleasant.
Page 1 of 6