Sunday, June 1, 2008
Heads Up On Headsets
New models & new technology, priced from $79 to $995
Beyerdynamic HS 300 Manufaktur:
With the Manufaktur, you can custom design your headset; for example, you can select different colors for the ear pad, head band and yoke. You can also have text (e.g., a company's logo, names) engraved on a metal plaque. The components are anodized for a striking appearance.
Suggested Retail Price:
From $299 (depending on configuration)
Contact:
Beyerdynamic, (800) 293-4463,
www.beyerdynamic-usa.com
.

Bose AHX:
Bose has a worldwide (and well-deserved) reputation as a top name in audio products. The company's AHX headsets are available either portable or panel-mounted. The AHX is found in both private aircraft and airliners. The AHX has full-spectrum noise reduction, a comfortable fit and clear audio reproduction. Bose uses advanced acoustic technologies in all of its headsets. Power-saving features enable the AHX to run for 40 hours on two AA alkaline cells. In 2007, the Bose "X," as it's known in aviation circles, was rated "Best Overall Headset" by Professional Pilot. That same year, it was also rated "Best Aviation Consumer Product" by Aviation Consumer.
Suggested Retail Price:
$995.
Contact:
Bose Corporation, (800) 999-2673,
www.bose.com
.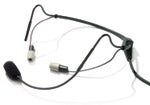 Clarity Aloft Aviation Headset:
These ear-bud type headsets are at home in anything from jets to open-cockpit aerobatic aircraft. The quality and performance of the dual-balanced armature speakers and the electret, monodirectional, noise-canceling microphone provide for outstanding communication. The Aviation Headset is lightweight and features comfortable artisan-molded earplugs.
Suggested Retail Price:
$525
Clarity Aloft Pro:
Aloft Technologies has responded to demand for a lightweight headset with TSO certification for its new in-the-ear Clarity Aloft Pro. It has 35 to 45 dB of attenuation and, like the Aviation Headset, features Comply Canal Tips. The headset proves that there's no need to compromise between comfort, hearing protection and superior sound quality. The Pro, which won "Best Product of the Year" at 2007 EAA AirVenture, is popular with professional pilots.
Suggested Retail Price:
$695
Contact:
Clarity Aloft, (612) 747-3197,
www.clarityaloft.com
.

David Clark X11:
This lightweight, electronic noise-canceling headset has a low-profile vented head pad, lightweight carbon-fiber headband and supersoft contoured ear seals. It also has the latest M77 noise-canceling microphone technology, stereo ear phones with dual volume controls and input for cell phone/MP3 players. The X11 can operate with two AA batteries or through panel power, and it comes with a five-year warranty.
Suggested Retail Price:
$865

David Clark H10-13.4:
This passive headset offers lightweight comfort with a supersoft head pad assembly, reduced headband pressure, undercut gel ear seals to eliminate hot spots, M-7A noise-canceling microphone technology and a certified noise-reduction rating of 23 dB. It comes with a five-year warranty.
Suggested Retail Price:
$330
Contact:
David Clark, (800) 298-6235,
www.davidclark.com
.
Flightcom 4DLX Classic:
An excellent entry-level headset for private and student pilots, the 4DLX Classic has dual volume controls, a flexible boom microphone, air-pillow head pads, stereo/mono controls, a 24 dB noise-reduction rating and a popular 30-day "Fly 'em and Try 'em" trial period.
Suggested Retail Price:
$139

Flightcom Denali:
The well-known Denali is available in either ANR or PNR versions. It's extremely lightweight, with a low side force, and has thick protein-leather head pads and ear seals. It's available in custom colors, has excellent passive attenuation, a 19 to 21 dB reduction at certain low frequencies and automatic power shutoff. (The same 30-day trial period offered with the 4DLX Classic is also available.)
Suggested Retail Price:
$599
Contact:
Flightcom, (800) 432-4342,
www.flightcom.net
.
Page 2 of 4