Wednesday, November 30, -0001
Headsets: Choosing The Right Tool
Technology and individuality drive this year's headset selection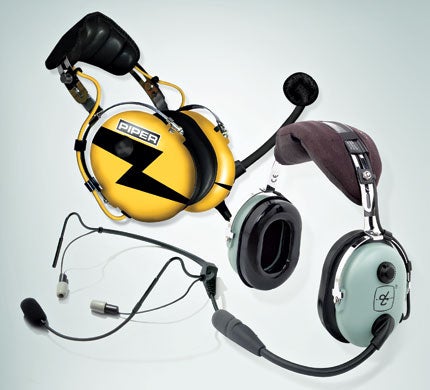 Squawk Shoppe; Clarity Aloft; David Clark
The year 2013 brings with it subtle changes in the headset world. Aviation leader Peltor has been bought by 3M Corporation, and their aviation line has all but disappeared. In-ear innovator JH Audio and budget headset maker Alura both have left the aviation industry, while Sennheiser has joined Bose and Lightspeed in the triumvirate of high-end ANR manufacturers with their digital S1 headset. True wireless is the next big hurdle, and Bluetooth continues to be a hot option for cell phone and music integration. Headset personalization seems to be something pilots want, and prices have remained stable. It's a great time to shop for a new headset.
The Right Tool
Have you ever wondered why there are so many different kinds of hammers? Home improvement stores have rows and rows of hammers, although to most people they look identical and do the same thing: deliver an impact to an object. Why would there be some 20 variations of this basic tool? The answer is because each hammer has enough of a variation—however slight—to make it a better tool for different jobs. A roofing hammer is terrible for gingerly breaking up the small rocks a geologist might find. A ball peen hammer is great for shaping rivets; a framing hammer is lousy. The old mechanic's adage that there's only one tool for the job is true both for hammers and headsets.
While surfing through the vast sea of Internet aviation forums, I came across a lively discussion about headsets. One poster was adamant that, in his airplane, only BRAND X headset worked well, given the high noise level in his cockpit. Poster #2 countered that BRAND X had never worked for him—in the same type of airplane—and that BRAND Y was the real answer. A few heated posts later, a third pilot jumped in—again with a similar airplane—and countered that BRAND X and Y were both overpriced junk, and that he had discovered BRAND Z, and that was the only headset that worked.
The forum exchange mirrored what I've discovered in aviation when it comes to headsets: They're as personal as underwear. To increase the chances of selecting the right headset, pilots need to come to the buying table with a bit of savvy.
The Noise Capsule
It must be understood that general aircraft cockpits are torture chambers for our ears. They are—without apology—capsules of deafness by design. Think of that huge chunk of metal under the cowl, hosting explosions of fuel every millisecond, just 36 inches from your head, and that heavy mass spinning at the end of the crankshaft, beating the air some 5,000 times per minute with enough force to propel a ton of metal through the air at over a hundred miles per hour.
Consider that same heave of wind relentlessly pummeling the thin aluminum sheet surrounding you. It's not just the volume of the noise, it's the fact that the noise is focused on the same frequencies for hours and hours. Imagine somebody unceasingly pounding a piano's low-C key next to your eardrum day after day. These are the nightmares that keep hearing doctors in business.
Page 1 of 6