Wednesday, April 8, 2009
Screen Gem
Avidyne's new Entegra makes glass perfectly clear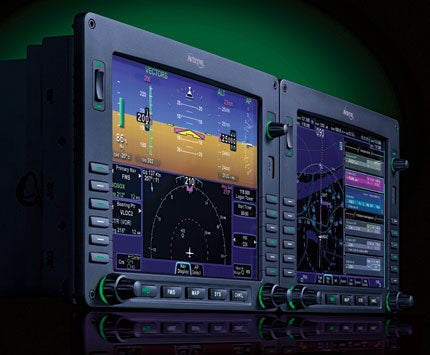 A flight down Florida's east coast is replete with tropical playground panoramas, but the million-dollar view isn't enough at the moment to pry my eyes from the dual IFDs (Integrated Flight Displays) of Avidyne's new Entegra Release 9, installed in the company's Cirrus SR22. I ask Michael Keirnan, Avidyne's director of aircraft integration and certification, in the right seat, if pilots tend to stare at the screens instead of looking out the window. He reluctantly nods and half smiles, proud, I'm sure, of the panel-fixation problem he and the Avidyne team have created. But staring at the panel isn't much of a safety issue in this case: I can see traffic, weather, approaches and anything else I need on the displays. And most impressive is how quick it is to input flight plans, program and fly approaches, and get help staying ahead of the airplane. Finally, "open the pod door" simplicity is coming to the glass panel.
Avidyne introduced the glass cockpit to GA in 2003 and has added features and offered several new releases for its Entegra system since then, but Release 9, nearing FAA certification, represents a major advance. The bezels on the faceplates of the 10-inch screens are similar to the Entegra displays in factory-equipped Cirrus and Piper aircraft. But behind the familiar façade is a totally new system, as Mike Ingram, Avidyne's senior director of engineering, showed me earlier that day at the company's offices in Melbourne, Fla. The display screen fronts a box with slots for plug-in blades, LRUs (line-replaceable units) that can quickly be pulled out and replaced for repairs or upgrades. The blades drive all screens, and any display on one screen can be called up on the other, erasing the distinction between PFD and MFD screens, hence the "IFD" designation.
Another major change: Previous Entegra iterations relied on Garmin's GNS 430 GPS/NAV/COM to drive the system. Release 9 uses Avidyne's own WAAS-capable GPS receiver and digital VHF COM/VLOC receiver, enhancing integration and freeing engineers to rethink the UI (user interface) as they developed the upgrade.
Release 9 also features an optional Flight Deck Controller (FDC), also referred to as a control/display unit (CDU), with a full QWERTY keyboard that further simplifies data entry. A map pointer on the FDC moves a cursor so you can, for example, see the weather ahead or behind you and change the map scale by rotating the pointer knob.
Page 1 of 3