Tuesday, October 25, 2011
Field Of Electric Dreams
If you fund it, they will come—and change the world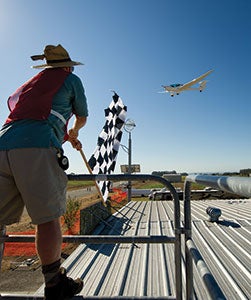 The CAFE Foundation Hangar Boss Mike Fenn waves the speed competition checkered flag for the PhoEnix aircraft.
Still, think of it: The equivalent of four gallons had to fly four adults at 100 mph for 200 miles.
Competing electrode to electrode with the G4 was eGenius. It went with a less-radical two-place motorglider design, but added a stroke of aerodynamic wizardry: the 80 hp electric motor mounted in the tail, allowing a larger, more efficient propeller. Adding drama to the race, eGenius had already broken the electric two-place world record for speed and endurance by flying, not coincidentally, more than 200 miles at more than 100 mph, with plenty energy left over.
But which strategy would carry its team to victory on the last day's task? It promised to be quite a showdown.
2011: Advances...And Setbacks
In terms of participation, the GFC wasn't the only big splash that didn't quite cannon-ball into the electric flight pool this year. After Europe's annual Aero Friedrichshafen convention last spring, the e-Flight Expo's Berblinger Flight Competition promised a high-profile demonstration of electric prototypes. Alas, 36 teams signed up, 24 made it to the Expo, 13 launched, but only eight finished the 115-mile course. Lack of funds, technical challenges, transportation obstacles and regulatory problems such as incomplete license paperwork short-circuited many efforts.
And yet, eight electric aircraft did finish, demonstrating that respectable distances could be flown—and setting the stage for the GFC. The Berblinger's €100,000 prize money went to three pilots: €45,000 each to Eric Raymond, renowned designer/pilot of the globe-girdling Sunseeker series of solar-powered aircraft; and Axel Lange, flying his Antares 20 electric motorglider, the world's first certified production electric airplane and winner of last year's Lindbergh LEAP award. Manfred Ruehmer, a European champion hang-glider pilot and electric flight pioneer, won €10,000 with his electric Swift flying wing.
"We raced 115 miles from Friedrichshafen to Ulm and back," Raymond recounted later. A strong northeast wind made it hard work to reach the turn, but the return was easy. I was so stressed by the headwind and turbulence, I forgot to retract my landing gear and fought my way there despite the extra drag."
Raymond continues to push the envelope—there must be avian strands in his DNA. "This year, I hope to finish my two-seat solar plane, based on the Stemme S-10 (sailplane). In late 2012, my wife and I plan to fly it from Europe to Australia, spend the winter there, then fly back, hopefully with the BBC documenting the entire adventure."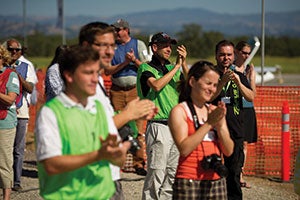 Team members applaud as aircraft return from the speed competition. NASA and the CAFE Foundation hosted the challenge with the goal to advance technologies in fuel efficiency and reduced emissions with cleaner renewable fuels and electric aircraft.
One other big electric event, EAA AirVenture's $60,000 Electric Flight Prize, was postponed until 2012. The stumbling block was the failure by most entrants to fly off enough hours to qualify for FAA's Phase I flight certification. Although there's no aviation electric powerplant standard yet, ASTM passed its version this year, and FAA is reviewing it for possible rule making by the end of 2012.
Regardless, as Tom Poberezny, recently retired head of EAA, stated, "Let's be clear that the era of electric flight is drawing closer every day, and it will be showcased at Oshkosh."
The World Is Watching...And Building!
In that spirit, Oshkosh 2011 went forward with its second annual eVenture World Symposium on Electric Aircraft, with scheduled talks and forums from luminaries such as Burt Rutan, Sergei Sikorsky of Sikorsky Aircraft, and Dennis Bushnell of NASA Langley Research Center.
Erik Lindbergh, grandson of Charles Lindbergh, presented the LEAP (Lindbergh Electric Aircraft Prize) Vision award to Dr. Calin Gologan's Elektra One, acknowledging its flight and supporting infrastructure accomplishments. Dr. Gologan, a Romanian engineer, has big plans for the near future, including the two-seat Electra Two and four-seat Electra Four.
Electra One, slated for market in 2012, will join a stable of electrics already in production: Pipistrel's Taurus Electro G2, the Lange Antares 20E and Alatus-ME self-launching sailplanes, Icaro's Elektro Swift flying wing and Pit-trike hang glider, and U.S. pioneer Randall Fishman's ElectraFlyer Trike.
Fishman is busy on a number of projects. A new electric trike with a folding prop and three-axis keel mount, and a single-seat composite motorglider, dubbed ElectraFlyer ULS (Part 103 ultralight legal), are nearing completion.
The company that bolted out of the gate two years ago, Yuneec Aviation, continues its electric flight development along several fronts. Flight Design USA head and e-Spyder electric ultralight designer Tom Peghiny updated with this report: "Yuneec is reworking the E-430 for certification in Germany, finishing the second electric E-Viva two-seat motorglider and finishing preparation for production of the e-Spyder. They are way ahead in development of their electric power systems with hardware and controlling software tested to commercial standards."
Page 2 of 4