Tuesday, April 24, 2012
More Sun, More Fun!
Our roundup of the cool, exciting and notable from Sun 'n Fun 2012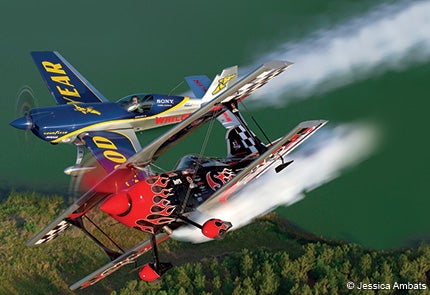 Performers in Sun 'n Fun's 2012 air show included Michael Goulian in his custom-built Extra 330SC and Skip Stewart in Prometheus, a highly modified 400 hp Pitts biplane.
Last year: tornados and wrecked airplanes. This year: sun. Way sun. What a glorious week. Temps in the '80s. Refreshing breezes everyday. Billowy cotton-ball clouds and only one minor afternoon thunderstorm. The USAF Thunderbirds flew their fabulous routine everyday; there was record attendance; Fifi, the Commemorative Air Force-restored Boeing B-29, flew several missions; and attendees enjoyed six full days of displays, air-show flying, a stirring night-fireworks air show, demo flights for potential customers and new products...lots of new products.
Sun 'n Fun's 38th annual event was held at Lakeland-Linder Regional Airport, as always. The expansive field, about an hour southwest of entertainment mecca Disney World, gets the ball rolling for pilots and aviation fans every year. In the wake of last year's devastating damage on the field, the event felt like a blessing. Several airframe exhibitors reported sales of aircraft, from a luxurious TBM 850 to many LSA models. The new Rotax 912 iS liquid-cooled, fuel-injected engine drew admiring looks from showgoers all week long. Thousands of flight operations were conducted without a major mishap.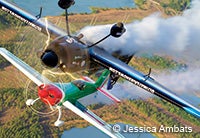 Unlimited National Aerobatic Champion and air show performer Rob Holland (inverted) flies his MXS-RH inverted over 21-year-old air show performer Kevin Coleman's Extra 300SHP.
Many improvements to the grounds included an upgrade to Paradise City, the light-aircraft grass strip on the southeast corner of the airfield. The strip itself, where ultralight and LSA demo flights are conducted every day, was lengthened and dramatically improved for the show. Next year, flying will be allowed there all day, even during the air show. That will help vendors get enough demo time for prospective customers, as well as valuable display time for their wares. Youth aviation programs catered to the hundreds of kids who were bused in to the show grounds everyday from neighboring schools. All in all, it was another great gathering at Sun 'n Fun and a rousing start for the flying season. Fly safe!
Sporty's Stratus
www.sportys.com
Sporty's Pilot Shop has partnered with ForeFlight on a cool new ADS-B weather uplink product called the Stratus. It's U.S.-built by Appareo Systems. A completely portable, wire-free, subscription-free weather solution, the Stratus works in conjunction with the ForeFlight app for the iPad to provide ADS-B-based weather, Nexrad, Metars, TAS, Airmets, Sigmets, TFRS and pretty much everything that comes with ADS-B. The unit wirelessly transmits data to your in-cockpit iPad through the tablet's Wi-Fi connection. Data can be broadcast to more than one iPad in the cockpit, too. It's as simple as opening ForeFlight, linking it to the dash-mounted Stratus box and bingo: You've got all your weather info on touch screen. ADS-B national weather coverage is expected to be coast-to-coast—complete sometime in 2013. Stratus comes with an eight-hour battery, is free of entangling wires, the ADS-B antenna is built into the box, and it also includes WAAS GPS with one- to two-meter accuracy. Price: $799.
Page 1 of 3
Labels:
Aviation News
,
Buyer's Guide
,
Features
,
New Products
,
Pilot Resources
,
Pilot Supplies
,
Pilot Gear
,
Gear
,
Air Shows
,
What's New
,
Aircraft
,
Gadgets